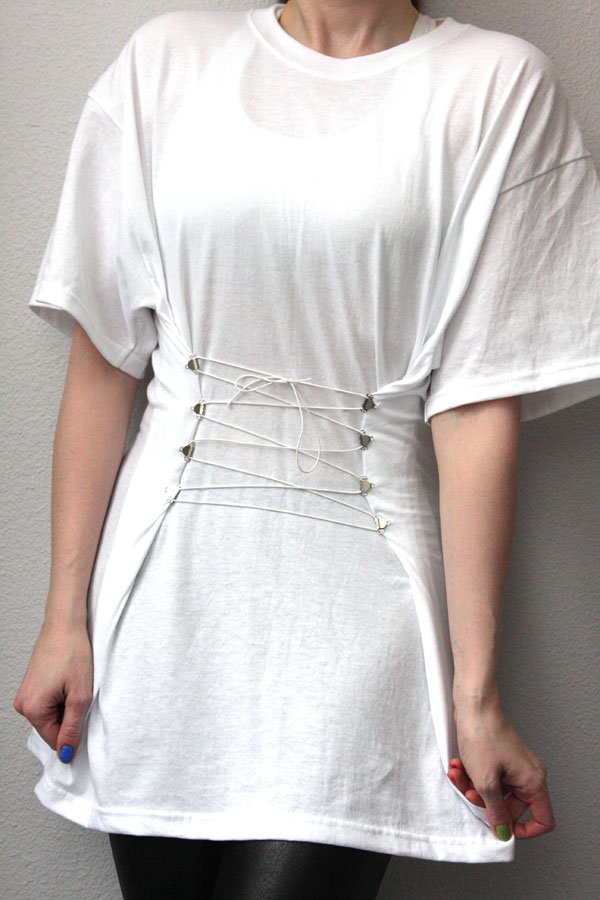 My hubby has a ton of white shirts that have seen better days…and sometimes I steal one or two of them to makeover for myself.  But men's shirts are so shapeless and boxy, and I want something that isn't as boring as it looks straight out of the package!  With a few strategically-placed hooks and some elastic cord, this is a quick DIY makeover that will turn any boxy and shapeless top into a form-fitting gathered tunic or dress.  Minimalist sex-appeal at its best!
You Need:

*white tunic-length t-shirt (mine is XXL)
*8 hooks from sew-on hook-and-eye sets
*white thread & hand-sewing needle
*white elastic cord
*marking chalk (not shown)
*measuring tape or ruler

How To:

1. Lay your t-shirt flat, back side up.  Measure about 2.5″ down from below where the sleeves meet the sides.  (This is what worked for me – you may want to try the shirt on you to make sure this is the area where you want the corseting to end.)  Mark.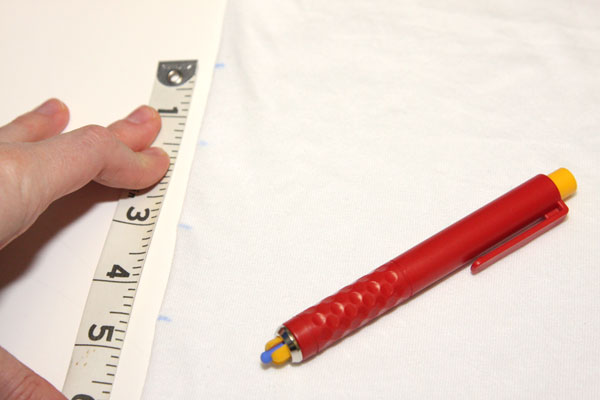 2. Measure below that mark 1.5″ and make another mark at each side.  Repeat twice so you have 4 marks total, evenly-spaced at 1.5″ apart.
3. Hand-sew the hooks on at each part.  Since we're sewing onto the back and the t-shirt fabric will be pulled to the front, make sure the hooks are facing outwards.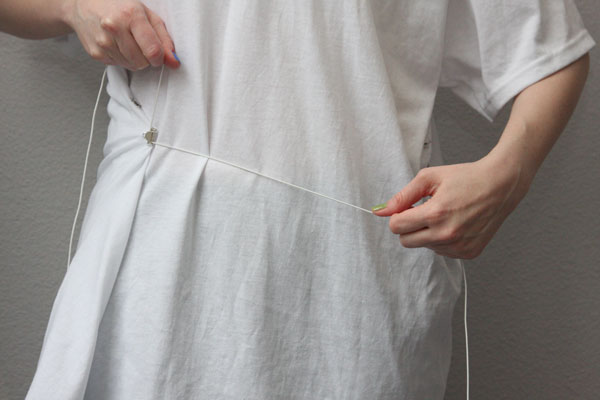 4. Try the shirt on.  Take the elastic cord , fold it in half, and match its center to your bellybutton.  Keep these lined up, thread either side of the cord into the bottom hook on either side of the shirt.
5. Pull to the front, pulling the shirt fabric with it.  Cross the cord over at your center, then back into the next hooks above.
Continue to lace the corset-front in this manner, and rearrange the extra fabric of the tee as you go to look neater and more tucked-in to the corset area.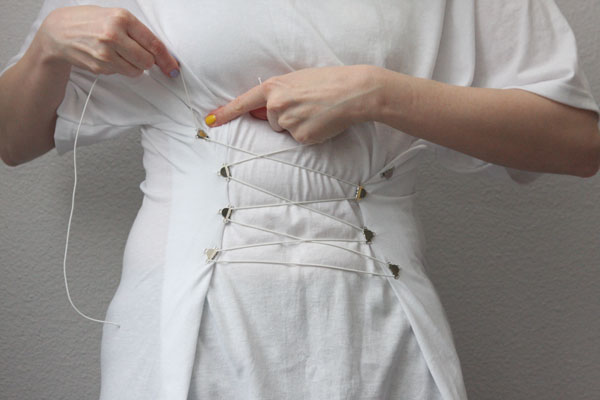 6. Tie the ends of the cords at the top of the corseting in a bow; trim the ends.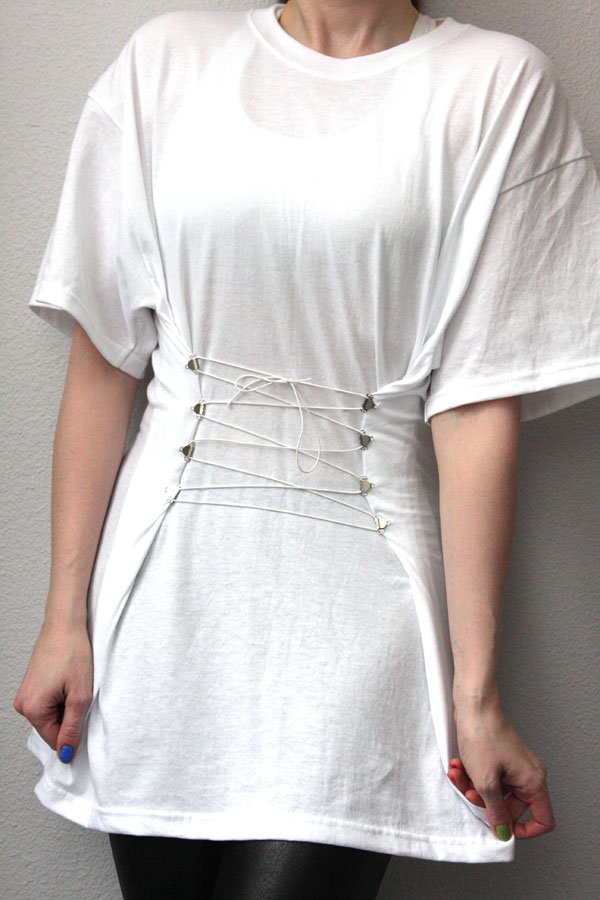 Wear with something not overtly sexy – this shirt has all the sex appeal you need!
This project was featured in a recent Crafty Superstar interview on the tutorial-sharing site Cut Out + Keep…
click here to read the interview questionnaire & my other projects!
(I'll be re-posting all of them here on my blog soon.)
Thanks to Cat and the whole COAK team for the interview!  I'm so flattered to have been featured:-)
Happy DIY'ing!
xoxox
Carly
~If you liked this post, please share it!~
Tags:
CCL Featured In
,
Cut Out + Keep
,
DIY Clothing
,
DIY Tops
,
men's shirts
,
My DIY Tutorials
,
Tops
,
upcycle