Yesterday I coveted it, so today I'm going to show you how to make it. It's DIY in 5 – minutes, that is. The easiest, quickest ways to take a piece from blah to fab and update it to current trends.
Also called the pussy-bow blouse on the other side of the pond, a chiffon bow at the collar of any blouse elevates it from everyday into elegant.  But when you're shopping on a budget (read: buying cheap), often the blouses that are affordable tend to lack such special details.  I thrifted this lovely wide-collar chiffon blouse, but felt it needed an extra something to give it more style.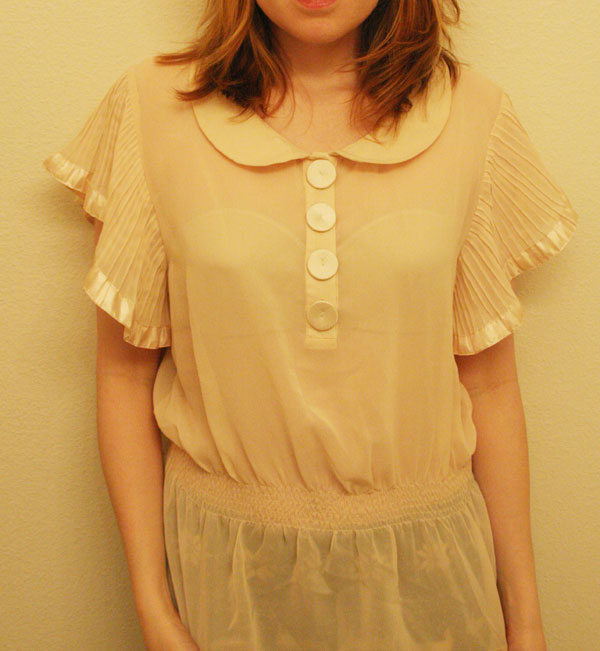 So here's how to make a long, finished chiffon scarf that you can wear with your blouse (or without!) however you want:
Project Difficulty:
Intermediate
(The method is pretty much the same as that in my DIY in 5: Fabric Leopard Scarf; you're just using chiffon and finishing the ends at an angle instead of sewing them straight.)
You Need:
*mesh chiffon (mine is super-cheap polyester, 45″ wide.  I bought 1/2 yd)
*matching thread
And…
*fabric scissors
*machine needle for lightweight wovens
*iron & ironing board (optional)
*pins
*hand-sewing needle (optional)
How-To:
1. Cut 2 strips of chiffon across the full width of the fabric.  (I cut mine about 5″ wide.)
2. Stitch the pieces together at the short end to make one long piece of chiffon.
3. Fold the piece in half lengthwise, and stitch along the long side to make a long tube.
4. Turn the tube right-side-out, and press with an iron if you want.
5. Try on your blouse, center the center seam of the chiffon piece at the back of your neck, and tie the ends in a bow.
When you're happy with how the bow looks, mark where you want the ends of the chiffon piece to be.
6. Cut the ends where you marked on an angle with about a 3/8″ seam allowance.
7. To finish the ends properly, you'll need to turn the chiffon to the inside and topstitch about 1/8″ from the edge.  I've found the prep-part easiest to do in two stages:
#1: Turn the chiffon end into the inside of the tube all the way around the angled end, securing with pins.  (You can iron at this stage to set the crease; I just don't since I'm lazy.)
#2: Flatten both pinned ends together, and re-situate each pin by pushing it through all layers of fabric to hold the ends tightly closed.
TIP: When you topstitch the angled end, go slowly and use another pin to push the layers of fabric together just before they go under the machine foot, so they align perfectly at your topstitched edge.  (There's nothing that says "crafty mess" more than a misaligned topstitched edge…;-(
8. Iron if you like to set the creases.  You can also add a small loop at the back of your shirt's neck to hold the scarf in place – just use a scrap piece of fabric or a piece of thread (embroidery, or a couple strands of regular thread twisted or braided together), and tack the ends down with a couple of hand-sewn stitches.
You're done!  Updated for the workplace – or for a date – a scarf like this makes any shirt chic and feminine.
Truth be told…this was pretty much DIY in 10 – but it's fast, pretty simple – and the best part is, no one will be able to tell you didn't buy your blouse this way off the rack!  (The best part about DIY is always its subterfuge…;-)
You can also use your scarf in other ways – like tied in a turban, for instance; worn as a bow-headband; as a belt over a trench or breezy pair of slacks; or wrapped on your purse-handle.
Happy DIY'ing!
xoxox
Carly
~If you liked this post, please share it!~
Save
Tags:
Accessories
,
bow blouse
,
chiffon
,
DIY Accessories
,
DIY Clothing
,
DIY in 5
,
DIY Tops
,
My DIY Tutorials
,
scarf
,
Scarves
,
sewing