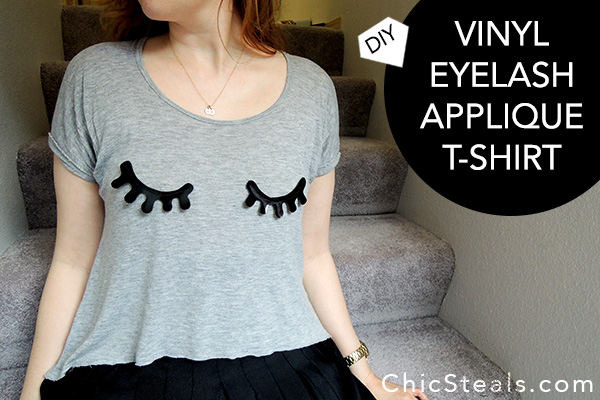 Wow, that title looks weird when you write it out like that;-) But there's really no other way to describe this!
Have you noticed that over the past year or so, there have been a ton of women's tops that highlight the boobage area? Like this one, this one, or this one, for example. Perhaps Wildfox started it off with their double ice cream tees back in 2010. (I even made a similar DIY Ice Cream Applique Tee inspired by that very trend!)
However, I wanted to make something with stark contrast, that was a little slick and a little sweet at the same time.  Sleepy eyelash eye masks have always been a favorite of mine, so I decided to re-create that effect onto a T-shirt, with some shiny vinyl PVC.  It's adorbs (and yes, highlights the chest area, LOL). And if you have a sewing machine, it's so easy. Here's how:
You Need:
t-shirt  /  patent vinyl PVC (mine is scrap from a cheap belt I had)  /  matching thread
Tools: shears  /  eyelash pattern (download here)  /  pencil  /  pins  /  sewing machine (or hand-sewing needle or fabric glue)
How To:
1. Lay the pattern onto your vinyl and trace around it with a pencil.
2. Flip the pattern over onto the other side and trace around it again.
3. Cut out both eyelash pieces from the vinyl.
4. Estimate where you want one piece by looking in the mirror while wearing the shirt and marking the placement with pins.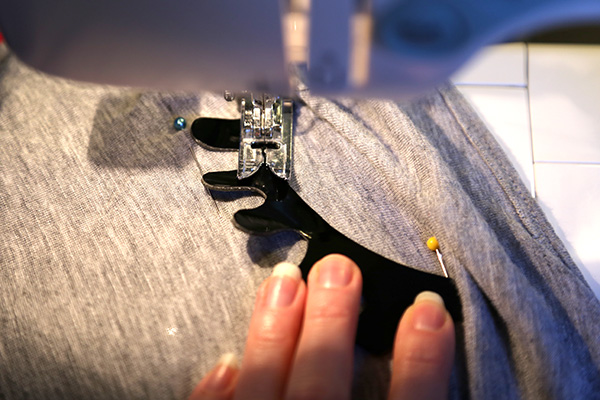 5. Place the eyelash piece in-between the pins, and stitch a line of sewing down the center of the vinyl "eyelid" from one end to the other. If you don't have a sewing machine and your vinyl is soft enough, you could hand sew it. Or, alternatively, use fabric glue (though for longevity I'd recommend sewing).
6. Sew the eyelash for the other side on in exactly the same way, marking the placement symmetrically.
And that's it!

Cute, trendy, and so easy to jazz up an old t-shirt. If you sewed the eyelashes on, you can throw this in the washing machine inside-out, on a cold gentle cycle, or hand-wash in the sink.
Happy DIY'ing!
Materials for the DIY Vinyl Eyelash Applique T-Shirt
T-shirt – mine is a super-soft one from H&M. I'd recommend more drapey, loose t-shirts so the appliques sit flat.
Patent PVC – mine is scrap from a cheap belt I had. It's hard to find in regular fabric stores because the kind that's best is the stiffer kind for cheap accessories and clubwear. This is a good alternative to buy by the yard if you can't find anything for materials at the Goodwill.
Eyelash Pattern – download here for personal use.
Fabric Glue – if you're not sewing, Aleene's Jewel-It Embellishing Glue
is a good type to use for vinyl to fabric.
xo
Carly
Save
Tags:
applique
,
DIY Clothing
,
DIY Tops
,
eyelash
,
My DIY Tutorials
,
pattern included
,
sewing