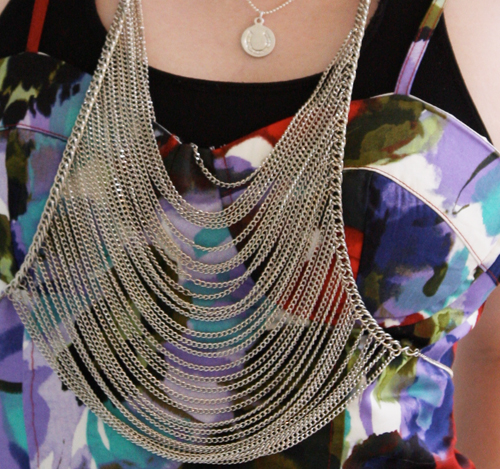 So we probably all saw this on Rumi of FashionToast a little while back – and pretty much all of us probably thought "How ingenious! How clever! How fabulous! Me want!" (I'm guilty too, I'm afraid.)
But it was a little difficult to figure out exactly how Rumi had converted the piece from the Forever21 necklace she had bought, since she didn't share her DIY instructions. A couple other intrepid bloggers made similar pieces and posted them, namely here and you can buy one on Etsy for $89 here. But since some of you may still be wondering how to make the piece, here's the step-by-step DIY below. It's not particularly difficult to make, it's just fiddly and time-consuming. My first try I was just holding the necklace in my hand and looping and unlooping jumprings, and I got pretty confused. Laying the necklace flat to work and securing with pins is, I found, the easiest way to figuring out what you're doing and keeping everything neat and untwisted.

You Need:
-1 silvertone lobster-claw or round closure
-1 length of chain long enough to go around your body from each side of the necklace
-2 sets of pliers (I like to use half-round)
-pins (optional)
How To:
1. Find the center of the necklace where the smallest loops of chain are, and, using two sets of pliers, pry apart the heavy-duty double-link chain of the main necklace. (Close the loops once you've separated them from each other.)
Straighten and flatten all the long chains, and re-attach them to the side you just removed them from, making sure they're all going straight across between the two heavy-duty necklace chains. Re-use the jumprings you just pulled off.
7. Using an extra jumpring you pulled off the necklace, attach the long length of chain you measured to your body. Attach one side of it to the bottom of the heavy-duty necklace chain.
8. Put on the necklace/harness and make sure your chain length goes all the way around your body and sits how you want it to. (If not, either cut it to shorten or add a little more chain with an extra jumpring.) Attach a lobster clasp or round clasp to the end of your chain with an extra jumpring.
It's kind of a necklace anyway and you can definitely wear it as such if you don't want to do the harness-thing…just connect your long body-chain at the bottom to the bottom of the necklace and let it drape down low!
(Blurred Floral Bustier Top, Forever21, sports bra, pendant I won from a Lucky Magazine Giveaway)
Thanks, Rumi, for the wonderful inspiration!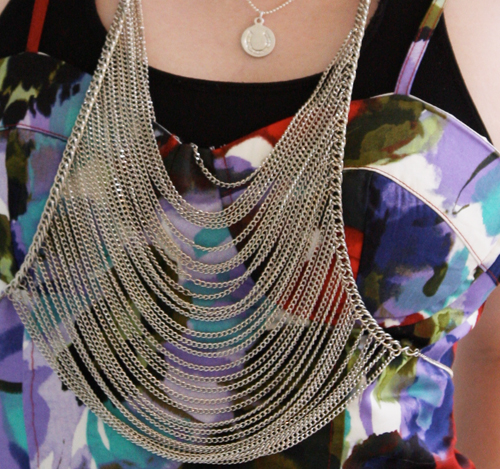 Happy DIY'ing!
xoxox
Carly
~If you liked this post, please share it!~
Tags:
chain
,
DIY Accessories
,
DIY Jewelry
,
Fashiontoast
,
harness
,
My DIY Tutorials