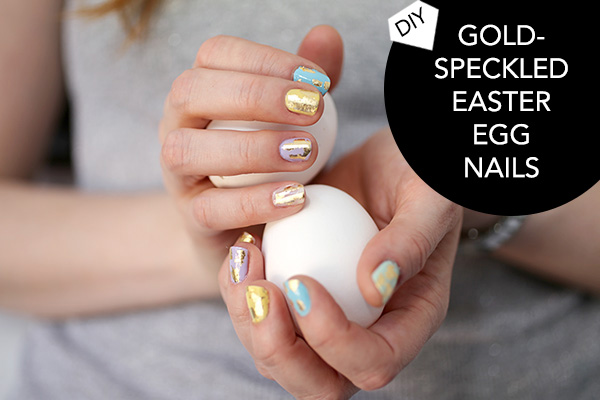 Since Easter is coming up soon, I was collecting some images of inspiring egg decoration. I landed upon this, and began thinking…what about doing this to your nails? So I did. And it turned out amaaaaaazing. (Who doesn't love chic gold leaf, right??!)
Here's how to do it too:
You Need:
pastel-colored nail polishes (I chose 5 different colors)  /  gold leaf  /  gold leaf adhesive pen  /  small scissors  /  soft paintbrush  /  topcoat
How To:  
1. Paint your nails your chosen pastel base color. (I did two coats for maximum opacity.)
2. Use the gold leaf adhesive pen to dab adhesive randomly onto your nails. Wait 10 minutes.
3. Snip a small piece of gold leafing off.
Place it onto the top of a nail.
4. Pull off, leaving the gold leaf on your nail. Repeat over any parts of your nail that you didn't get already.
5. Use a soft paintbrush to brush off the excess gold leaf. Be careful not to press to hard, or else you will start to rub away the gold leaf itself!
6. Finish up with a thick clear topcoat.
7. You also may have to re-apply the topcoat every couple of days so wear and tear doesn't eventually eat away at the leafing.
And that's it! A perfect, Eastery 10 to coordinate to your outfit. Hop along and make your day that more special with being outfitted all the way to the tips of your fingers!
And…here's a graphic for easy pinning:


Also, if you're into gold leafing, here's some more gold leaf manicure inspiration:
Delightfully Tacky: Full Coverage Gold Leaf  /   The Beauty Department: Side Triangle Gold Leaf  /  Stripes & Sequins: Gold Leaf Pedicure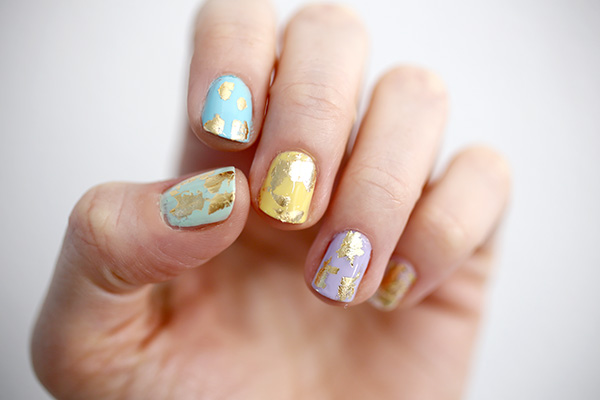 Have a happy Easter! Hope you nail those decorations this year 🙂
xo
Carly
Save
Tags:
Beauty
,
DIY Beauty
,
manicure
,
My DIY Tutorials
,
nail art