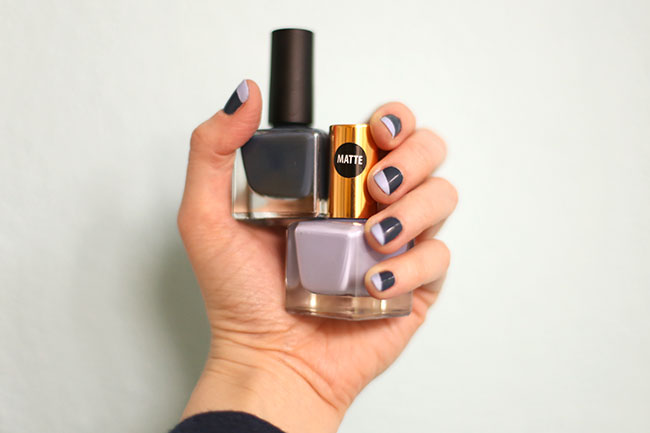 I'm big on squeezing every.last.drop of usefulness out of a manicure. If I've gone to the trouble of painting my nails (and it's not gel)…I want them to last as long as humanly possible. Some bottles of nail polish say that to keep your mani fresh you need to paint another coat on your nails every 2 days. But seriously…who's got time for that?? (Plus, if you're sealing your manicure with a topcoat once done…wouldn't you have to paint…and then seal…again?) I want minimal time, minimal fuss, and minimal damage to my nails.
This is where I'm at after about 10 days of wear using a base coat, regular nail polish, and topcoat. It's almost time to retire it…or is it??
In the past, I've shared a Glitter Tip Refresh and a Sharpie Tip Refresh. How about another nail polish refresh…but this time playing with a matte version for contrast?     
I'm using: Urban Outfitters UO Classics Midnight Rider Nail Polish with Urban Outfitters UO Matte Violet Nail Polish on the tips for the refresh (aff. links)
The tutorial is pretty self-explanatory: use tape to cordon off a cool diagonal stripe that makes the nail art cool city girl chic.
Peel tape off while tip color is still wet.
If you do the proper thing and add a layer of topcoat you'll lose the pretty matte textural contrast…but your tip refresh will last longer. Matte polish chips a lot faster than regular, so you may only get a few more days out of this mani…but it's good enough for me!
What do you guys think? Something you might try to keep that manicure going a little longer?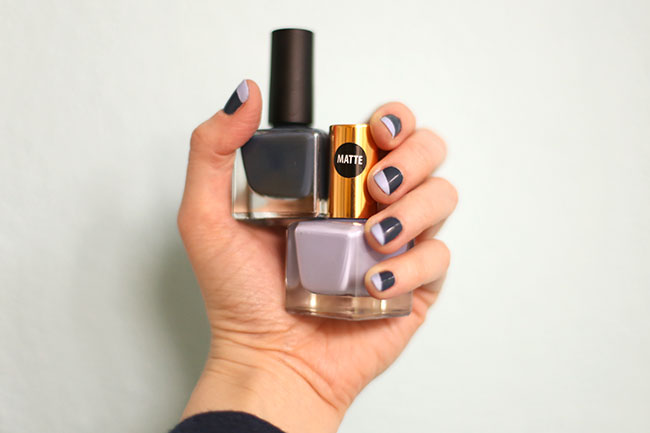 xo
Carly
Leave Comment