I'm so glad that Spring is finally here in all its glory – and floral items are on the top of my must-wear list for the season.  But I couldn't find any chic floral prints that I liked – and that were actually affordable – and so set out to make my own.  Applique is the name of the game – and is super-simple to do if you have an iron, a pair of scissors, and a little patience! 
Make your own on-trend lightweight layer for Spring by jazzing up an old piece from your closet (or thrifted – mine was $2.99 from the local Goodwill!) – and infuse your days with a little flowery fun.  Here's how…
cardigan or shirt that has little stretch /  floral fabric with large-sized flowers / Heat n Bond for appliques
Tools: fabric scissors / iron / ironing board / pins
1. Cut around the flowers you want to use for your cardigan.  Just roughly; we'll cut the details later.  (Cut more flowers than you think you'll need!)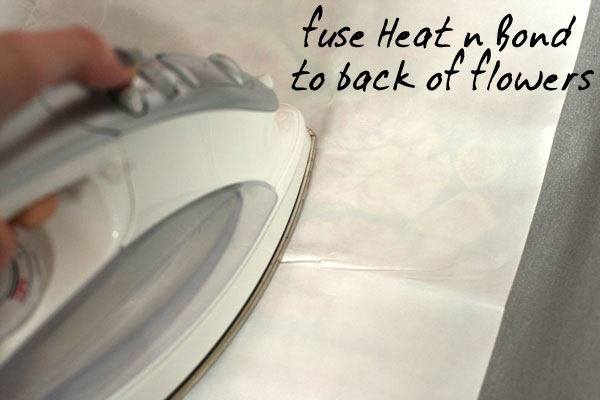 2. Following the directions on the Heat n Bond, fuse the undersides of the flowers to one side of the Heat n Bond with the iron.
3. Peel away the flowers from the paper backing.  They should all have the sticky Heat n Bond stuck to the undersides.  (If they don't, re-fuse or use another area of the Heat n Bond.)
4. Use the scissors to cut close to the edges of the flowers, delineating the details and shapes.
5. Lay your cardigan flat and choose the placement of your flowers.  I chose to create a repeating pattern down the front of my cardigan, and then pinned the flowers in place.
6. Use the iron and follow the directions on the Heat n Bond to fuse the flowers in place on your cardigan. 
Leave the seams and edges for last, and either wrap the flowers onto the undersides of the edges and fuse them there, or cut at the edges and fuse.  Shift the cardigan so you can properly fuse the flowers across seams or joins.

And that's it!  For the ultimate floral explosion, wear with other flower-patterned items – and for a sweet Springy piece, pair with pastels and neutrals to celebrate the return of warmer temperatures!
Happy DIY'ing!
xoxox
Carly
~If you liked this post, leave me a virtual "tip" by sharing or liking it with the push of a button!  Thank you so much!!~
Save
Tags:
applique
,
DIY Clothing
,
DIY Tops
,
floral
,
My DIY Tutorials