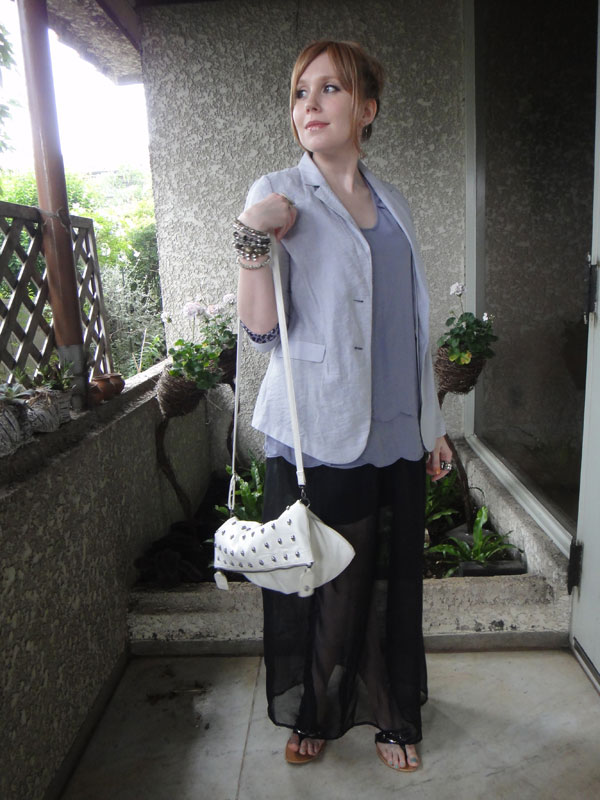 Hair: Priscillia MechaDango Midi + Hairdo Clip-In Bangs
Eyelashes: 100yen shop soft eyelashes #07
Silver star hoop earrings: unknown (bought in Japan, LaForet Harajuku)
Leopard-print Cuff Poly Jacket: Allamanda (bought in Japan, Shibuya-109)
Double Scallop-Hem Top: Gap
Sheer Maxi-Skirt: handmade by me
Knee-length shorts: shapewear (!)
Chain-embellished flats: Wet Seal
Beaded Bracelets: all made by me
Rings: Forever21, handmade by me, Cartier, Tiffany
Watch: Citizen
Finally feeling well enough to do my faaaaavorite thing in Tokyo: go shopping!  Well, window-shopping at least.  I always must look and everything, touch everything, catalog everything mentally for future DIYing.  Rarely will things fit me here, so I have to be very selective if I buy something.  But I get so many great ideas just browsing!
It took me awhile to figure out what that lump to my right is…I finally realized it's Lil Tot, sticking his bum out and photobombing me as usual.
I threw on this lightweight jacket because I figured inside the stores it would be freezing due to the A/C…then found out that stores across Japan have cut back on electricity usage to limit the load on the damaged nuclear reactors (scheduled blackouts are no longer in effect).  So the A/C wasn't cranked up as usual, and I ended up being boiling hot with my jacket on, but couldn't take it off because I sweat through my t-shirt underneath and didn't want that to show.  Irony!  I also have been rueing the day that I threw away my 80's-style knee-length biking shorts (um, like 15 years ago now) when the silly things all came back into style this year.  Paired under an oversized pair of cuffed or leather shorts, worn under sheer skirts – they now seem like the must-have item for summer.  I searched Target and Goodwill for the perfect pair, but alas could not find anything perfect.  Then I realized: I have a pair of knee-length thigh-compressing shorts in my drawer – shapewear for under skirts!  They're black and can easily be used in lieu of the bike shorts.  So I wore them under my DIY maxi-skirt, and everything worked out perfectly:-)
I experimented today with a pair of false lashes I bought from the 100 yen shop – I've never worn falsies for more than an hour or so before – but these stayed on all day.  I liked them, but since I'm not used to them my eyelids felt strangely heavy and a bit itchy all day.
You can see Lil Tot in the background watching Sazae-san on TV too.
Now I'm off to an onsen [Japanese hot springs] in the south and ready for a weekend of soaking and noshing on delicacies!
Hope everyone has a great weekend!
xoxox
Carly
~If you liked this post, please share it~!
Tags:
trends