Lace Dress worn as Shirt: Rampage (thrifted at Goodwill)
Jumpsuit Romper from a Man's Shirt: handmade by me (my tutorial is here)
Studded Skinny Belt: ? (from so long ago I forgot)
Perforated Leather Clutch: ? (thrifted at Goodwill)
Neutral Trouser Socks: Target
Vinyl Beige Platform Heels: UrbanOg.com (I can't find this exact style anymore, but a really similar version they have is here)
Hair: curled with hot rollers and pinned into a faux bob
Well, it seemed from my last outfit post that some of you wanted to see more outfits.:-/  So here's another one for ya!!
I had a video interview yesterday with the lovely and creative Alicia DiRago of Dismount Creative.  We talked DIY, creativity, projects…and had so much fun gabbing that I completely forgot to talk about what I was wearing. (!)  I know, as if I hadn't talked about myself enough!
The weather's suddenly turned rainy and cold again, and I'm really ready for it to be Summer!  Ugh.  So for my interview I wore my infamous handmade romper (made from a man's shirt I thrifted), but underneath layered a lace dress that I bunched up underneath so that it would just function as a skirt.  Why leave your dresses in the closet when you can layer them? I reasoned.  Especially when the dresses are formfitting – you can wear them as separates under other items of clothing.  I was surprisingly warm despite the fact that I'm wearing something more appropriate for 70-degree weather…I find layering lace and mesh things really do keep one as warm as wearing cotton.
I should probably re-hem the shorts-part of the romper…but ohwell.
I tried my hair curly, and pulled it back in a ponytail for the interview, but wasn't liking it too much.  I pinned it up later in a faux bob and like it much better!  I kind of just did it haphazardly, but if you're interested in how to do your hair in a faux bob, …love, Maegan shared her great tutorial here.
Playing around with the white balance settings on the camera…
I've been hankering after a pair of neutral vinyl platform pumps for awhile…I've been seeing them all over the place for sale but after rigorous comparison shopping found the cheapest pair to be from UrbanOg.com (only $22!).  They're excellent quality, too…and I'm really happy with the purchase!  The heels are super-skinny, and unfortunately while we were shooting photos I saw that the heels had left imprints on my brand-new laminate flooring.  *sigh*
I did my nails with Sephora by O.P.I. Nail Color in "Slushied", with French manicure tips in OPI's La Paz-itively Hot
, but it chipped really quickly.:-(
In the video interview I had also clipped my DIY cardigan clip (the version with the bows and chains that I made for Style Sample magazine for their Nov/Dec 2010 issue) to the collar; I removed that later.
Who's ready for the weekend? I have so much homework to do for my classes it's not even funny!  (And I probably shouldn't be procrastinating by posting..erp.)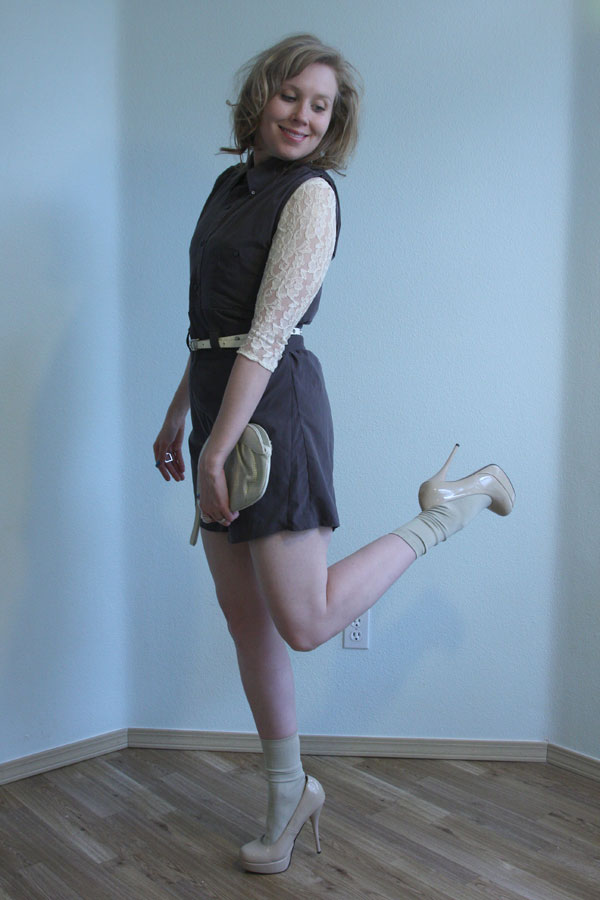 I can't wait for the video interview to post!  So excited…
xoxox
Carly
~If you liked this post, please share it!~
Tags:
my outfits
,
trends