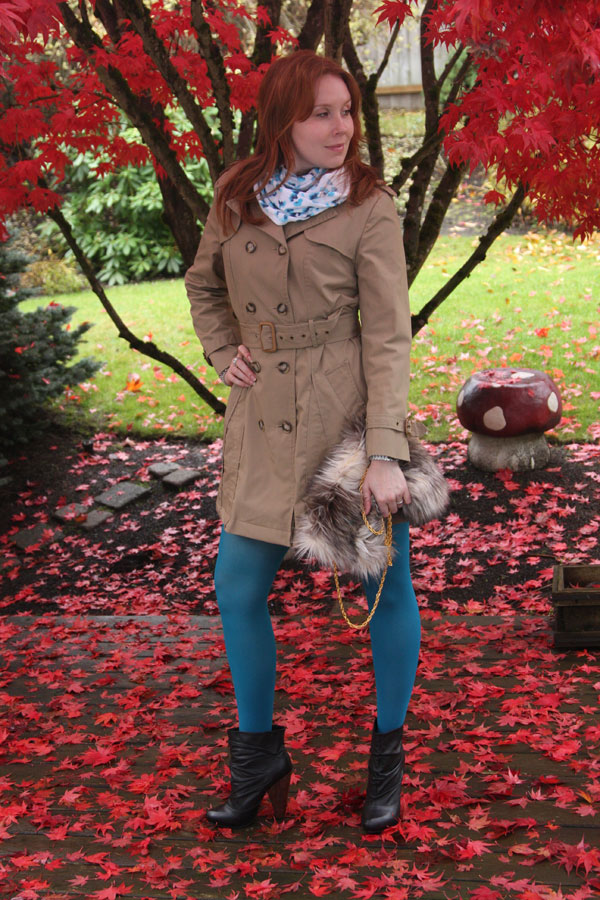 Leopard-print scarf: DIY (tutorial here)
Trenchcoat dress: thrifted and altered
Rings: Cartier, Tiffany, mocha, Forever21
Watch: Swarovski Citizen Eco-Drive
Rhinestone wrap bracelet: Target
Faux Fur Bag: handmade by me
Opaque tights: Hue
Wood-heeled booties: Fergie [from last year]
I've been hankering after a beige trenchcoat to wear in the months before it turns really cold here in Oregon.
I've seen a number of cute, flared trenchcoats in my favorite Japanese fashion magazines lately, and some are available from various retailers stateside, but I didn't feel like coughing up the money for Burberry or anything like that, intended for longer wear.  Trendy, cute, and could be worn as a dress – those were my basic parameters.
Unfortunately everything available at the thrift store, though serviceable, was ultimately pretty boring style-wise.  Long, cut like a block of wood, with no feminine shape to them at all.  So I picked up a piece that fit me at the shoulders but had a couple stains near the below-knee-length hem.  The leather-covered buckles were also very worn and ruined from years of use.
It took me a very long time to find replacements for the buckles – and no, not even Etsy sellers stock them!  I finally found them through AT Button, and after an order of buckles that were the wrong size because I had mis-measured, I finally got ahold of replacements that were correct for this trenchcoat.  (If you ever need these type of buckles, make sure you measure the outside dimensions VERY carefully – and specify those are the outside dimensions when ordering!)
I cut off the hem, split the vertical seams of the trench on the front, and inserted some of the extra fabric I had cut off from the hem, in two triangle godet-shapes.  This created a flare bottom for the trench, and made the piece much more feminine.  Since I didn't have enough fabric, I couldn't do the back seams as well, but ideally this should be done for a more flared shape.  (I may stop by the fabric store to see if I can find something matching at some point.)  You could also insert contrasting fabric – how good would a red plaid, or black lace look?  Beautiful, I think!
The leopard scarf I made for the I Love to Create blog with the Tulip Wild Thing Tie Dye Kit.  I'm loving the stencils included in that kit – they're so versatile!
The bag I made with a piece of faux fur [that I use for my Etsy foxtails], a zipper, and a chain.  A lining might be good at some point, too.;-)
It's getting really chilly here – I'm not sure how much longer I can walk around with my legs exposed (even in tights).  How do other ladies manage during the Winter???
Hope everyone had a great week – thank goodness the weekend's finally here!
xoxox
Carly
~If you liked this post, please share it!~
Tags:
trends