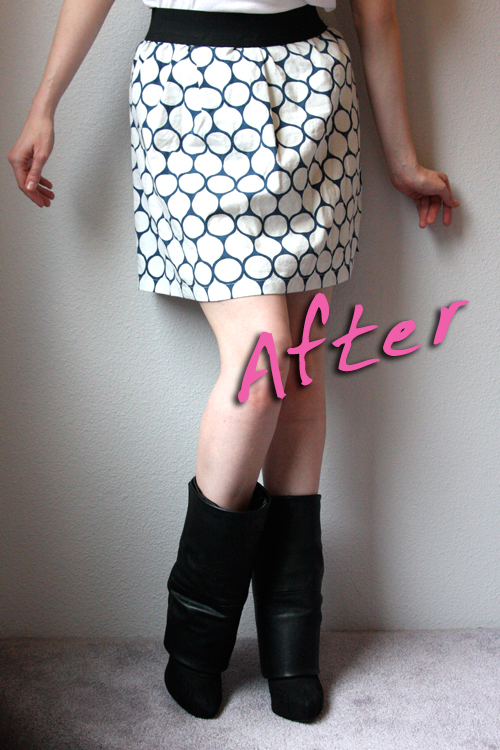 Pillowcases come in a variety of prints that work just as well for pieces clothing.  Plus, they have just enough fabric (and are roughly the same shape) as a cute little A-line mini-skirt – and can be transformed easily, with just a couple seams.  (You can of course also transform them into dresses and skirts for small children.)  And now there's no need to worry when you have a lone pillowcase and can't find its mate.
Take Exhibit A, a dot-printed piece that I pulled out of my 48-lb. haul of clothing I sourced at my local Goodwill Outlet.  I was drawn to it because of the fabulous print – and I could only find one of them, so I had no intention of using it as a pillowcase…thus I thought it would work great as a skirt!  The whole process took me maybe 30 minutes – a quick-sew project to be sure!
How to Make an Elastic-Banded Mini-Skirt from a Pillowcase
You Need:
*a standard-size (or larger!) pillowcase
*2″ wide piece of black elastic
*tape measure
*marking chalk
*pins
*fabric scissors
*thread and machine needle for wovens
*iron & ironing board

How To:
1. Turn pillowcase inside out and cut off all the sewn seams, leaving two large rectangles.
2. Turn rectangles sideways and fold in half.  Cut edge on a slight A-line angle to the top.  (I know in the photo above the fabric isn't folded in half – but you should probably do that to ensure the right and left sides of each piece are at exactly the same angle.)
3. Unfold your pieces.  Measure 1/2″ in from the angled edges of one of the pieces, and cut.  This piece will become the back of the skirt.
4. Pin back to front of the skirt at the angled sides, and sew together.
5. Wrap piece of elastic at your natural waist (or where you want to wear the skirt).  Make sure it is taut on your waist – not so tight you can't breathe – but fairly tight.  Overlap ends by 1/2″ and cut.
6. Sew piece of elastic in a circle on your machine with a 1/2″ seam allowance.  (I used a straight stitch, then flattened each end and zigzagged over it to further secure it.)
7. Place elastic band over pillowcase top, overlapping about 1/2″.  Match pillowcase skirt center front  to center of elastic band, and skirt center back to the seam you sewed in Step 6).  Pin the two sides as well.
8. Sew pillowcase to elastic band using a stretch stitch on your machine, with the elastic on the top and the fabric below being thread through by the machine's feed dogs.  Stretch the elastic between the pins so the pillowcase "gathers" naturally to the elastic.
9. Try on the skirt, mark where you want your hem to fall, and turn the hem (about 1″).  Sew a 3/4″ hem on the bottom.
10. Iron to set the hem and remove any creases.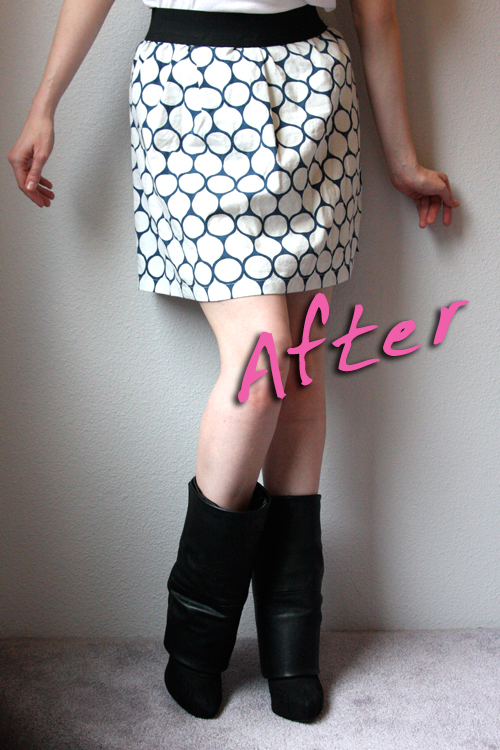 And that's it!  And the great thing is, the waist is elastic, so you can wear it belted higher up with a wide belt…or wear it lower near your hips for a different look.  Hope you have as much fun making yours as I did mine!
Happy DIY'ing!
xoxo
Carly
~If you liked this post, please share it!~
Save
Tags:
A-line skirt
,
DIY Clothing
,
DIY Skirts
,
elastic
,
Goodwill
,
My DIY Tutorials
,
pillowcase
,
sewing
,
thrifted
,
upcycle