With Spring officially here and Mother's Day just around the corner, I've had flowers on the mind.  But not just the ones growing in my garden – handmade ones, using scraps of fabric from a number of past projects.  I've posted before about one of my favorite flower-making books, "Ima Sugu Tsukuritai Co-saju" ["Corsages I Want to Make Right Now" Bunka Publishing, 2006].
I shared the camellia flower pattern before, so I've reposted it below for you guys: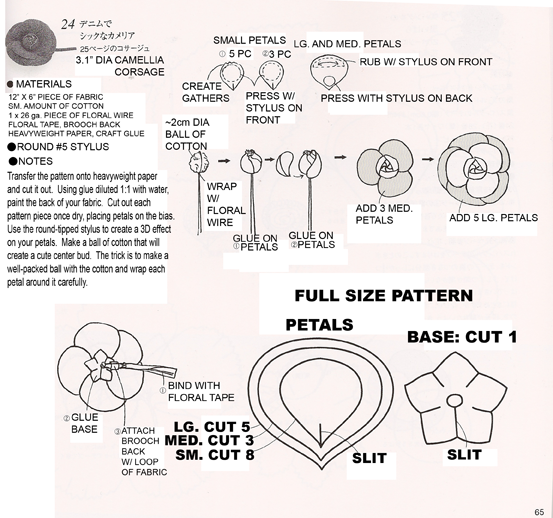 My English translation is above. The book page is 8 1/8″ wide by 7 7/8″ high if you want to print it out, in order to make sure the petal pattern is sized correctly. The pattern requires the use of a round-headed stylus (also called a "cup") in order to create the rounded, 3D-effect to the petals. Not completely necessary, but it helps create a finished, professional look to your corsage.
From last year's Men's Shirt to Cute Summer Shirt Dress tutorial that I wrote, I used some extra leftover fabric to make a carnation corsage.
Here is the how-to and pattern below:
Here are a couple more projects in the book…a dahlia:
And a lush camellia: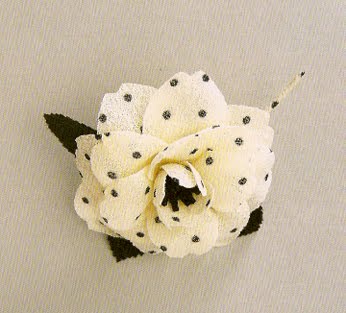 Okay…I'm all translated-out!
If you would like to check out more reference books in English for making fabric flowers, two of my favorites are Heirloom Ribbonwork
, which constructs flowers out of ribbons, and Handmade Flowers from Paper and Fabric
, which has more paper flower projects than fabric, but the projects can easily be adapted.
Both are incredibly inspiring and have you making different types of fabric flowers than just roses (which have how-to tutes all over the internet already)…but ribbon daffodils? velvet bouvardia?  If you were patient and had a lot of time – they would make a beautiful bouquet for Mother's Day, that lasts forever.  Lovely blooms will break up any DIY monotony.
Have a flower-filled day!
xoxox
Carly
~If you liked this post, please share it!~
Tags:
Accessories
,
brooches
,
corsages
,
DIY Accessories
,
fabric flowers
,
flowers
,
men's shirts
,
My DIY Tutorials
,
upcycle