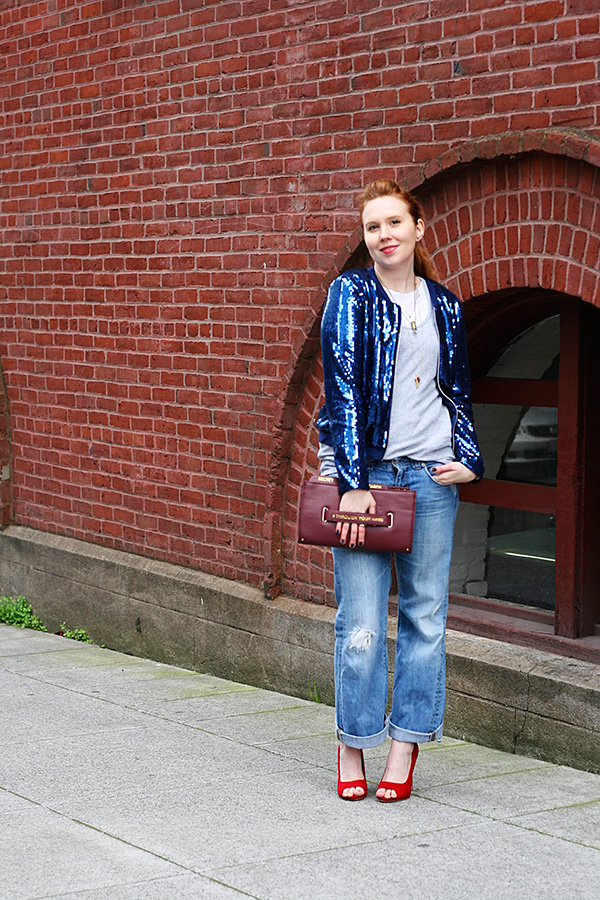 Sequin bomber jacket: H&M, similar
here
.  Speckled Quartz in Bullet Shell Necklace:
anotherfeather's Etsy shop
(similar
here
).  Double Triangle Pendants: H&M.  Glitter Tanktop: Old Navy (old).  Burgundy
Wallet Clutch
: LagunaMoon (from Japan).  Distressed boyfriend jeans (with my DIY patches): Kitson, a
HauteLook
purchase.  Red Suede Peeptoe Heels: DbDb Fashion (thrifted).
No, this is not today's outfit, nor yesterday's outfit, but last week's outfit.  Other content had to be pushed out first so I put this outfit on the back burner til today…but decided to share it anyway!
I've been dying for an excuse to wear this sequin bomber I found at H&M a couple months ago.
I had the hardest time figuring something to pair it with…I mean, a sequined bomber jacket??  Styled with a baseball cap it could easily go bingo-afficionado-retiree-territory.  Seriously.  But paired with some distressed jeans it seems to straddle the line between Michael Jackson and homeless person (falling far onto the Michael Jackson side, if you ask Hub, who was relentlessly humming the tune of "Beat It!" behind me as I made dinner that evening).
Distressed jeans are always perfect when you buy them; they only get worse with wear: strands rip open, edges fray etc.  Some people never wash their jeans, but put them in the freezer.  I think Hub's frozen Japanese staples [tenkasu (tempura batter sprinkles) and natto (fermented soybean muck)] will not pair well with aforementioned jeans, so I didn't want to attempt it, and went the washing route.  And of course the perfect distressing fell apart.  But no matter!  A couple pieces of scrap quilting cotton, hand-stitched in running stitches with bright pink embroidery thread, actually makes the rips look intentional again.  But then comes the washing dilemma again…  Has anybody had good results with the freezer method?
On this day I went with an All American red-white-and-blue color palette by adding some bright red lipstick-colored velvet heels that I found at the Buffalo Exchange here in Portland.  They have the best stuff!!  I felt particularly patriotic, especially for National Women and Girls HIV/AIDS Awareness Day.
After accosting the lovely red brick wall of some parking structure, Brooke and I also sauntered into Powell's Books, one the largest indepently-owned bookstore of used and new books in the world, covering an entire city block.
They specialize in used and out-of-print books, as well as trade books and textbooks – and often has lines of people selling their used books to the counter and happily walking away with store credit to buy more used books. 
You can spend hours in there, rediscovering your long-lost favorite picture books from childhood, a rare and detailed textbook of French couture methods, or even the latest Star Wars origami book.  If you're ever in the Portland area, you MUST visit Powells and browse!!
Hope everyone's having a great week so far!
xo
Carly
All photos by the amazing Brooke Morse.  Thank you sweetie!!
Tags:
my outfits
,
trends