counter-clockwise from top right: Free People Vintage Bolo Necklace ($298), Elliot Atkinson Runway (photo by Morgan O'Donovan for DazedDigital), Egoist Cross Stone Bow-Tie NC (1,995 yen), DIY by me
I am such a necklace person; I always feel naked if I'm not wearing a strand (or two or three) of something metal and glittering at my neck.  But sometimes I want to break away from the something-pendantlike-strung-on-a-chain rut…and the bolo tie necklace is the perfect piece to do that.  Whimsical and retro, this style of adornment has been seen lately in the offerings at Free People and the runway at Elliot Atkinson (and was in countless shops when I visited Tokyo last Summer).  Of course you can find bolo ties on Ebay or thrift shops…but you can also make one that's all your own quite easily – and from stuff you probably already have in your craft drawer!  Here's how:
Materials: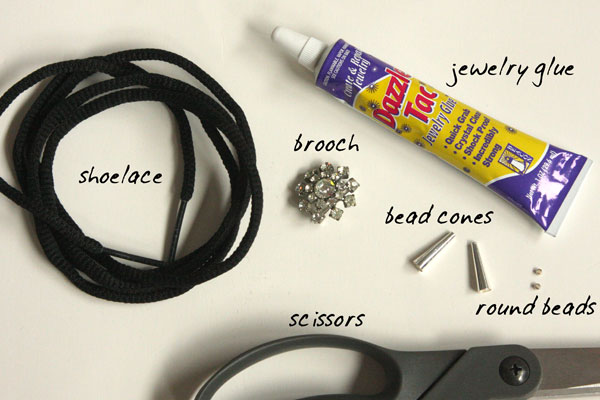 black shoelace (or black cording)  /  pretty brooch  /  2 bead cones or bolo cord ends  /  2 tiny round beads, each small enough to fit in the tip of the bead cone (not necessary if you're using bolo cord ends or closed cones)
Tools:
glue that works on metal and fabric  /  scissors
How To: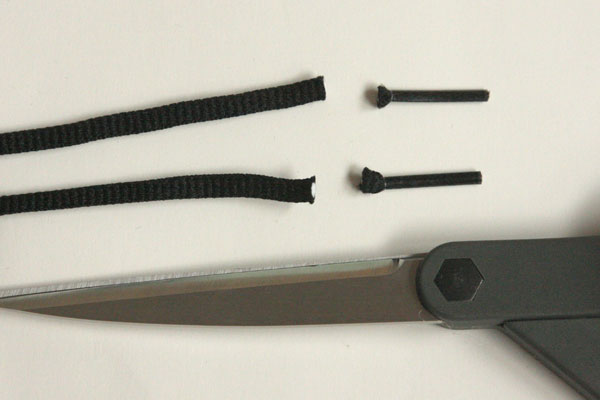 1. If using a shoelace, cut the aglets off.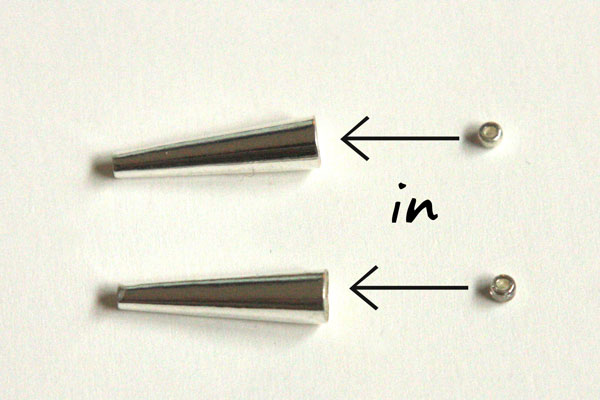 2. Place each round bead into each cone bead, pushing it down to the tip.  (The beads are necessary to prevent the glue from oozing out the tips of the cone beads when you glue the cord in.  If your cone beads have no holes at the bottom, you don't need them.  You could also use anything, really, to stop up the bottom…like an old bit of clay, or wadded-up tinfoil…but I had beads on hand and felt the glue would hold them in better.)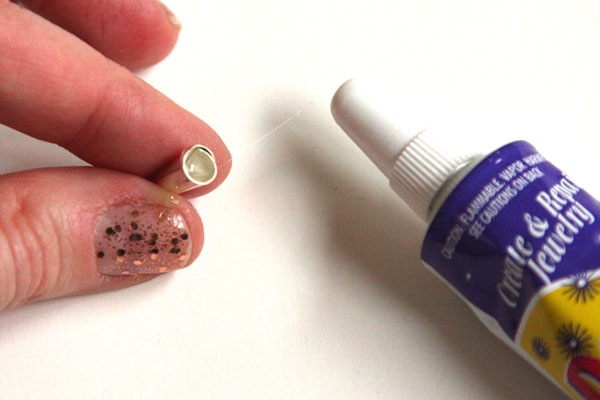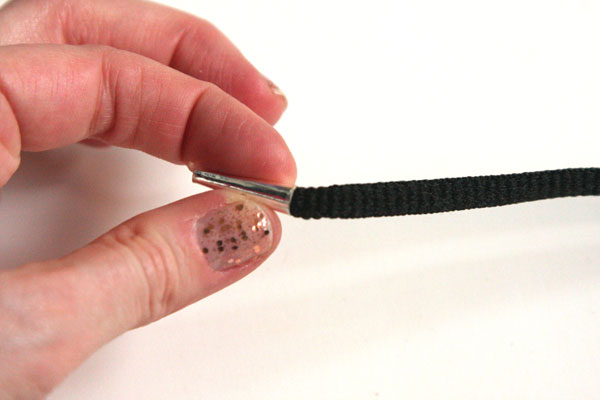 3. Place a dab of glue into one of the cones, and push one end of the shoelace/cord into it.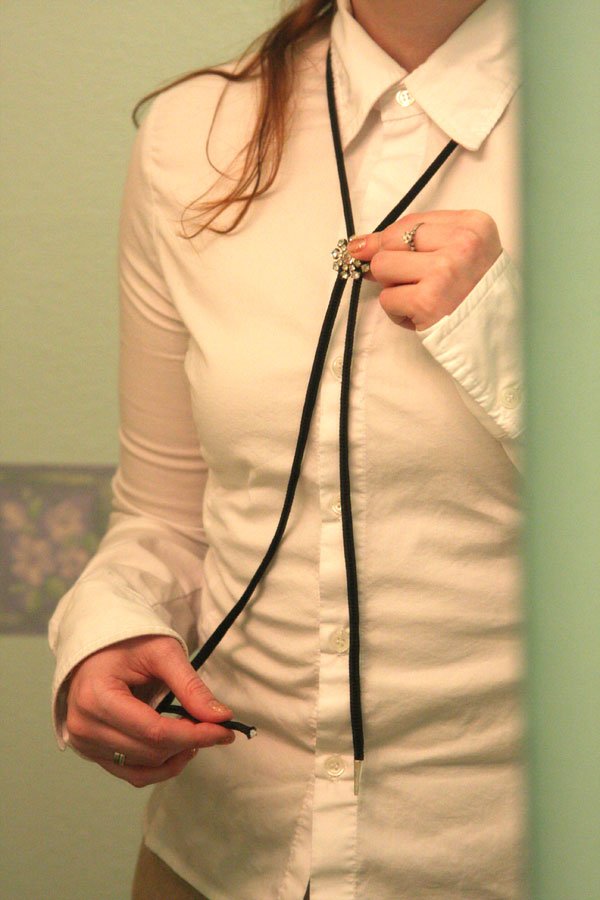 4. Tie the cord around your neck and position the brooch where you would wear it to check for length.
5. Trim the other end of the cord to your desired length.
6. Glue the end of the cord into the remaining cone bead, and allow to dry.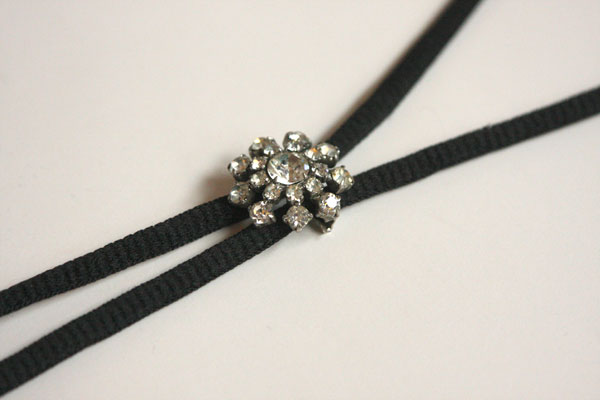 7. When wearing your homemade bolo tie, pin the brooch pin through the cord to secure.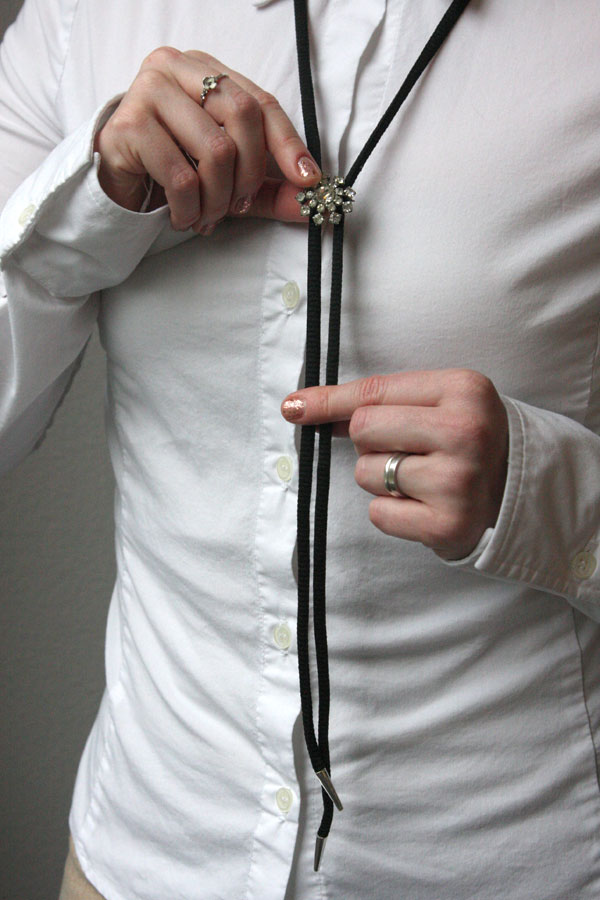 You can't really slide this up and down the cord like a real bolo-tie would, but you can pin and unpin as desired!
**If you want to adhere more closely to the materials used in actual bolo tie, you might want to avail yourself of some supplies from your local craft store or online here.**
No matter how you do it, it makes a fun alternative to a typical necklace, adding a bit of Southwestern bohemian flair to any outfit!  (Try with a soft t-shirt and a maxiskirt if you want to make it a little less boho and more edgy.)
Happy DIY'ing!
xoxox
Carly
*all photos in the collage property of their respective owners; collage by me.
~If you liked this post, please share it!~
Save
Tags:
bolo tie
,
DIY Jewelry
,
DIY Necklaces
,
My DIY Tutorials
,
shoelace
,
upcycle