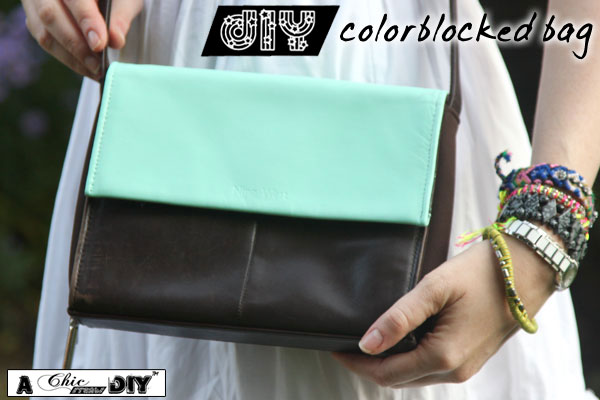 70's-style colorblocking is a hot trend for Fall 2011, seen on the runways and now beginning to trickle down into street style and retailers.  I was hankering after a colorblocked purse, but didn't want to pay a lot for it.  Thankfully, thrift stores are a wonderful source of older handbags, and I found an adorable cross-body bag for a mere $4.99.  But it was rather beat-up and needed a little makeover, so I figured it was time to break out the brushes and do some leather painting!  Though technically when you paint leather, what is most recommended is to use paint that is specifically formulated for use on leather, like Angelus.
However, if you are feeling squeamish about buying an unfamiliar product online, or they don't ship to your country, or you want to use some acrylic craft paint that you already have on hand, fear not!  Leather and suede can actually be painted with acrylic paint, with fairly good results if you take the time to prep the piece properly.  So here's how to add some vibrant color-blocking to some leather or suede pieces you already own:
How to Add Some DIY Colorblocking to a Leather Bag
You Need:
*leather or suede handbag
*acrylic craft paint
And…
*water
*small bowl for paint
*paintbrush
*masking or painter's tape
*soft cloth
*rubbing alcohol
*fine grit (like 800) sandpaper
How To:
1.. Use fine-grit sandpaper to remove any shiny parts to the leather you will paint.  We need to rough up the surface so the paint will adhere.  (Not necessary on suede items.)
2. Wipe with a clean, damp cloth to remove residue.
3. Wipe the area with a cloth saturated with rubbing alcohol to remove any surface finishes or protective coatings the leather might have.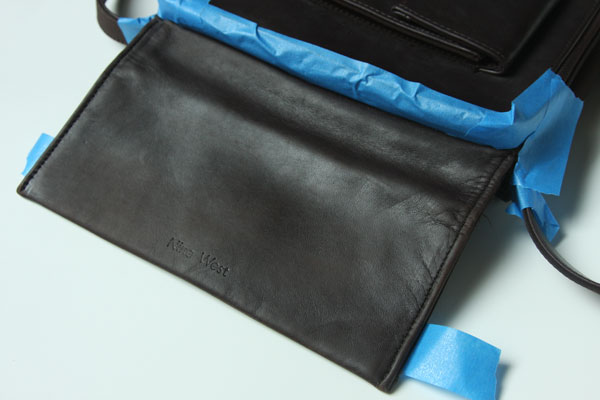 4. Mask off the parts of the bag you will be painting with tape.
5. Now the bag should be ready to receive paint.  Mix the paint with water in a 1:1 ratio in your bowl, and paint on the mixture using long strokes.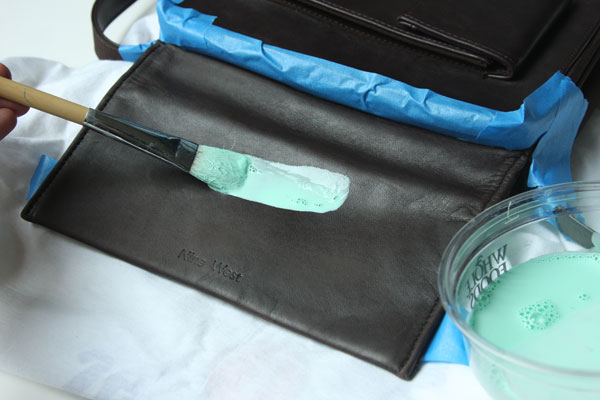 It will look streaky at first, but this is necessary to allow the leather to soak up the paint.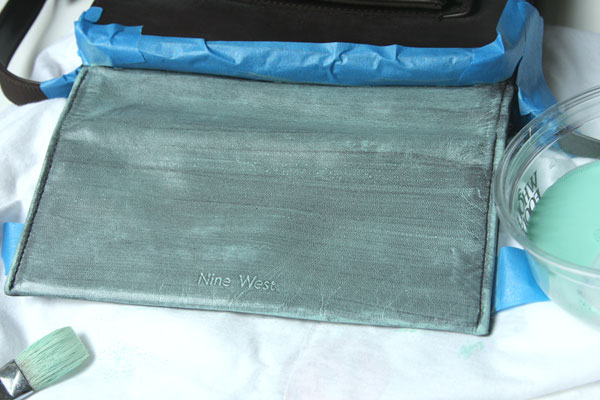 6. Add 2-3 more coats, allowing the paint to dry partially between coats. 
Do not allow the paint to dry fully; the leather needs to remain damp between coats.  After each coat, flex the leather so the paint won't crack.
7. Now it's time to use undiluted paint.  Spread on using long coats again, flexing after each coat.  Allow to dry between coats – you may need a couple.  It took 3 for my seafoam color to become truly opaque on my dark brown bag.
8. Remove masking tape once completely dry.
You're done!  No protective coating is necessary, though if you're worried about water-fastness, a layer of matte Mod Podge might be a good choice.
Wear with neutrals or mix it up with crazy colors for a Fall look!
**Whether acrylic paint will work on vinyl or manmade leather surfaces is fairly dependent on the surface; it's mostly trial and error for faux.
Some other on-trend color combos to try:
Evergreen + Royal Purple + Orange                  Mustard + Gray                    Gold + Burgundy                    

Black + Cognac                       Seafoam + Cream               Teal + Silver
Happy DIY'ing!
xoxox
Carly
~If you liked this post, please share it!~
Save
Tags:
acrylic paint
,
Advice and How To
,
DIY Accessories
,
DIY Handbags
,
leather
,
leather painting
,
My DIY Tutorials