Studded Beret: DIY.  Striped LS Tee: Mossimo (Target).  Beige embroidered bustier dress: Twenty8Twelve.  White Pearl-Button Gloves: DIY.  Polka-dot belt: vintage.  Polka-dot tights: unknown.  Velvet open-toe heels: DbDk Fashion.
Day 16 of my 30 Days of Outfits Challenge: November 16.
I'm getting behind in posting these!  Double time, double time!
After a couple days at home with Lil Tot (who is on the mend, by the way – thank you all so much for your well-wishes and thoughts!)…I've gotten a little tired of the schlumping-round-the-house uniform I've been in lately.
So I went all out (and maybe went a little Parisian in the process??  Or at least what I think of when I hear the phrase "Parisian")!
I've always felt that hats just don't suit me…but sometimes I just want to wear them regardless!  I bought the beret at Target, and added a variety of sizes of pyramid studs (from Studsandspikes.com) to add a little bit of edge.
I also love wearing tube dresses or bustier dresses over tops.  It takes a summery piece into winter, and transforms a cocktail dress into a more casual outfit.
The shoes I found at the Buffalo Exchange recently, and I'm still going back on forth on whether to rip off the bows or not.  Maybe I will and add shoe clips to them so I can clip them onto any part of the shoe…a great little trick to make something that's embellished more versatile!
The gloves I bought in Japan – they're UV-protectant gloves that Hub said make me look like Michael Jackson – and I didn't like the bracelet-length style, so I shortened them and added 2 little pearl buttons to make them look like a little vintage 40's pair that the Portland vintage stores will charge $25 for.
Lil Tot's fever has now gone down to around 99 – 100 degrees, and his sinus infection seems to be draining slowly, so hopefully a couple more days at home will have him back to normal!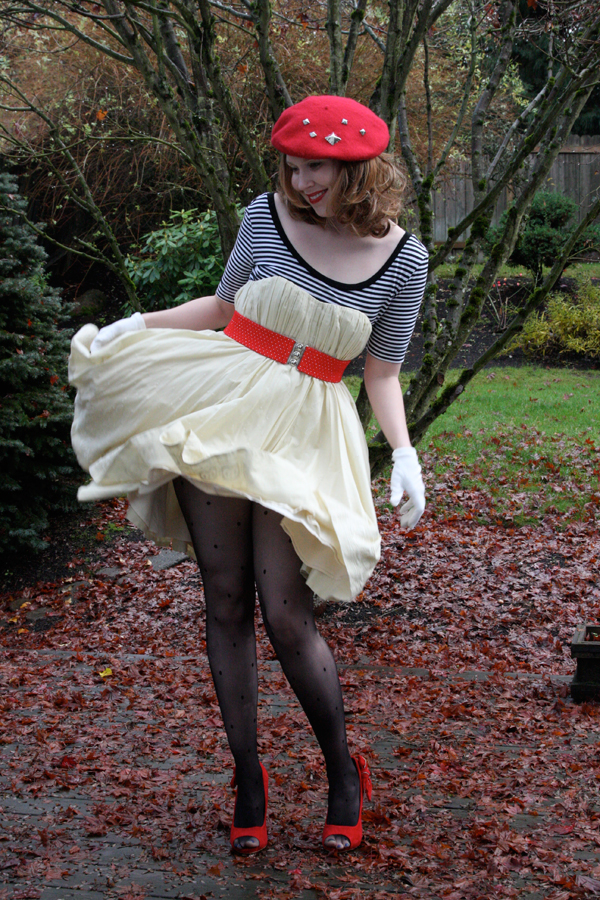 xoxox
Carly
~If you liked this post, please share it!~
Tags:
30 Days of Outfits Challenge
,
my outfits