So as many of you probably know already, I was in Tokyo for two weeks in early July to visit my in-laws.  Hub and Lil Tot went two weeks ahead of me while I stayed behind to look for our runaway cat; sadly, I didn't find her so went to join my family for the last little bit of our vacation.
So here are some of the photos we took while there… (this is super-long, just to warn you! And totally ignore the commentary if my dry sense of humor grates on ya.)


How I communicated with my family while I was still in Oregon: by iSight.  Living in 2010 is cool!

Before I arrived my family visited a ryokan [traditional Japanese inn] in Gunma prefecture.  Lil Tot is wearing the ryokan-issued garb and using a borrowed umbrella.

This is what the room looked like.

Each room had its own private bath.

And the dinner was off the hook.  Typical.

Even the "child meal!"
(Those are my son's hands, and yes, he can use chopsticks…at least okay for a 4-year-old.)

Outdoor baths. I don't know that person who's baring his butt.

If a heaven for little boys exists, it's probably looks just like this shop, filled to the brim with die-cast cars, trucks, and various vehicle paraphrenalia.

It was Tanabata (July 7) soon after I arrived, and so we decorated a bamboo sprig with handmade paper decorations to celebrate.

We also played with sparklers in the garden.

In Japan everyone has their last name emblazoned on a plaque outside their house.  When I lived there as a kid my dad had to get one specially made with our foreign names all written out on it, which caused quite a stir in the neighborhood, and revealed to all passersby that a bunch of foreigners lived in that little blue house on the hill. As a result we had many kids ringing our doorbell just for the fun of it, but at least most of the solicitors stayed far away.  Except for the Jehovah's Witnesses for some reason.
(Now that you know where Mr. Abe lives above, please don't go bother him, thanks.)

The stairs up to Komazawa Olympic Park [where they held the 1964 Summer Olympics in Tokyo].

The large tower structure in the park.  The Olympic Torch was displayed right next the tower, and it remains a monument to the Olympics.

We went to a traditional sushi place where the chef prepares the sushi in front of you in 7-course meal.

Waiting on the platform for the subway.
This is what the inside of a Tokyo subway train is like, thank goodness not during rush hour.  If it was rush hour I wouldn't have even been able to hold my camera up.  That old guy is looking at me weird.
Question: How many people are using their cell phones in this picture?  *smirks*

Just a wall.  There's a lot of cool architecture in Japan wherever you go; old and new, European and Japanese, mashed together.

Where Hub's grandfather and aunt live.  It's a monolith.

They live in a neighborhood with some interesting European-style houses, and many foreign families (by coincidence).

I thought this house was pretty cool-looking.


We went to a traditional Japanese festival, and my son bobbed for water-balloons (called "yo-yos").

Putt-putting.  Do I stand out at all?;-)

Goldfish-scooping game using a paper scoop.  Lil Tot didn't catch any, thank goodness, else we would have to take one home to appease him.


A gigantic heap of soba.

The kids' meal on the airplane going to Japan was crap, apparently, but the one coming from?  Awesome.  I mean, what kid wouldn't want ham cut in the shape of an airplane, potato salad, pudding, koala-shaped cookies, and fried chicken contained in a little cat's head?  (I'm being facetious – I would have loved that if I were I kid.  Okay, I still loved it;-)

Stop, for heavens' sake!!  (You can see all the blisters on my feet from the unbelievable amount of walking I did.  Plus my pretty lavender pedi, LOL)

Walk signal.

The infamous Hachiko cross in Shibuya, thronged with people.


I liked what this girl was wearing.


Tower Records in Shibuya.

The "too-cool-for-you" band BREAKERZ in a gigantic display.  Puke.
(Though once upon a time I would have been in those throngs of squealing girls at one of their concerts…ah, the good ol' days.)

More passers-by.  I didn't actually have my pro camera with me, so snapping shots on the fly, especially of moving targets, was very difficult, and the zoom on the camera I had was really terrible.

I loved how this girl accessorized with her scarf at her waist.

And this dude.  Are those harem pants I see???

Underground mall below the Shibuya station.

One shop was selling these mop slippers with animal faces on them. If I had hardwood floors I would get a pair of these, and spend a
ll my time shuffling around in room corners (because, after all, that's where the most dust collects) attempting to make them useful.

Also a shop selling (among other bright things) blinged-out bears.  Still a trend here!

More schoolgirl truants.;-)

I love his shirt.  "Self Taught Rock" indeed.  Plus so many of the young guys here have long hair – which can take some getting used to.  I think next to "metrosexual" in the dictionary there should be a photo of the entire Japanese male population between 16 – 30 y.o.

The newly-opened Opening Ceremony store in Shibuya, which unfortunately took over the space where One Minute Happiness used to be [the most awesome store with everything – clothes, gifts, makeup – under $19]. Boo Opening Ceremony.

I felt pretty bad taking her picture when she covered her face and ran away.  I'm not sure what she was promoting, but it was probably a maid cafe.


Thong socks for your geta sandals!  I have to admit, I didn't see anyone actually wearing these.  But the bow anklets (upper left) I thought were pretty cute.

Outside one of my favorite shopping destinations in the world: Shibuya-109.

Marui Jam in Shibuya.  Not quite as good as 109.

Of course we had to hit up Mr. Donuts – Hub asked me to pick up some on my way home, and then he just assumed I wouldn't remember and so HE went there and bought 1.5 dozen himself first. And he's only known me for 10 YEARS???!!  So in addition to the 10 I bought, we had 28 donuts which had to be consumed within 3 days before they went bad.

Of course, we managed easily.  (Above: Matcha [green tea] flavored Pon de Ring and Choco-Glazed.)

Where else would you find a hot-pink-and-white Barbie-style VW bus?


Why, in front of the Tobacco & Salt Museum, of course! (We didn't actually go inside.)

The biggest pudding [well, technically "baked custard" or "flan" would be closer] in the WORLD.  Maybe not.  It's called "Happy Pudding."  Of course. Nobody could finish it and we all got ill trying.

We went to the Sazae-san Museum [think: the Japanese equivalent of "Peanuts"] and helped add tiny houses to the map they had laid out.

We went to an oyster bar because it Hub and FIL wanted to (me, I can't stand the things), and apparently the oysters were really good.

I preferred the mountain rock salt-flavored ice cream. It was pretty salty, with just a hint of cream.

Random graffiti.  Crisp.


The menu from some Honey Toast cafe in Shibuya.  An entire loaf of bread, lightly toasted on the outside, with the inside cut into cubes, drizzled with warm honey, and topped with vanilla ice cream.  The only time I've had any was at Shokudo in Honolulu, of all places.  Really quite yummy if you are a bread person!

Strawberry Milk Toast.  I wish I had tried it!

Some of Hub's friends having lunch.  Of course Hub himself refrained from eating the octopus balls they had and just took pictures of the aftermath.

Every child's dream: going to Kiddy Land in Harajuku!  8 floors crammed with so many toys it makes your head spin.  The crowds are pretty typical for a Saturday.


We went to the aquarium and Lil Tot loved the Sea Lion show.  I have no idea what this fish is.

Dinner at a soba restaurant; me wearing my clip-in bangs.

We also went to Tokyo Disneyland. It just so happened that after we arrived a typhoon came, and we spent the rest of the afternoon riding the rides in rain slickers, while sheets of rain poured down and the wind whipped through the park. The fireworks and the Electrical Parade – specifically what we had come to see, were all canceled.

We went on mostly indoor rides after it was really pouring.

On the plus side, the lines for the rides got progressively shorter. Lil Tot decided he was in love with "It's a Small World" and we went on it three times.  The song one time through is enough to make you nuts.

I don't think my mother-in-law enjoyed the merry-go-round.

Make-it-yourself candies from a kit that had wafers, icing, and sprinkles.  Gross.

Even grosser: Make-It-Yourself Sushi Candy Kit.  They look like the real thing, but taste like the cheapest, most chemically-processed, sticky, gummy candy you can imagine.

My mother-in-law lent me her PASMO while I was there.  It's like a Metrocard, but the money you've loaded onto it can be used other places, like at the convenience store.


A typical drink machine in Japan.

Amazingly, you can also use your Pasmo to pay for your drink just by tapping it onto the light grey rectangle on the left in the blue area.  Why the heck can't they do this in the U.S.???

When I was a kid and couldn't read or speak Japanese, I loved that all the restaurants display replicas of their menu dishes outside.  Okay, I still love it.

More truants flocking around the First Kitchen in Shibuya Center-Gai.  Best. French. Fries. EVER!!!They make non-flavored fries and give you a flavor powder that you shake up inside the bag.  You can get black sesame, Cheddar cheese, garlic, cayenne pepper, buttered potato, oregano herb, sour cream and onion, black pepper, barbecue, buttered salmon roe, consomme soup flavor…the list goes on and I really can't remember everything.  Plus they have a variety of dipping sauces.  Man, I can't BELIEVE I forgot to have some while I was there!  Now I'll be kicking myself until next year.

There must have been a festival going on that evening since there were groups of people dressed like this hanging out.  (Note: this is NOT normal everyday attire in Japan – before I went to live there, I thought it was!!)

Especially in Shibuya Center-gai in the afternoons you will see these jailbait girls lining the sides of the street, just sitting down, playing on their cell phones and doing their makeup, chatting or getting picked up by guys.

Posters that also happen to be promoting the movie Inception.  No, they don't mean that Inception is "FUN PLACE TO GO!" it's just another one of those unfortunate misused Engrish and bad design mockups that are so uniquely Japanese.

Every time we go to the departures area at the Narita airport Lil Tot insists on having lunch at the Fujiya restaurant.  I love how the mascot Peko-chan is hiding behind the parfait in this photo.  Someone's been a naughty girl!!

Hub had the Fruits Anmitsu.  Anmitsu is a dish which has cubes of kanten [unflavored gelatin], sweet red beans, and canned apricots – and you pour red bean molasses over it all.  It's very sweet, and this version has fruit and whipped cream as well.

A bicycle parking lot.  I guess these exist in Portland too…somewhere.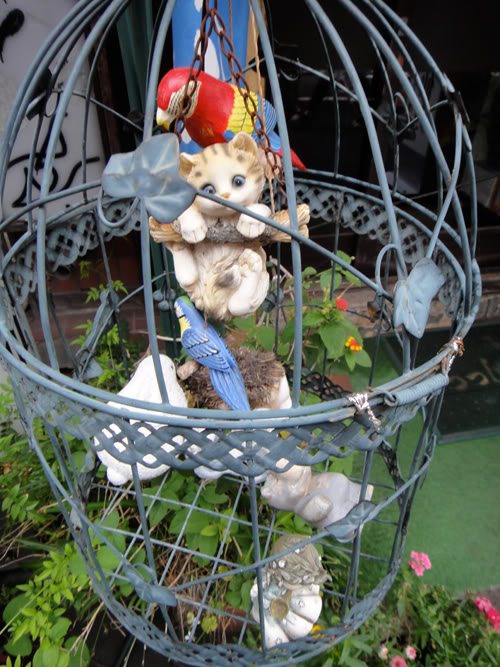 Selling hot chestnuts at his little stand.  Of course, it's July, so few people were buying.

Outside a crepe stand.  Japanese crepes are the best!!

My father-in-law bought one of those brand-new Sony 3D TVs – and this is my MIL and Lil Tot watching it.  You have to wear these fashionable goggles while watching it – and you can't sit at an angle since it throws off the view; you have to be situated smack in front of the TV.  Lil Tot got disillusioned pretty quickly, but MIL soldiers on.


Eating ice creams clustered around Baskin Robbins.  Of course, if you said "Baskin Robbins" to any Japanese person they would have no clue what you're talking about.  The official name of the store in Japan (and what it says in Japanese on the sign) is "Thirty-One" for the 31 flavors of ice cream served there.

We bought a bug-net at the 100-yen shop and Lil Tot proceeded to try and catch all the bugs and butterflies he could, partially squishing them in the process.

Hope everyone else had a wonderful summer vacation too!
xoxox
Carly
~If you liked this post, please share it!~
Tags:
Japan
,
My Travel
,
Street Style
,
Tokyo Style
,
travel photo diary
,
Vacation Travel