Chrisitan Louboutin High-Heeled Cage Booties, $1595.00.
So the caged heel trend appears to be still going strong, with Christian Louboutin's latest take on it above. But I'm not feeling the $1500 price tag. I'm looking for something a little more…affordable, shall we say. Lowest price wins!

Steve Madden Cage Sandal, $49.98 (sale). (Free shipping with code SMFREESHIP)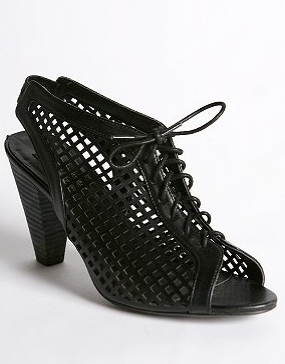 Deena & Ozzy Woven Cage Heel, $29.99 (sale). (free shipping on orders over $75 with code OHJOY until 12/14/09)
Wet Seal Cage Heel, $29.50. (Free shipping with any purchase over $15 until 12/18/09)
The Payless Lattice Chop-Out Sandal (by Fioni), $26.99. ($5.95 shipping on all orders)
Bing bing bing! I think we have a winner! (Though if you count shipping cost, technically, those Wet Seal booties won…but you can always have Payless orders delivered to a store for in-store pickup free)
It's no YSL cage-heel sandal….but…
if you're looking to jump on the trend with not a complete knock-off, and want a slightly lower heel height for wearability…for under $30 it's a toned-down way to cage yourself. And it's available in silver for those of you bored with the black cage cutouts.
So what do we think? Chic…or cheap?

-Carly J. Cais
Tags:
Shopping