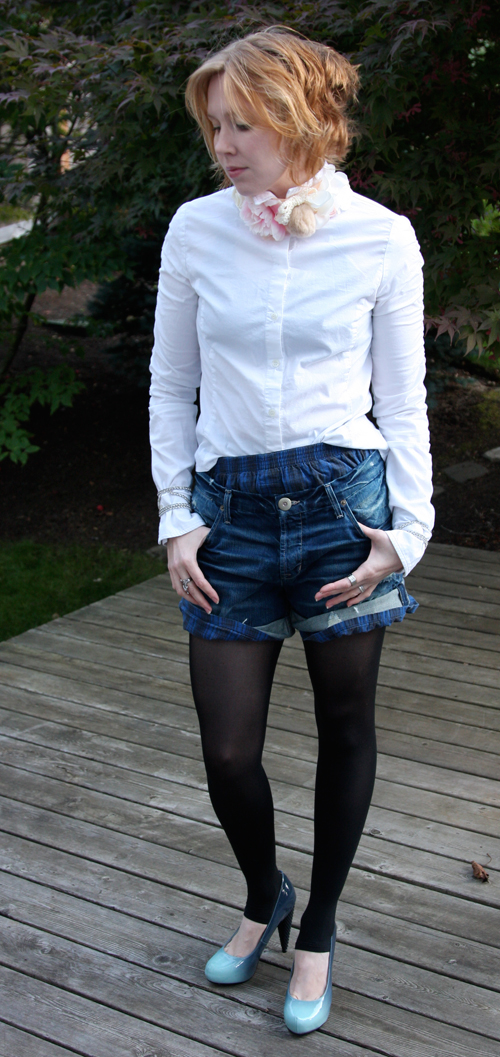 (DIY flowered neckpiece, Kenneth Cole new york shirt, J. Crew boxers,
Hudson shorts, unknown tights, Spiral Girl shoes)
As soon as I saw the J. Crew catalog featuring the quirky model below wearing that flower necklace, I knew I had to DIY my own.

Just a combination of silk flowers from the craft store, pearl-edged lace ribbon, a pom-pon, and rolled fabric roses – all hot-glued onto a strip of peach satin voile, and finished with cream satin ribbons. I could wear it as a belt too.
I like my version a lot better than the J. Crew one, which isn't even available to buy from them anyway.
I also took another cue from the catalog and layered a pair of Hub's boxers under my shorts. I think white with thin stripes may look better; the blue blends in too much with the denim. I know it's weird, but I also felt the shirt looked better tucked in to the boxers.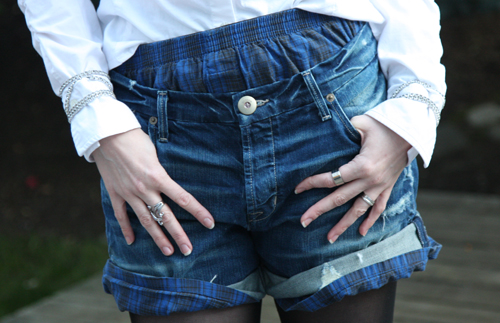 (Claire's stretch rhinestone bracelets and ring, jumpring tool, and Cartier and Tiffany wedding rings)
My $20 freakin-awesome Spiral Girl studded cone-heel pumps. Full disclosure: I switched these out to the flat boots I wore on Day 2 since I was shooting my own photos this night.
I also went for a little bit of an Edward Scissorhands-look to my hair. It didn't stay as wet-looking as I wanted it though.
Hope you're all having a great weekend!
xoxo
Carly
Tags:
my outfits
,
Portland Fashion Week 2009