Dupe this look with some lacy applique applied to the collar of a button-down shirt, some fabric paint (or stencil paint!) for the daisies on the shorts, and some decorative buttons or colored gem nailheads for the flower centers.
The fashionable outfits seen around the globe during the various Fashion Weeks are always so inspirational.  I just love seeing the boldness, the color, the next BIG THING!  How about getting your craft on after seeing some of these ideas?  I'm all for it!
Lasercutting can be totally a pain without a laser, but patience and perseverence (and a leather punch!) can help create a lacy look to a leather skirt.  Create faux lace-ups to show off beautiful ankles and shapely legs.
Easiest DIY ever: just cut off the shoulders of a favorite top to give it a sexy makeover.  Bonus points for folding down the raw edge and securing it for the ultimate wearability!
Make a funky blouse all your own by customizing with a contrasting placket and collar, cut from a different shirt (and subsequently, sew the placket/collar from this shirt onto that one = perfect gift for your bestie!).  Sometimes the Frankenstein look can be so awesome.
Add a scattering of floral rhinestone appliques around the knees of your jeans for an upscale look to your denim.
How about adding a panel of sequined fabric to the front of a skirt?  Day to night, all in one piece!
This looks so simple to DIY!  Just use glitter fabric paint and a skull stencil to spice up a plain sweater.
Cut out the front of a black tee to up the goth-girl quotient.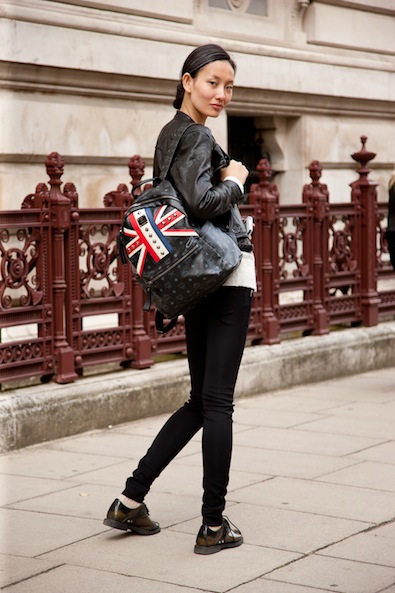 Create your own anglophile bag with some leather paint, masking tape, and strategic studding.
Photos from Mr. Newton, posted at Harper's Bazaar; Refinery29; Bridget Fleming, posted at The Fashion Spot
xoxox
Carly
Tags:
New York Fashion Week