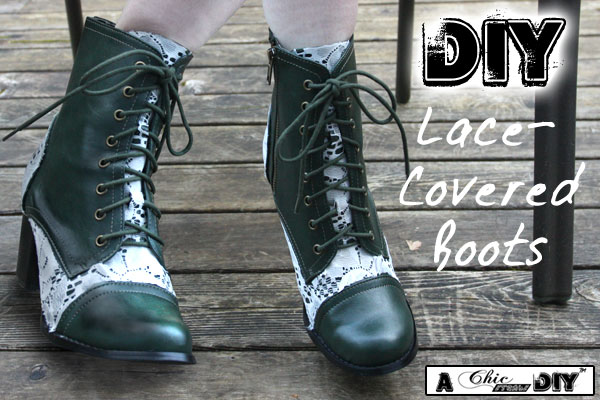 I still have a ton of lace fabric from that curtain I bought last month to make my DIY Lace Maxi-Skirt…so I did a couple projects before I left for Japan to use up the extra.  One of the DIYs was re-vamping a pair of granny-booties with a lace covering and making them into the perfect booties for Spring.  With all the flowered boots popping up in retail stores lately, I figured it was high time to do a pretty feminine lace version!  Here's how:
pair of boots you'd like to cover / lace fabric / Loctite Vinyl, Fabric and Plastic Repair Adhesive
/ fabric scissors marking chalk (optional) / craft knife (not pictured)
1. Remove the laces from your boots.
2. The placement of the seams on your shoe will determine where you place your lace bits.  I chose to cover the tongue, center of the shoe, and the heel, but I could have also chosen to cover the boot shaft and the toe cap.  It's totally up to you!  In any case, start with the largest area first, and place glue on it.
3. Loctite dries within 5 minutes so work quickly!  Place a large fabric swatch on the glued part.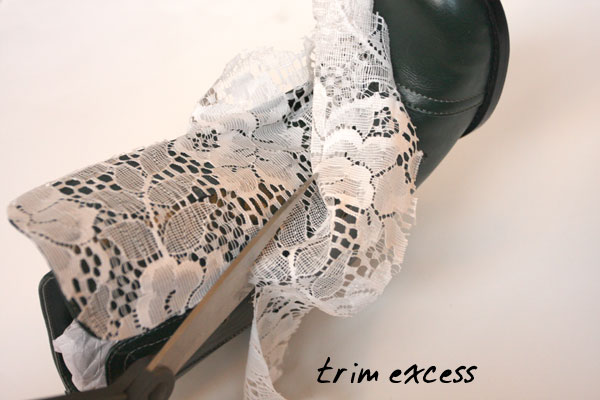 4. Trim the excess with fabric scissors, cutting close to the edges.
5. Re-apply glue under the edges of the fabric if necessary.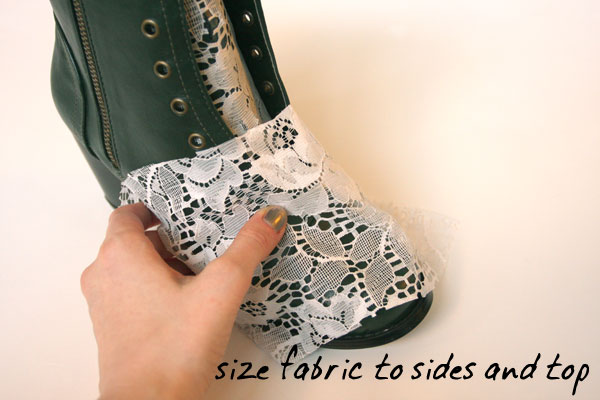 6. Size your fabric to cover the rounded areas of the boot – and use your marking chalk to mark it to size.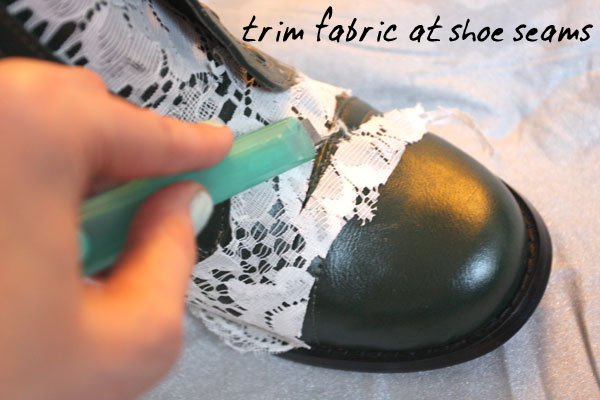 7. Place glue on the rounded area of the boot, place your fabric down, and trim with a craft knife after a few minutes have passed and the fabric is secure.
8. Re-thread the laces back into your boots.
Wear and enjoy!

P.S. You can of course cover any boots or shoes you have with any fabric you like, though shoes that have seams at the toe-boxes and heels or in the sides are easier to place the fabric!  My boots are from Forever 21, bought in late March…and I can't find them online anymore!:….(
P.S. Try different types of fabric for a different look!
How about these Free People-style boots using Guatemalan blanket stripe fabric?? (I think that's what it's called…)
Happy DIY'ing!
xoxox
Carly
~If you liked this idea, please share this post with your friends!~
Save
Tags:
curtain
,
DIY Shoes
,
lace
,
My DIY Tutorials
,
upcycle