As you guys know, I've gone out to Japan for a month to help with a family medical crisis.  In the meantime, some very talented and very kind DIY bloggers have come to my rescue with offering up some DIY tutorials to share with all of you while I'm away!  I'm so lucky to have such incredible friends who can help out with blog content during this time.
First up, Samantha from Bromeliad Living has volunteered an amazing DIY Macrame Bracelet tutorial – perfect for Summer and all those music festivals coming up.  Or just if you like saving a hundred or so bucks in mimicking the original!!;-)  Take it away, Samantha!
---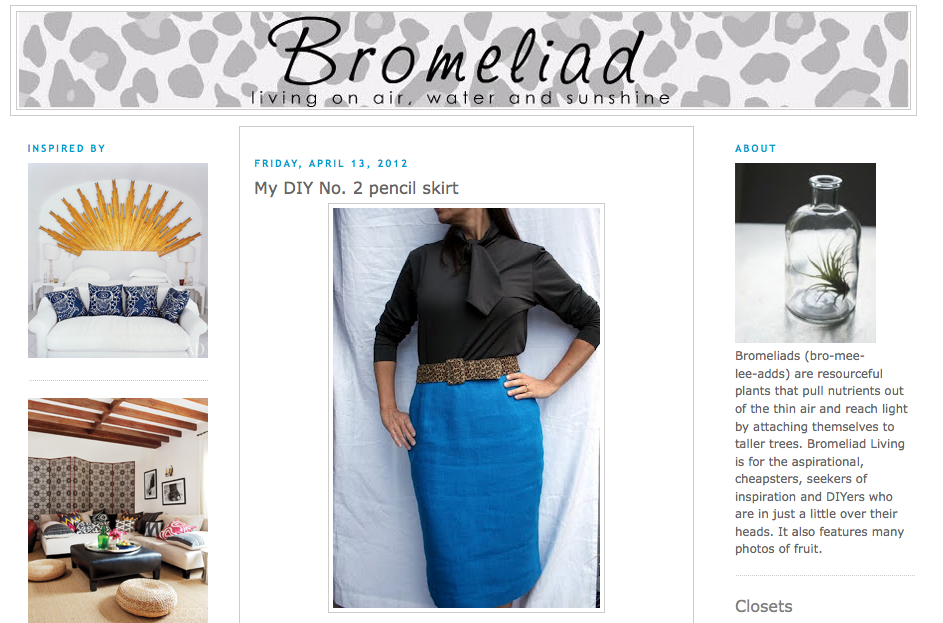 Hello, I'm Samantha from Bromeliad Living, and I'm pleased to be guest posting for Carly while she is in Japan. Carly's information-packed blog has gotten me through many DIY projects, particularly the ones that involve inscrutable things like shirt sleeves.
In addition to my personal blog, I write about DIY Fashion and DIY Home Decor for Examiner.com.
Today's tutorial is inspired by Jensen Conroy's Macrame and Brass Bracelet ($129; above). My version takes a few bucks and a few minutes to make, and the result is a nice, sturdy, giftable bracelet.  Here's how…To make this bracelet, you will need nine feet of macrame cord or utility rope. Macrame will look more like the original bracelet; utility rope will add pattern and create a thicker bracelet.  You will also need a small metal tube that is wide enough for two piece of cord to slide through. (I used an aluminum electrical conduit connector.)  Look around the plumbing or electrical section of your hardware store for a tube you like.  You'll also need fabric or hot glue.
1. Cut your cord into a seven-foot piece and a two-foot piece. Burn or tape the ends to prevent fraying. (above showing bracelet partially completed, with taped ends)
2. Fold the smaller piece in half. Find the middle of the longer piece and knot it around the top end of your short piece, leaving a small loop at the top of the short piece. The two cords in the middle are filler or static cords. The two longer cords are your tying cords. (not pictured)
3. Then tie a series of square knots. See this tutorial at Examiner.com for instructions on how to tie a square knot.
4. When you get about two-thirds of the way through knotting your bracelet, slide the tube over the two center cords.
5. Continue with a few more knots.
Close-up of the knots.
6. As you get to the end of the bracelet, you approach the tricky part: making the bracelet look continuous.  To do this, pull the two center cords at the end of the bracelet through the loop at the beginning of your bracelet.  This sort of makes the center/filler cords one continuous piece.
7. Continue to knot once or twice with the two outside cords.
8. Pull all of your cords tight and squeeze some hot glue or fabric glue down into the cords to hold them in place. Allow to dry if using fabric glue.
9. Clip the cords and burn or glue the ends to prevent fraying.
10. To hide the cut spots, roll the bracelet inside out so that the cuts are on the inside of the bracelet.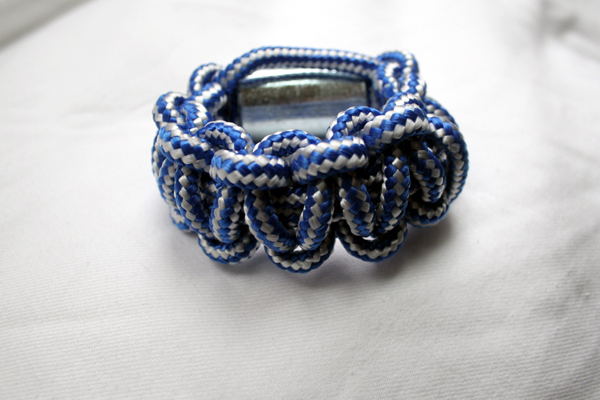 Enjoy your cheap and chunky macrame bracelet!
---
Thanks so much, Samantha, for your wonderful guest post!  This bracelet looks pretty and fun all by itself on your wrist – or stacked with other bracelets and beads to make a complete arm full-o-fun!
Check out her many other tutorials and ideas for fashion DIYs on her blog, Bromeliad Living, or at the Examiner.com!
Thanks so much and Happy DIY'ing!
xoxox
Carly
~If you liked this post, please share it!~
Save
Tags:
Bromeliad Living
,
DIY Bracelets
,
DIY Jewelry
,
Guest Posts
,
Jensen Conroy
,
macrame