Do you use a flat iron to straighten your hair?
For the longest time, I didn't…not until my late twenties, at least.  In fact, I was mostly just a get-out-of-bed-pull-my-hair-into-a-ponytail kinda gal.  It's only as I've gotten older – and begun to look at myself and how I look as a complete picture, that I finally realized that the make-it-or-break-it component to any stylish outfit is what you wear on your head.  Yes folks (as probably everybody else already knows;-) it's your hairstyle (or lack thereof) that truly ties everything together and makes your look chic…or not.  So I've added flat ironing into my repertoire of hair styling techniques, and as my hair's growing out longer, there's a lot more to play with.  So awhile ago I bought myself a $29 iron (a national, well-known brand) from my local discount store, thinking that there was no reason to spend money on what was the equivalent of just a couple of hotplates stuck on a pair of tongs.  Boy was I wrong.For almost 3 years I've had my $29 iron, and though I haven't snapped it in two or set it on fire yet, I always wondered if all irons were supposed to be like this.  Even though I use it on a medium setting (and one appropriate for my hair), it doesn't straighten my hair very easily.  I have to go 2-3 times over the same spot to get it to really flatten out.  If I go too slow the iron leaves a permanent crease where I've applied it too long to my hair.  Flipping my ends under or out is near-impossible as it doesn't create a smooth curve at the ends with a flick of the wrist; just more creases.  It also catches my hair and I have numerous "ow, ow, OW!" moments as I'm working.  But isn't that normal for a pair of heated tongs??
When I was recently contacted by Misikko.com and offered a review sample of the HANA Titanium Ionic 1.5″ Flat Iron, I thought, why not?  I know what this tool is like when it's the cheapest one available, so what is it like when you spend a little more on it?  Is it okay to skimp on something that I now use 3+ times a week to style my hair??
When I received the extremely large box from Misikko.com I was absolutely floored to find the box overflowing with goodies.  I mean, look at all this!!
Rose-petal soaps, a HANA branded towel, emery boards, e.l.f. lip gloss, an eyelash curler, an eye mask…wait a minute, they were sending me a flat iron, right???  I immediately emailed the rep and tried to find out why the box was so filled with extras.  He said that these go out with every single package they send!!  What girl doesn't love some prettily-packaged extra freebies with her order?  Think of your sister, mom, best friend, grandma, daughter, co-worker, or other special woman in your life opening up a box so filled with prettiness on their birthday!  Something like this would also make an amazing bridal shower or Mother's Day gift…and the great thing is, it's already packaged to be perfect.
But this flat iron was just amazing.  I used it on the low/medium setting for thin hair (which mine is), thinking that, like my other iron, it would take a couple tries to really even out the kinks in my limp, slightly wavy, thinning locks. 
Half-done from the front!  Check out the shine on the right side of my hair.:-)

From the very first pass I could tell how different it was.  No snagging on my hair.  A quick, effortless glide through.  Soft, straight, incredibly shiny locks on the first pass.  No weird kinks or marks no matter how slow I went.  And perfect, slightly-flipped-under ends, exactly where I wanted them.  WOW.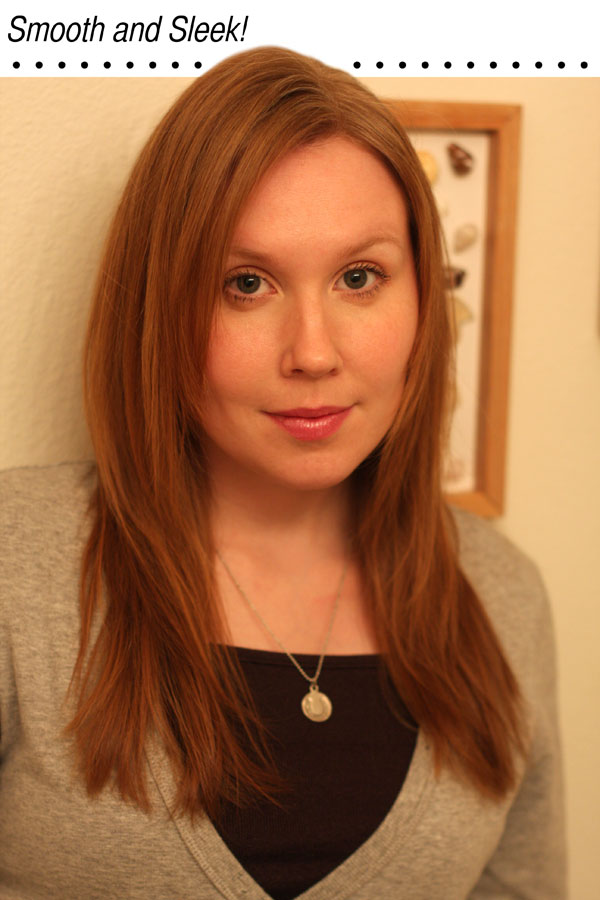 No products in it at all!  Just shampooed the night before, and went to bed with my hair wet like I always do.
Now this Hana Salon-brand Titanium flat iron is not exactly cheap at just under $175.  But the straightening I did with it – sans any hair products, mind you! – actually lasted a full 48 hours, even after I slept on my hair, and after I tied it up and had a steamy bath.  My hair was actually so smooth and shiny for so long Hub even commented on it!  (And I haven't had a haircut since December, and my hairstyle is a mass of split ends and messiness.)  I was quite surprised with the ease of use of this iron, and how long my hairstyle remained – without any hairspray or anything in it!
So could I justify buying this for myself?  Probably not, to be honest, simply because of the price tag.  I feel that for someone like me, this would be a once-in-a-decade splurge item…or something to put on a birthday wishlist or to drop major hints about to the husband.  I probably wouldn't even have known about how good a flat iron can be since I'd only experienced my cheapy, snaggy, cantankerous one.  If you have very thick hair or have had trouble with straightening irons in the past, I really recommend at least trying this HANA one out to see how it works for you!  My results (on limp, lifeless hair in bad need of a cut) were really fantastic and I'm definitely going to continue to use this iron for my styling and straightening needs.
Though I do advocate skimping wherever possible when it comes to trendy clothing and accessories, if you rely on something that helps you look great every day no matter what, then it is worth every penny!
Sometimes a chic steal is actually a necessary splurge if it helps you look like a million bucks.;-)
Check out the Best Flat Irons for your hair at Misikko.com
xoxox
Carly
FTC disclosure: I was gifted the HANA Titanium Ionic 1.5″ Flat Iron from Misikko.com for review purposes, and asked to share my opinion about the iron.  My opinions above are honest and based on my own personal experience with straightening irons.  I have not received any monetary compensation for this review.  See my Disclosure Policy for more.
~Know someone who's shopping for a flat iron, or who has thick, difficult-to-straighten hair?  Share this post and help them out!~
Tags:
Beauty
,
flat iron
,
hair
,
hairstyles
,
HANA
,
reviews
,
Shopping