Bib-style and collar-style, multi-tiered, embellished, spiky, organic, tribal necklaces have been all over the runways for a couple seasons, and it's high time to add one into regular rotation in one's wardrobe.  But it's so easy to make one out of bits and pieces floating around in your craft drawer!!  This particular project utilizes craft foam that, once covered in paint, studs, buttons, and beads – looks high-fashion and "artsy" without the high price tag.
You Need: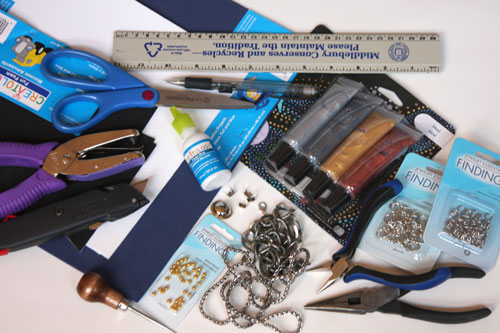 Tulip Beads in a Bottle Paint in Metal (I used the Silver and Gold from the pack)  /  sticky-back craft foam in 3 coordinating colors (I chose black and white, with navy to make the color pop)  /  jumprings in 2 different sizes  /  chain in 2 different sizes  /  chain closure (lobster clasp + jumpring)  /  1 button (with shank)  /  small flat-sided beads  /  four 1/4″ pyramid studs
Tools:
ruler  /  pen or pencil  /  craft knife  /  scissors  /  foam glue  /  hole punch or awl  /  pliers (chain-cutting)
How to: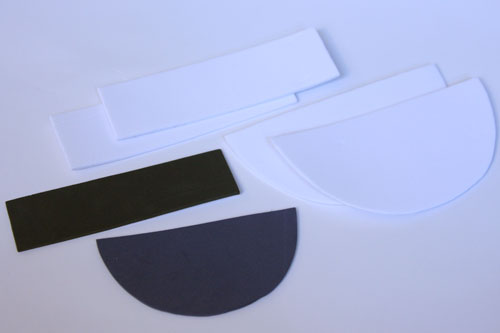 1.  Cut your base foam into 2 rectangles and 2 half-circles, each exactly the same size.  Cut a smaller rectangle from the black foam, and a smaller half-circle from the blue foam.  (Use a pen and ruler to mark out your shapes on the back side before cutting.)
2. Remove the sticker on the backs of the white pieces and stick the rectangles together, and the half-circles together.  This will make two double-sided shapes.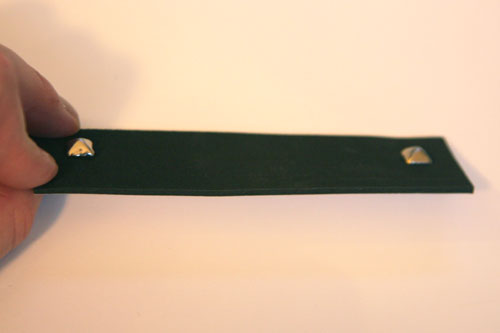 3. Set the pyramid studs into either end of the black rectangle piece.  (The foam should be soft enough to just push the prongs through, then fold the backs over with pliers.)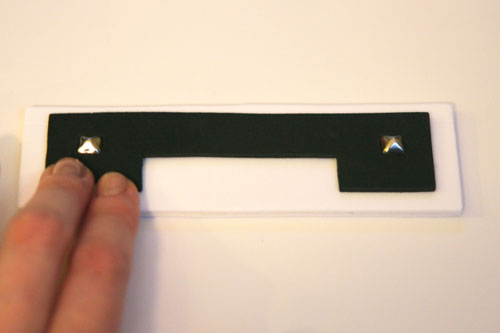 4. Remove the sticker back and stick the black rectangle onto the double-sided white rectangle piece from Step 2).  (I also cut part of the black rectangle out for visual interest.)
5. Use a sharp craft knife to slice off the shank of the button.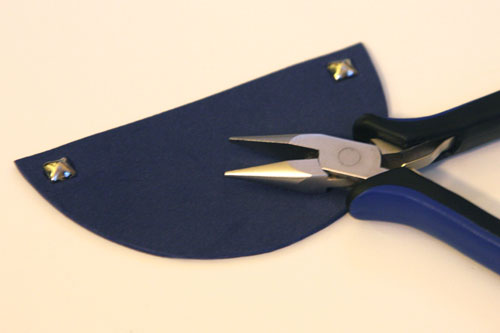 6. Set the pyramid studs into either side of the navy half-circle.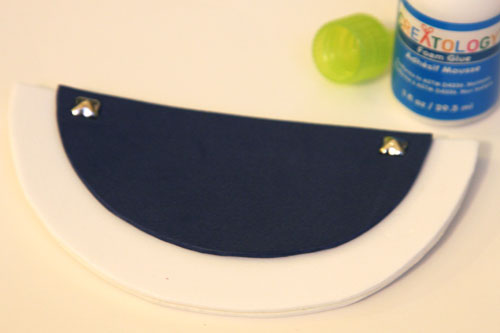 7. Affix the navy half-circle onto the white double-sided half-circle piece from Step 2).  (I couldn't find sticky-back navy foam, so I used foam glue for this step.)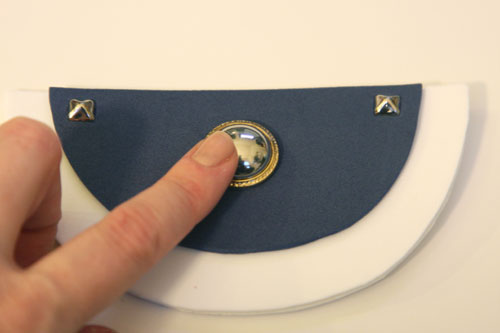 8. Glue the button onto the navy piece using foam glue.
9. Now it's time to get creative!  Using 2 different colors of Tulip Beads in a Bottle Paint, add dots around the edges of the foam pieces.  Vary the size of the dots for visual interest.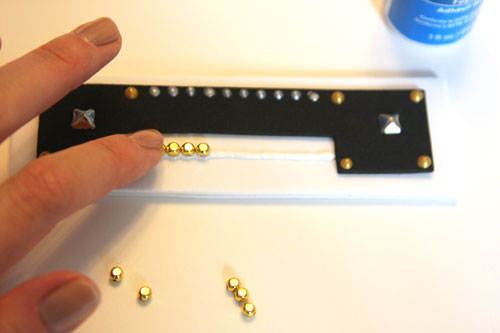 10. Finally, to add another texture, glue a line of beads onto the pieces using foam glue.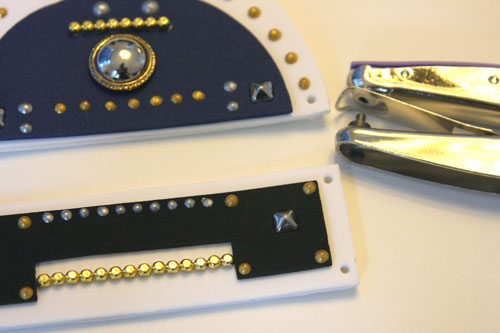 11. After the glue and paint have dried, punch holes in the edges of both pieces.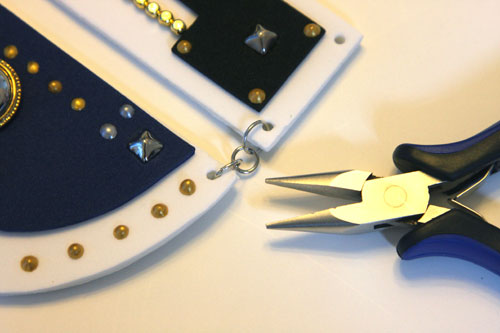 12. Attach the half-circle to the rectangle with jumprings.
13. Last, add a necklace chain at the top, and a piece of large curb chain for a contrasting texture at the top.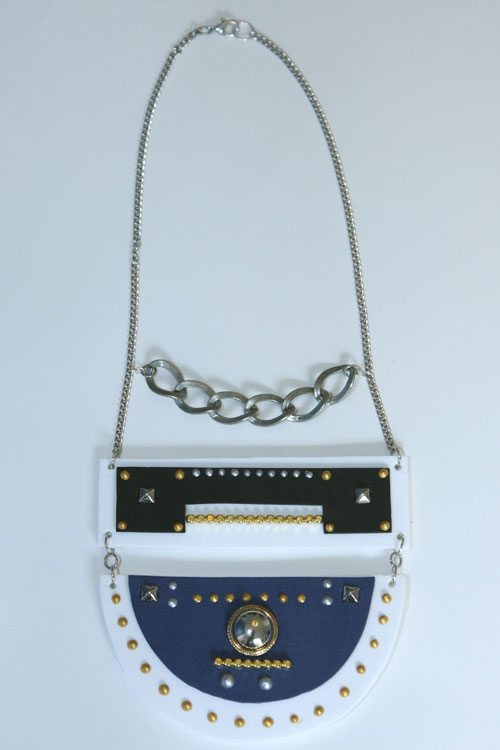 You're done!  Wear with something starkly minimalist to let your beaded bauble shine on its own.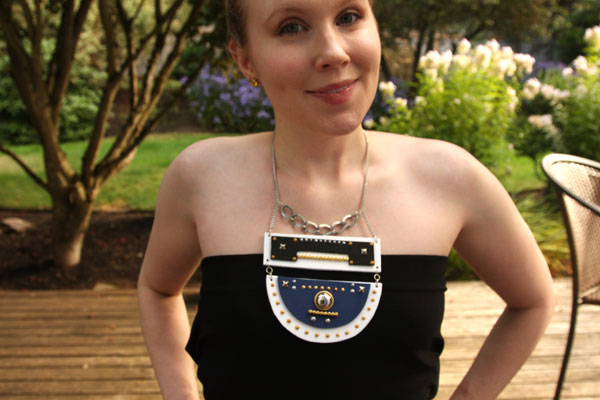 Tulip Beads in a Bottle are so fun!!  (Technically they're only supposed to be used on fabric, but I found they adhere pretty well to foam as long as I don't specifically try to scrape them off.)  Try them out for yourself and see what ideas you can come up with for fabulous things to decorate!!
Happy DIY'ing!
xoxox
Carly
*FTC Disclosure: Tulip Beads in a Bottle were provided to me courtesy of ILoveToCreate.com.
~Did you like this?  Consider sharing this post as my virtual tip jar:-)  Please share with a friend if you'd think they'd like this too!~
Tags:
bib necklace
,
chain
,
colorblocking
,
DIY Jewelry
,
DIY Necklaces
,
foam
,
My DIY Tutorials
,
Tulip Beads in a Bottle