Oh, Anthro – such a source for DIY inspiration, as always!  Though Alicia from Dismount Creative was similarly inspired by the latest catalog, I wanted to post a few more things that could be DIY'd straight out of the pages of Anthropologie's most recent offerings.  And besides, who wants to pay $500 for a sweater?  (Or $2,175 for a box set of books, for that matter??…marked down to a mere $1400 on the website, I now note.)
Use neon fabric paint and masking tape to liven up a bland clutch with a bright stripe.
Add candy-colored lace edging to a neutral cardigan for a Jason Wu-inspired feel.
Easily DIY those boots by gluing some printed fabric onto the shafts of some vintage boots.  And the earrings?  Snake chain on french hooks, with clipped feathers hanging off the bottom.  (Use a glue-in cord end to connect the feathers to the chain.)
Pretty up a chunky cropped sweater with hand-sewn clusters of crystals.
DIY some party booties with a handful of tulle and some sparkly beads.
DIY a formed bangle with some white Polyshrink plastic, forming the curve while still warm and wearing oven mitts.
Make a bustier extra-special with the addition of velvet ribbon and gold nailheads.
Make slippers all your own by hand-sewing vintage keys or buttons onto the toes.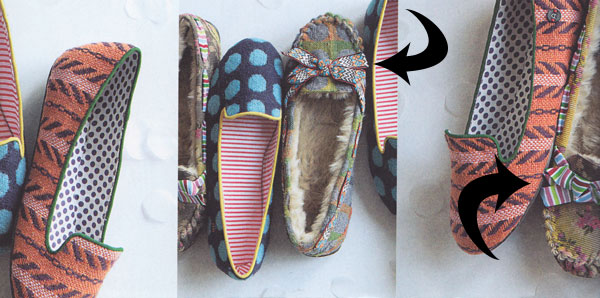 Dress up your favorite mocs with the addition of some pretty trims, tied in a bow.
xoxxo
Carly
~If you liked this post, please share it!~
Tags:
Anthropologie
,
catalogs
,
Pro Photoshoots