I personally love the Free People catalog – it's always chock-full of inspiration (both styling inspiration and DIY!) and on every page emanates an ethereal, dreamy beauty.  I'm digging all the rust- and caramel colors, reminiscent of Fall foliage, and the beautiful 70's-style textures that are just begging to be touched.  Here are a couple DIY inspirations that struck me as totally do-able this season:
Update a jacket with a printed fabric glued onto the back of it and decorated with pompons.  Add a yarn fringe trim around the edges, and more printed ribbon at the cuffs.
Break away from boring stripes by sewing in gray jersey at the sleeves.
Create a convertible coat by cutting a wool overcoat in half just below the waist, hemming each piece, and adding heavy-duty snaps to hold the whole thing together (you'll lose about 1.5″ of length though).
Easily re-create this necklace with a scrap of leather, a rhinestone, and some wooden beads.  Looking for a fur vest?  Try P.S. I Made This' tutorial using faux fur here.
Glue bright, striped fabric over the outers and tongues of a pair of black combat boots.  Leave the toeboxes uncovered.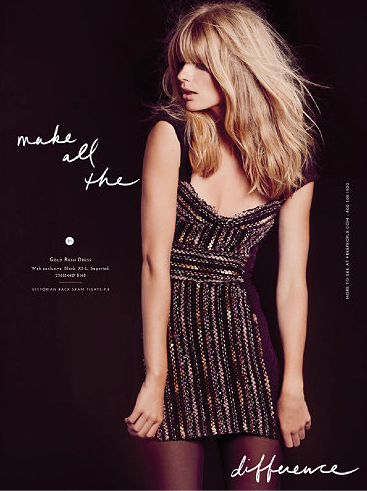 This dress totally reminds me of A Pair and a Spare's DIY Bodycon rug-dress.  Could you not use the rug fabric in different orientations to create the front of this little number, layering it on top of a black bodycon dress?  I think you could!!
Find a pretty lace crocheted doily/throw/tablecloth, and if needed cut out parts of it so the design stands out, and use it as you would fabric to create a cropped tee.  The necklace?  A piece of gold embossing metal (available at Jo-Ann's Fabrics) lying on a sticky-foam backing with jumprings attached to it.  Anyone can do it!
xoxox
Carly
~If you liked this post, please share it!~
Tags:
catalogs
,
Chic Brands
,
DIY inspiration photos
,
Free People