Last Friday saw Day 3 of the collections from this year's Portland Fashion Week – and the crowd was buzzing with anticipation. Local crowd favorites Amai Unmei and Ms Wood were set to show, as well as Vancouver-based Seth Aaron, whose showing at PFW each year has always been met with a great deal of buzz.
In attendance to show their support were Jay Sario (who would be showing his collection the next evening), and Becky Ross (who showed her collection for Wicked Quick the previous night).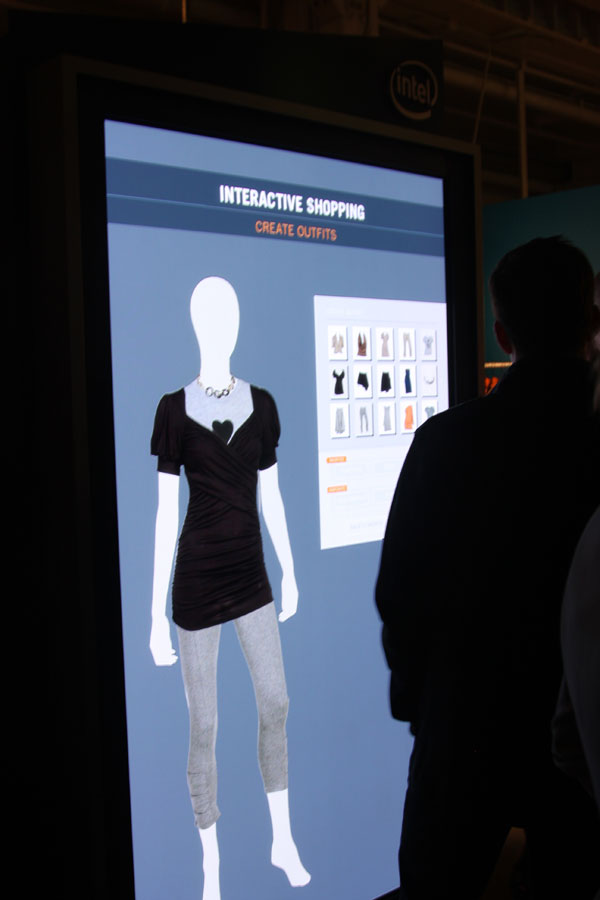 Intel had set up a "Fashion Retail Demo" screen in the lobby, featuring the collections of 21 San Francisco-based designers on an 85″-high display.  The touch-sensitive display allowed patrons to select outfit components and test a virtual shopping system that's only a couple years away from becoming a reality in retail stores.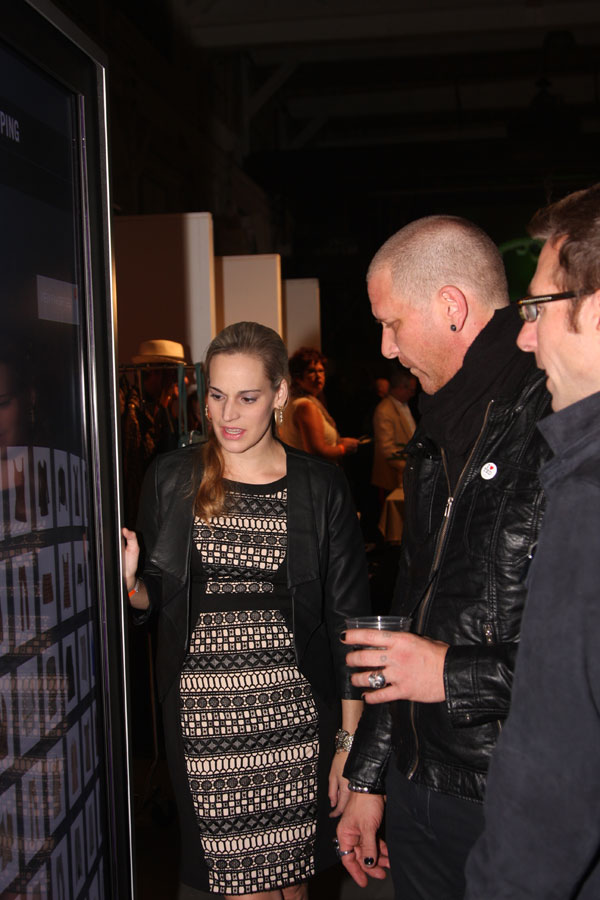 Seth Aaron picks out the perfect outfit on Intel's virtual shopping system.
This girl had the most unique hairstyle; her hair was actually mid-back-length, but a friend had French-braided it into a shorter bob at the nape of her neck, tailing down to a longer braid on one side.  It was so eye-catchign!
Even standing room was packed on this night.
Designer Allison Covington launched Amai Unmei based on the Japanese concept of "wrapping" the body back in 2006.  The name, pronounced "ah-MAH-ee OON-mei" is the Japanese word for "sweet" and the word for "destiny" written in succession…and unfortunately not translating as perhaps the designer intended; literally, "the fate that tastes sweet" in Japanese [leaving my husband ROFLing when he looked over at my computer screen as I was editing these photos].  Despite the unintentionally amusing Englipanese (?) name, the line itself is known for its chic simplicity and art of draping the female form.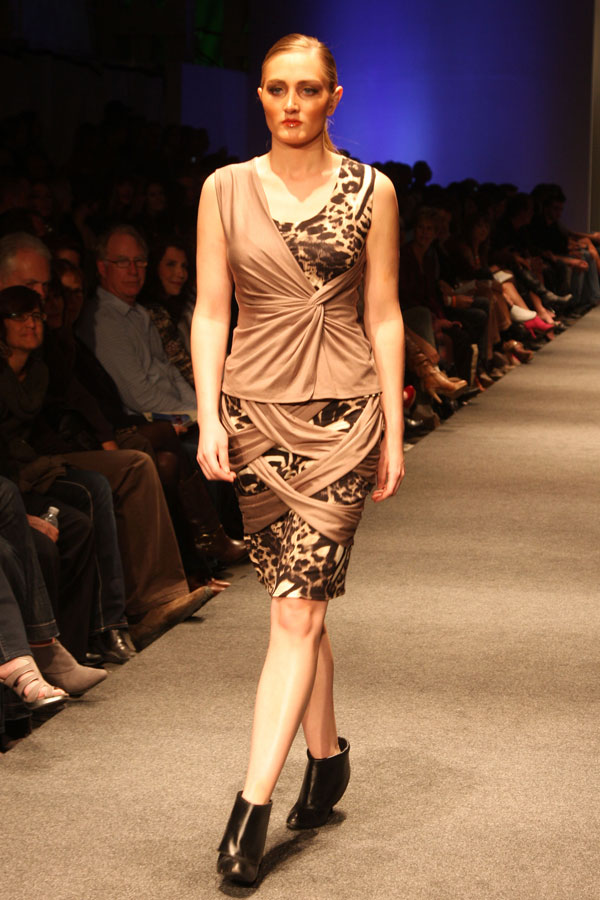 A new local line that launched just one season, Stephanie D. Couture is fast becoming a name to watch for formal and bridal gowns.  Inspired by the late Madeline Vionnet, Stephanie created her collection with bias-cuts and fine draping reminiscent of the work of the innovative French designer.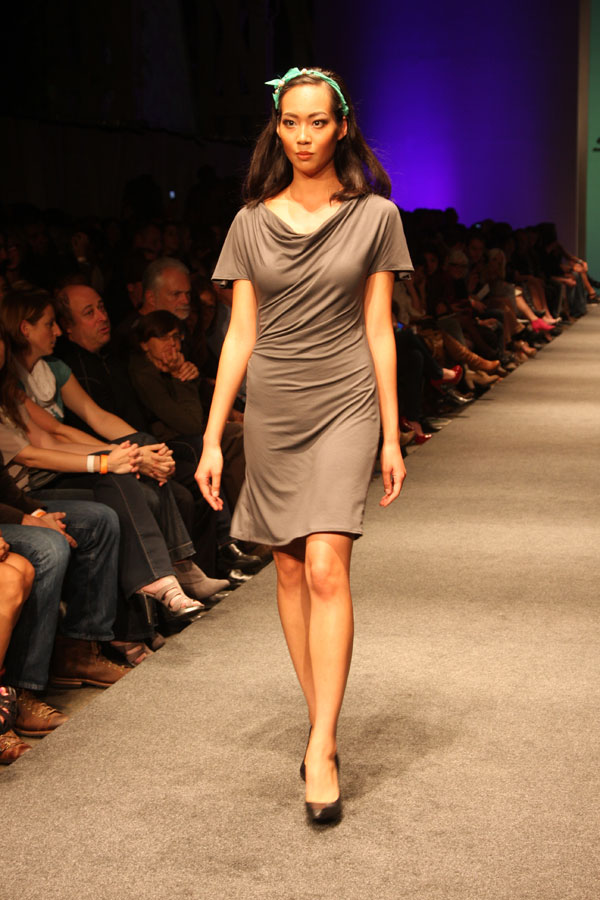 Last year's Emerging Designer CATAPULT winner, the husband-and-wife-team of Ms. Wood added to their covetable lineup of wooden jewelry, wood-heeled shoes, soft bags, kimono wraps, and jersey clothes.  I personally would love a pair of those fir wood wedges but at $550 they're a bit beyond my budget!
COLLIER
From their website:
Described as the "Sartorial Rascal," COLLIER is an upscale mens clothing store in downtown Portland. Known for his creative and unique mix of merchandise, Brent Collier, the owner, travels abroad to Italy's fashion hubs for his store.
I'm completely at a loss as to whether the clothing shown on the runway was COLLIER's private label stuff, or just items from their store.  (Since it was men's fashion I had very little interest in it.)  Suffice it to say, all the men looked very dapper!
With a  brand-new logo and a shaved head (perhaps commemorating the termination of his contract with Lifetime Television?), Project Runway Season 7 Winner Seth Aaron presented a collection made in collaboration with EarthTec.  The line featured sustainable fabrics made from recycled plastic bottles, celebrating Oregon's history as the first state in the nation with a bottle recycling law.  Though the bank-robbery plastic masks were a turnoff for me, the pop-art prints and color-blocking felt of-the-moment and very Seth Aaron.

(And by the way, if you dig Seth Aaron's aesthetic, you can check out his line of iPad Cases in collaboration with Maroo.com – they've got some bold and funky designs there, all $150 or less.)
Which collection on this day did you like best?
xoxox
Carly
~If you liked this post, please share it!~
Tags:
Amai Unmei
,
Collier
,
Fashion Shows
,
Ms. Wood
,
Portland fashion designers
,
Portland Fashion Week 2011
,
Project Runway
,
Seth Aaron
,
Stephanie D. Couture