So I've presented a bunch of DIY ideas gleaned from the latest Fashion Weeks (for brands starting with A-M); now it's time for the latter half. Check out some high-end fashions below…and ideas to do-it-yourself for a fraction of the cost.
Left: Turn an oversized men's shirt into a dress like at No.21, and add some jet beads stitched onto the hem in flower shapes.
Right: Norma Kamali's jersey maxi-dress can be made a little less sporty and more glam with some iron-on round nailhead trim.
Left: Opening Ceremony's embellished sweatshirt can be made with some yellow fabric paint and some sew-on black rhinestones.
Right: The wild patterns at Peter Pilotto can be mimicked by tie-dyeing some fabric in candy splotches, and then hand-drawing floral designs with some black fabric pens. Cut out and sew onto the front of a button-down shirt for extra points!
Left: For the bold, a sweatshirt with a photographic print like at Ports 1961 can be duped by playing with soft fabric paints on a wet white sweatshirt. (Just dye a base yellow color first and mask off where you want the sun before you add orange and brown.)
Right: A Preen by Thornton Bregazzi wrap skirt can easily be made from a flat piece of stiff sky blue fabric (and I even made a tutorial how-to here!)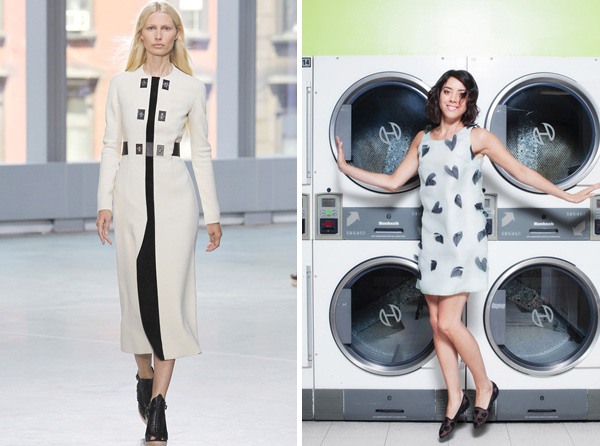 Left: Proenza Schouler's chic trenchcoat can be made by slitting a heavy white (slightly large) maxidress down the front and folding the cut edges to the inside, finishing with hem tape. Add 6 lock closures spaced evenly down the front, and a black belt made of stretchy elastic around your waist.
Right: A simple satin sheath dress can be made so much more youthful with double-layered heart-shaped chiffon pieces stitched randomly on the front. Rachel Antonoff.
Left: Jazz up a plain white skirt with freehanded tattoo-inspired details with black fabric pens like at Rachel Roy.
Right: Take a cue from Rebecca Minkoff and add embroidered iron-on patches around the neckline of a white top and a chain-and-thread braided belt with colorful tassels.
Left: Sachin + Babi's graphic peplum top can be made by sewing a semi-circle of black fabric to the bottom of a plain black top, and then gluing on tiny flowers cut from white leather.
Right: A plain white suit jacket can be made more Springlike with some embroidered iron-on floral patches like at Sass + Bide.
Left: Though famous for their prints, a Suno-inspired outfit can be made by pairing a floral jacket with a necklace made of white fabric flowers.
Right: Tory Burch made use of some iron-on embroidered appliques on her plain sheath dresses, and so can you! (Add some rhinestones too for an extra statement.)
Left: Chop up a men's shirt into a short-sleeved top, and use the sleeves to create an obi-like belt like at Vionnet.
Right: Fashion Wren's version of the ubiquitous shirt-dress by sewing together the top from a chambray shirt to the bottom of a white button-down.
And if you missed part 1 of this (inspiration from brands A-M), check it out here!
xo
Carly
Tags:
DIY inspiration photos
,
Fashion Shows
,
Spring Fashion DIY Inspiration
,
trends