Hair: bangs french-braided and all pinned back into a roll
Detachable Rhinestone Collar: EcoDeco x bpr BEAMS
White Tee: Old Navy
Watch: Citizen Eco-Drive
Rings and assorted earrings: Claire's
Faux leather satchel: Ober Tasche
Silk Scarf: thrifted
Pleated Midi-Length Skirt: mocha
It's been a busy couple days here, filled with family – from lunch with Hub's longtime family friends and their daughter's new baby, to a ritual respect-paying at my in-law's ancestral grave, to a visit with my Mom. 
Our month in Japan is drawing to a close and next week we will be back in Oregon again, struggling with jetlag and trying to get back into the routine of the day-to-day.  I can't wait to see what's been coming up in my garden, take Lil Tot to swimming lessons, and throw myself into prep for a couple projects coming up on the horizon.  Agggggh, personal website and portfolio are still on my to-do list.  And DIY's?  You betcha!
I've had this beautiful detachable collar on my radar for over a year.  I figured it was pretty DIY'able, and then on closer inspection I realized what makes it look expensive is because all of the rhinestones are prong-set, sewed on, and of medium-quality (i.e., not the plastic junk sold in most low-end craft stores).  Prong-set sew-on rhinetones are notoriously difficult to source in the U.S. – and the collar has about 200 of them.  Though I found a source in Japan, the average cost per rhinestone was around 25 cents, and when everything was added up and I considered how long it would take to sew the piece, the 6000-yen pricetag ($67 or so) seemed like a huge deal.  (Plus EcoDeco apparently makes all their pieces from recycled and upcycled materials; an added bonus!)  I wanted the smoky rhinestone version online, but it's sold out and no longer available (it was an online exclusive), so I went with the clear version.  Slapping on a collar like this instantly elevates the basic white tee or simple LBD into something elegant.  I love it!
Another recent purchase: the pleated midi-length skirt.  I mentioned them as a trending item in Tokyo a couple posts ago, and found that eventually after seeing them everywhere, I was unable to resist getting one for myself.  And precise, crisp pleating is so difficult to DIY, especially on chiffon-y fabrics, so again in this instance I felt it was more worth it to just buy the finished product off the rack.  It has a little buttoned flap in the front and removable trenchcoat-like belt, so it's a little bit different from the average pleated skirt.
I've found myself otherwise fairly uninspired to buy much clothing here in Tokyo lately…maybe it's just because I'm beginning to feel that my wardrobe is close to complete and there's little I'm still lusting after anymore.  Or maybe there isn't a lot this season that is studded and beaded and frilled out?  Hmmm….
Hopefully before we leave next week Hub and I will be able to go and see the last Harry Potter movie in the theaters here.  We plan to go to a place where you can buy your tickets online and reserve your theater seats in advance…something I wish they would do near where we live in Oregon too!!  (But no lovely double-butter movie popcorn like in the States…*sigh*.  And they don't turn the lights on in the theater until after the entire credit roll is complete.  Everybody in the theater stayed until the very last second at the last movie we went to!!  [Toy Story 3, last summer])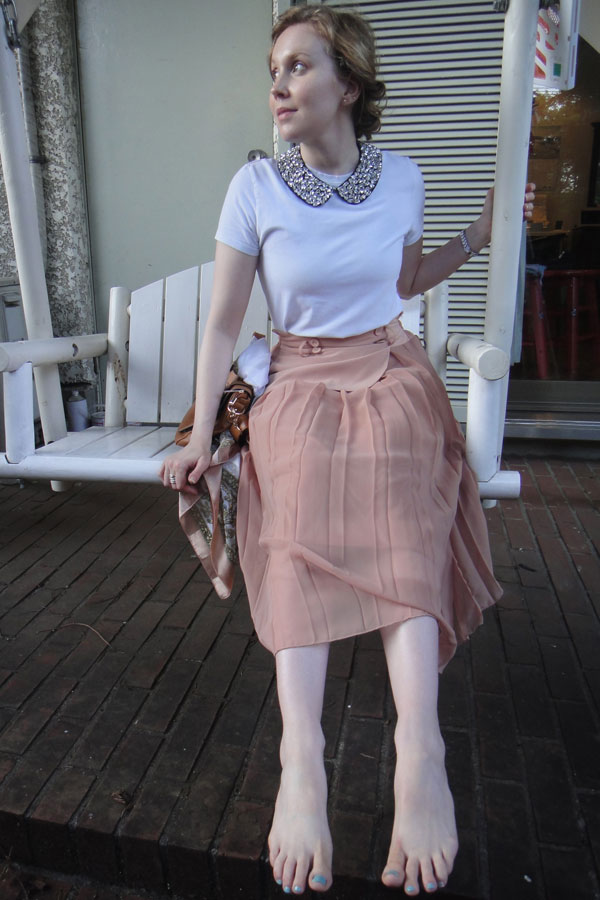 Hope everyone's having a great weekend!
xoxox
Carly
~If you liked this post, please share it!~
More from Chic Creative Life
Tags:
my outfits
,
trends