Last Saturday we [my father- and mother-in-law, Hub, myself, and Lil Tot] set out to Ito (in Shizuoka prefecture), west of Tokyo, to spend a day at a ryokan [traditional Japanese inn] and onsen [hot springs].  (I was trying to see how many parentheses I could fit into one sentence;-)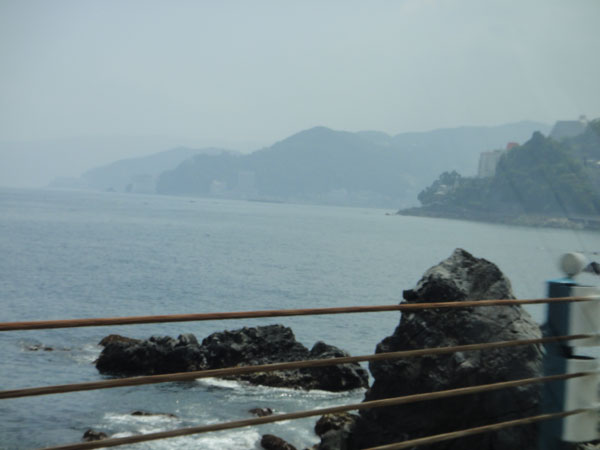 We drove past the Japanese coast, past Atami [a popular seaside resort town], and up a winding highway into the hills.  The Japanese coast in this area was littered with large rocks and had little beach to speak of.
On top of the mountain was Atami Castle, looming in the distance.
I swear, if this hotel didn't have its Japanese name displayed on its front, it could easily be in Palm Beach or Malibu…or some other swanky resort district that I've never been to before.
Here are there were buildings with quite European-influenced architecture, much more visible for the fact that they weren't crammed together like in Tokyo.
We drove past pick-your-own tangerine farms, a wax figure museum, the Cat Museum, cactus gardens, a woodworking factory, flower gardens, the "Weird Little Boy and Little Girl" Museum (which I still have no idea what that was exactly), the Music Box Museum, "Suzy's Zoo," the Teddy Bear Museum, Izu GranParu Park, and the Stained Glass Museum.
Upon arrival at the ryokan we were served a cool grapefruit jelly, with candied New Summer Oranges and mint on top, along with mint- and chamomile tea (all harvested from the ryokan's grounds, except the grapefruit).
This was a stone grotto in front of the lobby.
Hub's, Lil Tot's, and my room was named Yamabuki [a variety of Japanese yellow rose].
Besides having our own private bath inside our room, we also had one out on the deck, where you can actually see the ocean beyond all the trees (except it was so humid things in the distance all appeared white in photos).  Both baths were fed from hot spring water piped in from deep under the ground. 
LOL!  The toilet paper was folded into a triangle and fastened down with these stickers, on which were embossed "Best Wishes."  I guess out of all the things the stickers could have said, "Best Wishes" was probably the most appropriate!
We were of course provided with traditional yukata to wear – and Lil Tot's had Thomas the Tank Engine all over it!
This is the candied New Summer Orange peel that the ryokan makes.  It was pretty good though very bitter.  Lil Tot didn't care for it at all.
This was the menu for dinner.  I had tweeted that it was 9 courses…I was wrong; it was actually 11 courses!
Since there was so much to photograph, I just collaged all the photos together.  Suffice it to say it was very filling!  There was wild mountain plum wine and chilled tofu with sliced abalone to start, followed by eel dumplings, scallop and tuna sashimi on a bed of ice, raw shrimp to cook on a hot stone along with egg cake and a variety of pickled vegetables, young onion shoots on boiled mountain potatoes, fish with sweet fava beans, thin-sliced beef, vegetable tempura and shrimp tempura battered with tofu lees, miso soup with clams, rice with sea bream, more pickled vegetables, and for dessert, green tea and mocha sponge cake with chilled giant grapes, watermelon, and kiwi.
And then after dinner it was onsen time!  Hub I think bathed about 9 times while we were there; for me, 3 is my limit otherwise I feel like I'm overdoing it.  Last time he took Lil Tot to an onsen together Lil Tot went in too many times and ended up getting sick from going in too much.  (They call it 湯あたり in Japanese; I guess "overheating" would be an approximate translation.)
After a restless night of Lil Tot squirming against me in the twin size Western bed that was in the bedroom (why we didn't have a room with futons on the floor I'm not sure), it was breakfast.
For breakfast there was green tea, a green salad (included peeled tomatoes and asparagus), rolled egg, pickled shoots, squid sashimi, pickled plum, seaweed, sea bream with sesame seeds and Japanese ginger, shrimp, tofu, grated Japanese radish, rice gruel, and one of my least favorite things in the world…that makes my toes curl up just to look at it: whitebait (anchovy fry; i.e., baby anchovies – EEEEEK!!!).
Dessert was yogurt with more grapefruit and New Summer Orange jam.
After getting our things together we headed to Izu GranParu Park, which was kind of a theme park for kiddies with lots of rides and activities.  Lil Tot bounced on the trampoline, rode the canoe ride around in a circle, fumbled his way through the obstacle course, and we rode the longest slide I've EVER been on…and I had a caramel-flavored soft-serve ice cream!
Hope everyone had a great weekend too!
xoxox
Carly
~If you liked this post, please share it!~
Tags:
My Travel
,
onsen
,
ryokan
,
trends
,
Vacation Travel