Gold Hoop Earrings: Claire's.  Zip-Front Reversible Dress: handmade by me.  Gold Sideways Cross Necklace: classicdesigns' Etsy shop.  Gold Watches: Vintage.  Daisy Solid Perfume Flower Ring: Marc Jacobs.  Black Studded Ring: handmade by me.  Black/Grey Reversible Tights: Hue.  Black Suede Gladiator Heels: Abaete for Payless.
Day 2 in my 30-Day Closet Challenge: November 2!  Election Day!
I turned my ballot in the day before.  And for at least 3 weeks prior to this I received no small amount of mail telling me that this candidate did this, or that candidate did that, or who's lying and who cheated the elderly out of this reform and who was mean to someone's dog…and after about 2 days I was completely over it.  And I had no less than SIX people knock on my door over the past 3 days to ask what candidate I was voting for or to remind me to send in my ballot.  Yeesh!  Is voter turnout so abysmal people have to be reminded IN PERSON to do it?  I get the ballot sent to my house, a booklet explaining all the candidates and their platforms, and detailing all the new measures I'm voting on, return postage is free – and a steady stream of people have to stop by my house, interrrupting dinner or Lil Tot's bathtime to remind me to vote??
Okay, rant over.  Election's over at lest!  (Next year I'm putting a sign on my door "I already voted for xxx.  If you bother me, I'm changing my vote to YYY." or something to that effect.;-)
So this is what I wore.
I saw this beautiful knit dress –second from right– by Risto Bimbiloski (of "that galaxy-print dress/skirt/blouse" fame) in an old issue of Lucky Magazine, and promptly swooned.  I wanted a cream zip-front sheath dress too!  So I made my own version, out of beautiful cream-colored pique.
I found the fabric was a bit see-through even with a light-colored lining, so I made the inner layer in grey.  Plus, I love grey.  And I spell it with an "E" (as British junior high in Japan so tenaciously re-educated me to;-).
I designed the dress with the front and back widths and sleeve shape exactly the same – thus, I can wear the dress with the zipper in the front, or in the back (with a high boatneck), if I so choose.  I can also zip the zipper down all the way (it's a separating zipper) and wear it as a layering piece or short-sleeve jacket.  Yay for versatility!
 No, I ain't gonna zip the front down for ya!;-)
I thought this relatively simple look demanded a high-glamour hairstyle, thus my HairDo Clip-In Bangs, and my Priscilla Super-Easy Midi Bun.
Last year's Abaete for Payless gladiator sandals.  I'm so glad I bought them – they look so much more high-fashion than their price!!  (But not so comfortable to walk in;-)
Minimal jewelry, thick tights (since it's super-windy out!), and mid-height heels from Payless completed my look.
And this little dress has another secret…so stay tuned for my next outfit coming up later this evening!  (I'm going to try two outfit posts today, so I'm all caught up to the current date…hopefully I'll be able to…)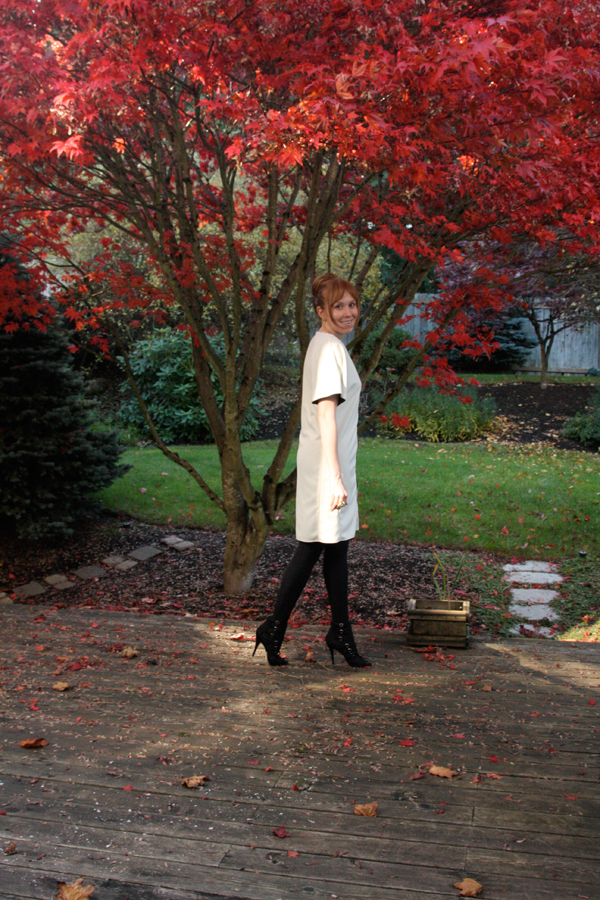 The big tree in my backyard turned bright red almost overnight.  I just love Fall!
xoxox
Carly
~If you liked this post, please share it!~
More from Chic Creative Life
Tags:
30 Days of Outfits Challenge
,
my outfits