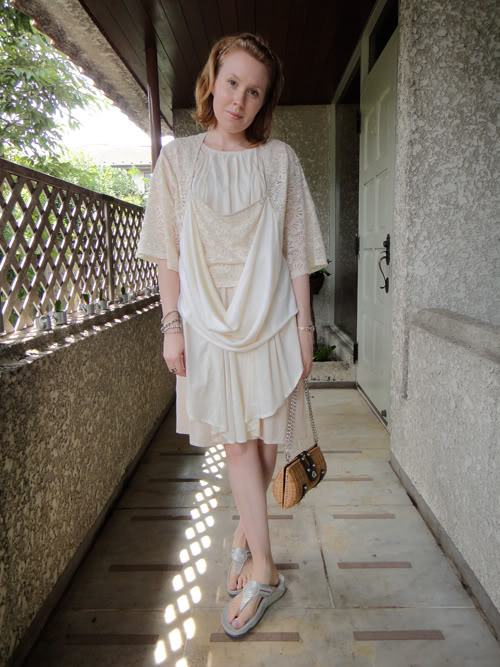 Cotton muslin dress and crochet lace top: mocha
Braided Hair Headband: Shibuya-109-2
Gold feather wrap ring: Forever 21
Beaded Bracelets: handmade by me
Gold watch: vintage
Shoes: Can we not talk about the shoes, please?  (FitFlops, if you must know:-)
While I was in Tokyo I visited a small clothing store called mocha, located about a 10-minute walk from Shibuya station.
Though I'd been there before last year and hadn't thought much of it, this year I was entranced by the beautiful, filmy dresses in unbleached cotton and crochet, nautical prints, and oxidized, romantic jewelry they offered.  I literally visited this shop THREE times, I was so taken with all the beauty that was crammed in to this little space.  (It reminded me a bit of ShopRuche.com with its feminine whimsy, eclectic feel, and vintage flavor, but it was uniquely Japanese in many respects.)
I naively thought the name of this shop was pronounced "mo-kah," like the coffee, but alas, it was named in accordance with absurd Japanese pronunciation butchery of foreign words and is actually pronounced "motcha."  I still think mo-KAH, like the coffee, would be a much better moniker.:-)
In any case the store specializes in pieces from both its eponymous line and the Romantic Standard Clothing brand – and as soon as I touched and felt these beautiful clothes, I knew I just had to share them with all of you.
In beautiful shades of beige, tan, taupe, cream, and white, the dresses from the line are utterly romantic and perfectly irrestible – and most are priced well under $65!  Mostly made from unbleached cottons, muslin, natural linen, gauze, tulle, lace, and crochet, the pieces are surprisingly well-made compared to a lot of Japan's trendier clothing (like that found in Shibuya-109).
I hemmed and hawed over buying the skirt above, on sale for $39, but finally realized it would be a little short on me and my ankles would be sticking out.  It has the most lovely subtle navy-on-cream railroad stripe to the outer skirt, that can be gathered and shirred by diagonal hidden drawstrings in the front and in the center back.  It was truly lovely.
On the other end of the spectrum are their structured pieces: blouses and dresses that are deconstructed button-downs, with scraps of fabric, gathers, and frills to distinguish them.  Mocha also carries a huge amount of jewelry: oxidized pendants, slightly steampunk and Victorian, embellished with scraps of lace, miniature leather-bound books, beads, and metal findings.  Animal rings, tattered flower earrings,
gigantic resin bow rings, leather thong bracelets, tatted and pompon-ed scarfs and shawls, removable lace collars as necklaces.  Low-cut cognac leather booties, fleece-covered sneakers, and strappy woven sandals round out the shoe section.
In Harajuku, just near the end of Takeshita-Doori and across the street, is the Romantic Standard Clothing main store.  This store has fewer unbleached, cottony, filmy crochet-and-lace dresses, and more structured blouses and shirt-dresses in avant-garde shapes and blacks and whites, as well as more of the nautical stuff.  Not near as much jewelry,
though.  I can't wait to wear the white button-down blouse (with drawstring front ruffle) from this store that I ended up buying – it will be perfect over some black leggings and booties for Fall.
The Rabbit Ring Set I ended up buying: all oxidized silver; one branch ring, one enamel flower with crystals, and one rabbit head.  The rabbit's orange-red eyes are really disconcerting; I must remember to dig them out and replace with clear Swarovski's.
I also like them stacked.
I had the hardest time deciding what item of clothing to buy at the mocha store.  On the one hand, I want to be that woman: the one who wears flowers in her hair and organic cotton shifts and goes braless every day, sipping chamomile tea and feeling the grass tickle her toes and dancing in the rain.  On the other hand, I think my style gravitates towards darker, edgier stuff.
But I finally settled on a twinset (at least I call it that!) of a dress with drapey crochet over-top for a mere $39 (on sale).  Though I must admit I truly feel like a woodland nymph in their clothing!  I love the subtle layers, the breezy feel, the unique silhouette, and oh – the texture!!
The top is, of course, a separate piece, and can be worn both backwards and forwards.  You know my obsession with multifunctionality, right?!  The dress below is double-layered, with an outer layer of crinkled cotton with subtle satin piping at the underarms, where the fabric is gathered.
Please let's not mention my shoes.
Trying out my braided-hair headband.  I think my hair needs to be longer and properly styled for this to work better.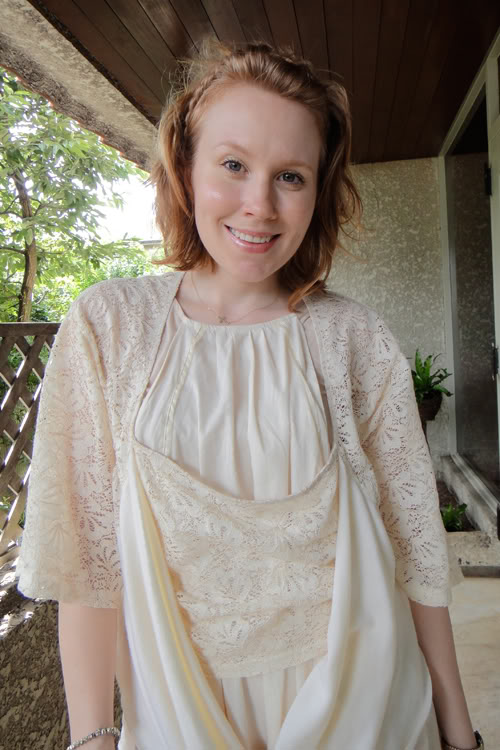 I don't really know what my hair is doing in this photo. Yikes!
If you ever get the chance to visit, I highly recommend stopping by either mocha or Romantic Standard Clothing in Tokyo so you can experience all the beautiful items they have to offer!  (And, if you happen to have a shipping address in Japan, you can order off their website here.)
xoxox
Carly
Tags:
Japanese Brands
,
mocha boutique
,
my outfits
,
Romantic Standard Clothing
,
Shopping