Sunglasses-print T-shirt: Pineapple County (Honolulu)
Distressed Boyfriend Denim Shorts: Hudson
Leggings: Old Navy (rolled up since they don't stock capris right now)
Oxidized Puzzle Necklace: Kaza (LaForet Harajuku)
2-finger floating rhinestone ring, gold feather curlicue ring, and watch: Forever 21
Beaded Bracelets: self-made with beads from Michael's and Etsy
Bag: Bought in Honolulu
(please forgive the photo quality; we only brought a small digital camera that only has a built-in lens, and I have no photo-editing software here, so you get to see me in all my unedited glory, heh heh)
The problem with going shopping in Japan is that you have to walk – lots.  It's not a question of driving to the mall, parking, and then walking around in it…you have to walk to the train station, take the train to the shopping areas, and then walk from the station to wherever you want to go.
Thus you need incredibly comfortable shoes.  Here you often see trendy girls walking around in 4-inch heels, and I always wonder how do they do it?  And the girls who staff the boutiques are required to wear the clothing that they sell – they are literally walking, talking, live models – and thus have to wear the trendiest and highest of heels all day – and they're never allowed to sit down anywhere where the customers can see.  It truly boggles the mind.
Add to that it's 98 degrees with a super-high humidity factor here, you have to weather extreme changes in temperature as you go from train to outside to store to outside again, and your viable wardrobe diminishes.
Plus if you're going shopping or navigating the train stations you don't want anyone peering up your skirt as you ascend the escalator.
So this is my go-to outfit for walking around and window-shopping in Japan, trying to beat the heat: trendy tee, cross-body bag, denim shorts, leggings, and printed sneakers.  At least for today – until I get used to all the walking.  I was really happy with the way my self-designed Miu Miu-esque swallow-printed shoes from Zazzle turned out…the colors and print are so pretty!  I was a little sad to find that the Keds sneakers run large – and my usual 7.5 is too big for me.  Ah well.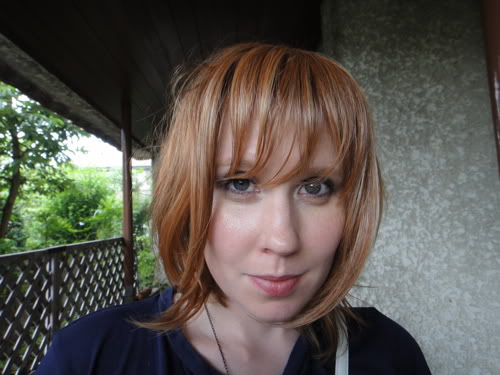 With all the humidity my hair falls flat in an instant – and can't hold a style – and so I'm loving these clip-in bangs from Jessica Simpson's HairDo line.  (I think they may be a little long for me, but I don't want to get them cut just yet.)  They're so soft and feel just like real hair, the longer pieces at the sides frame the face perfectly, and the color for me is such an exact match I can't tell where my real hair ends and they begin. 
They're a great option for girls like me who have thinner bangs, or who don't want to commit to cutting a thick bang halfway up their crown and then have the agony of growing it out if they don't like it.
(Of course I forgot to take photos before I actually went anywhere – and ended up taking them at the end of the day, after I'd been walking around for hours and was all hot and sweaty.  Eek!)
Hope you guys had a great weekend!  More sweaty outfits and clip in hair to come!
xoxo
Carly
Tags:
my outfits