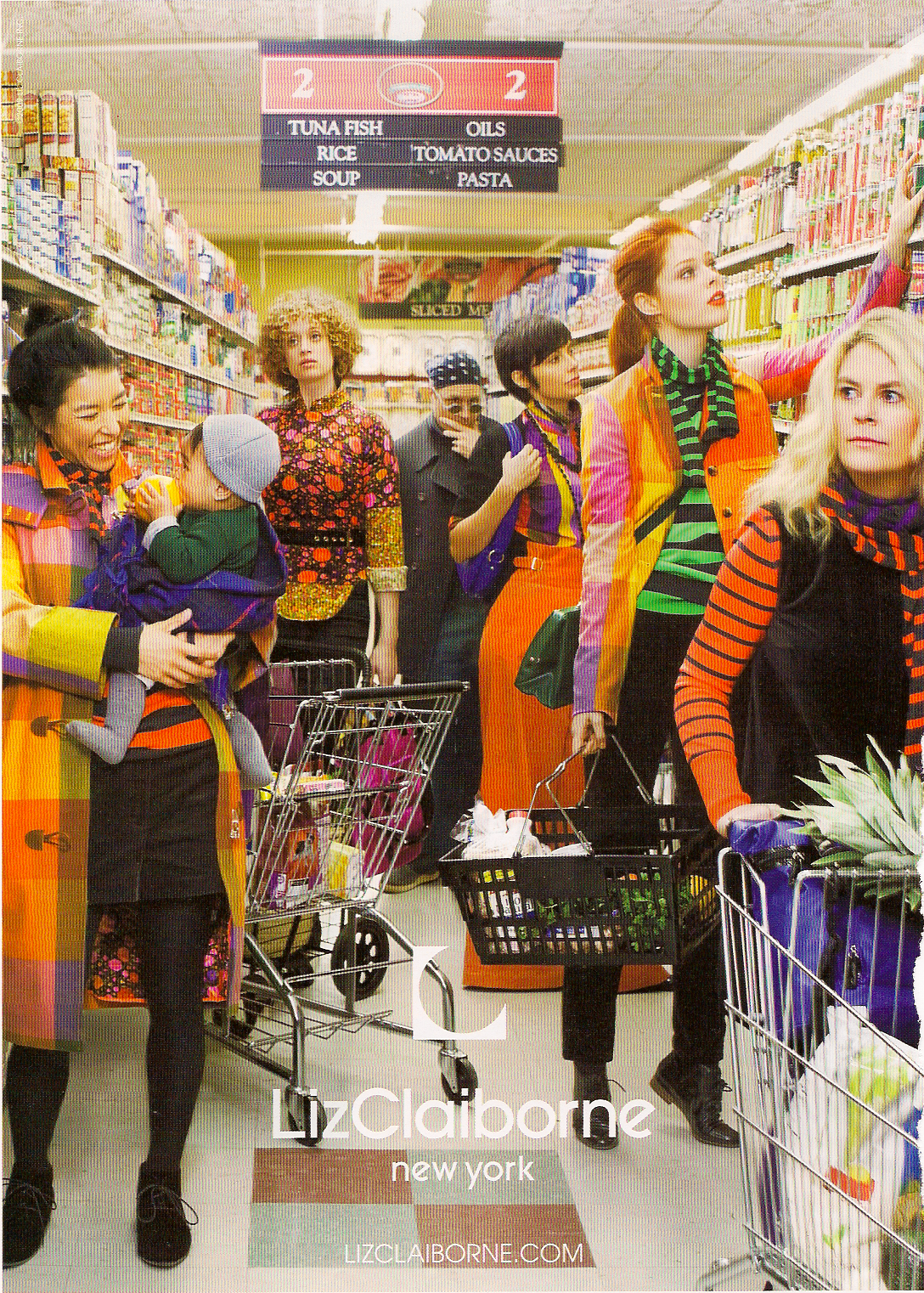 I never noticed it before, but he's lurking in the background of this ad for Liz Claiborne from Lucky Magazine's October 2009 issue.
I used to like the dude a little when he had his talk show "Isaac" back in '05.  He seemed warm, engaging, a little flighty, but overall, an entertaining host.  Then the debacle that was The Fashion Show aired on Bravo and my opinion of him dropped to rock bottom.  It was excruciating watching that show after being primed for a fashion reality show like Project Runway…Mizrahi appeared self-absorbed and extremely unconcerned in motivating the designers to produce their best work (unlike Tim Gunn and the judges panel on Project Runway- who, although their critique can be harsh and they do have judges' favorites from season to season – I find their critique to be spot-on and invested in causing the designers to grow, mature, and produce great work.  In most cases.)  Mizrahi, however, seemed uncaring and his workroom critiques (which were edited to be unbelieveably short) consisted of "Oooh!  I like that" or just a furrowed brow and folded arms.  Many people's criticism of Mizrahi is that he is less a talented designer than simply a lucky one – and being appointed as Creative Director for Liz Claiborne (after a stint designing for Target) last year has had many tongues a-wagging as to whether he was indeed the best choice to revamp the line.
To many young women now the Liz Claiborne brand is still seen as "my mom's clothing;" sort of dowdy, bland separates that many were unsurprised to see falter back in the late 80's.  A few places have praised Isaac Mizrahi's infusion of "whimsy" and "wit" into the label, and even Michelle Obama has worn a piece from the line (above).  It's interesting to see an array of ages and body types in their ads (though in a screaming "look at this!  We're showing a range of women!" sort of way)  – but who is their target demographic?  The current lineup of styles has been panned as being "frumpy" and "all over the place."  [It's also interesting that Tim Gunn, Liz Claiborne's Chief Creative Officer, was the one who poached Mizrahi from his gig at Target in the first place. ]
Mizrahi has also been labeled by many as a "fame whore" – an image not exactly helped by his behavior whilst the cameras were running on "The Fashion Show," and his hawking of cheesecakes on QVC last summer.
How about you?  What's your take on Miss Miz?  (Did you buy a cheesecake from him?)  How about Liz Claiborne and the line?  Have you ever bought anything from then – and do you think his image helps or hurts theirs?  Chic or cheap, readers?
-Carly J. Cais
Liz Claiborne can be bought at LizClaiborne New York stores across the country- click here for a list of locations.  See full Fall 2009 lookbook here.
(images from Liz Claiborne Fall 2009 Lookbook from Coutorture.com)
Tags:
trends