Inside the shop: designer fabrics galore!!
Somewhere in Tokyo (though I can't tell you where exactly) is a tiny custom clothing business, run out of an individual's apartment, with no sign out front or advertising to let you know it is there.  All customers they have hear about this place by word of mouth, and they don't advertise anywhere.
Can you see any logos or fabric you recognize in this pile?
Though I thought places like these mostly existed in China, apparently they do in Tokyo too – though they don't manufacture hundreds of knockoffs and sell them on the street claiming them to be the real thing.  This is a shop that buys overrun and excess (and sometimes defective) fabric from the factories that manufacture fabrics for designer houses: just about every high-end brand you can think of, mostly made in Italy.  They buy as much as is available, often imprinted with logos of the various designers, and then make clothing on-demand for their customers, charging only a fraction of the cost of a designer item.
Trying on some C_____** boucle.
Made from the same fabrics as from designer collections.  Made by machine (i.e; not couture).  Made to fit each customer.  And often made as a copy of items that are on the runways right now.  For instance: the shop buys an overrun of a Prada fabric, used in the current S/S '11 RTW Collection.  A customer brings in a photo of the Prada jacket that the fabric is used for – and has this shop make a copy – in the exact same fabric.  The shop sews in their own label, and charges the customer around $900 for the jacket.
Mother-in-law "trying on" a P____ print from their current Fall '12 collection.  See the right-hand page in the lookbook open in front of her.
Though the ethics of all this make me queasy, I accompanied my mother-in-law on a visit to this shop.  She had had a skirt made in LV-printed fabric, and a tunic and top made in P____-print, and was visiting to pick them up.  The shop had just received a couple of samples of fabric from the C____ S/S '11 Haute Couture Collection, and I marveled as I ran my hands over it.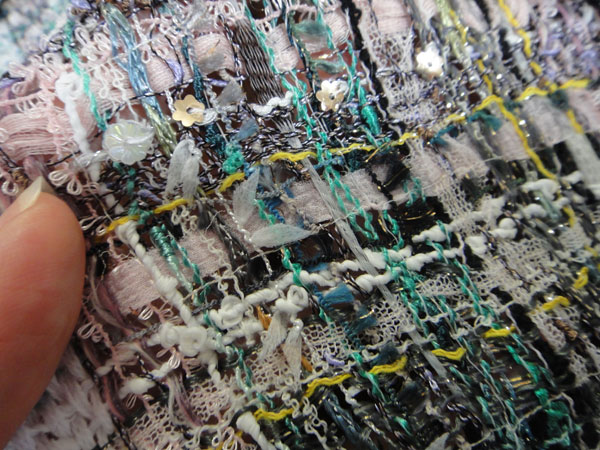 A close-up of the pinky-green tweed.  Look at how many different threads are in the weave!!
I've never seen anything like it.  Tiny threads of all thicknesses, beribboned, gold and metallic, sequined, strips of wool, thinly-cut strips of printed fabric, chiffon – everything you could imagine was woven into a single 30 cm-length of the haute couture wool boucle.  At full price the boucle above (130 cm wide) costs $2,700 a meter.  !!!!!!!  I mean, how often does one get the opportunity to even touch fabric that costs $2700 a meter????!
These ribbons are off-the-hook!!
The shop buys it for around $800/meter.  (Think 1 meter = approx. 1 yd; 130 cm = approx. one-and-a-third yards)  As I fondled this beautiful fabric I could most certainly see why it could cost this much – and why a suit from this brand could be so incredibly expensive.
They claim they can actually make a copy of a suit from this brand (how accurate a copy I cannot say) for around $2000, and a jacket for around $1500 (including the cost of the fabric).  According to my mother-in-law, the quality of the garments they made is not great (the fit is a bit off, and doesn't boast the well-fit patternmaking that designer garments do), and the finishing is not high-end, but at least on the outside they do look like the designer versions.
As for me – if the shop will sell me some scraps from some of these boucle fabrics at less than $800/meter I think I might have to re-appropriate some and make some accessories (flower corsages, headbands, barettes etc) post-haste!  They're too beautiful to throw away even the smallest amount!
An A_____ mouse skull-and-crossbones fabric.
So want to talk morality in all of this?  Is there anyone in the wrong here?  The factories who are selling off copyrighted fabric?  The shop who buys it and then creates copies of designer clothing with it?  Or the consumers who demand the designer knock-offs, wanting the look but not wanting to pay full price?
Mother-in-law's finished custom shirt.  I think the origin of the fabric is pretty obvious.
Where do you stand and what are your thoughts?
xoxox
Carly
**Brand-names have been abbreviated so as not to cause legal trouble for anyone.
~If you liked this post, please share it!~
Tags:
custom clothing
,
designer fabric
,
knockoffs
,
trends