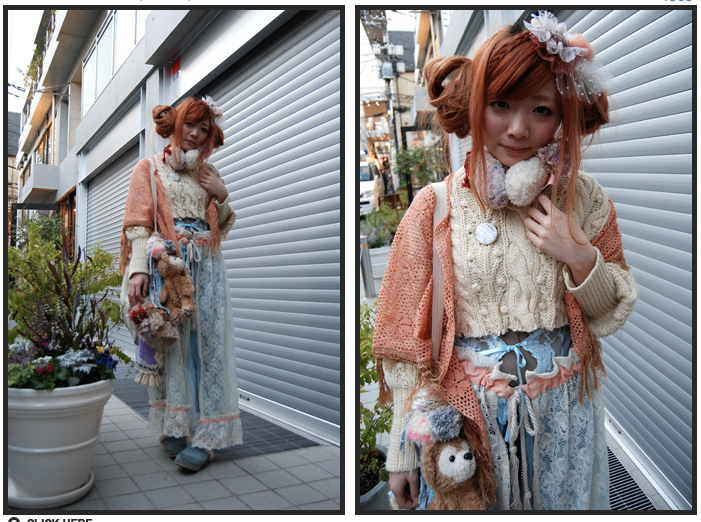 Yup – Japanese fashion (both street style and designer lines) is one of the best-kept fashion secrets in the world – and now the New York Times is in on it. (Thanks Jenn for the tip!! Luv ya!) I've often lamented on this blog that very few Japanese lines are available for purchase outside of Japan (and nearby Asia, if that) – and there's a dearth of information regarding Japanese brands as well. (In the U.S. for instance, almost every company out there knows: no website, no company. In Japan, so few companies actually have their own multi-page website – and if they do, often it's just a landing page, poorly-made, or impossible to navigate! They're slo-o-o-wly catching up with the times, though. So strange from a country so technologically-advanced in many other ways…and fashion/style sites in a blog format? Still on their way. There's no Japanese FashionToast just yet.;-)

Very few established brands actually participate in the annual renamed Japan Fashion Week (I can't believe I've missed going to NINE of them already!) – and very few venture out beyond the country's borders, let alone sell online (both domestically and abroad). There is very little cohesiveness to the industry as a whole – and the Japanese government has once again royally screwed things up by appointing 3 "style ambassadors" to introduce other nations to their idea of "Japanese style." (Said "ambassadors" are working to spread the Lolita style, the secondhand mashup style, and the "schoolgirl" style – such a tiny facet of the incredibly diverse fashion landscape that is Japan. )

But I'm sure you're already familiar with style sites such as Dropsnap, Bijin-Tokei, Japanese Streets, Style-Arena, where you can see thousands of images of Japanese street style in all their uncategorizeable glory. (And if you have a hankering to buy Japanese-style fashions but don't want to deal with the mess of international forwarding, try Japanese-style/Asian-trendy shopping sites that do ship internationally, like AsiaJam, TokyoStyle, and YesStyle!)
But by and large Japan's up-and-coming brands and stylish in-the-know people keep to themselves, according to the article below.
I love that the article mentions furfur – a brand I'm in love with (and that Jane from SeaofShoes purchased some items from when she was in Tokyo in July of last year)…I just sniffed out where you can purchase items from them online: at nuan and from Rakuten – for the reader who emailed me re: where to purchase their stuff. (nuan only ships to an address in Japan but with Rakuten, depending on the seller, they may ship overseas. And there are forwarding companies that can forward parcels overseas for you to get around this little annoyance.) But Jane's fabulous cardigan that she posted on Sea of Shoes is nowhere to be found!! Japanese fashion has a super-quick turnover. (An ambitious DIY, perhaps??)
But I was not familiar with the other brand the article above mentions: Garcia Marquez Gauche. Hmm…must investigate more.

And another update on one of my fave Japanese brands: if six was nine and L.G.B. (I wrote about them here) has collaborated for the costume design on the film Filth and Wisdom (2008), directed by Madonna. Yes, that Madonna!! I had no idea – must rent film NOW.
Tags:
Fashion News
,
if six was nine
,
Japanese Brands
,
Tokyo Style