(Forever21 Pilot Jacket, Newport-News scrunch neck turtleneck, Aviator sunglasses from I forgot,
Forever21 Marble Skinny Jean, Colin Stuart Convertible Boots)
With the Hilary Swank movie Amelia hitting theaters less than 2 weeks ago, you may have noticed a resurgence in aviator fashion recently. Despite the fact that movie is, er, bombing at the box office, the leather bomber jacket has become a trend in and of itself, being spotted on many celebrities recently such as Hilary Duff, Vanessa Hudgens, and Katie Cassidy. I think I'll skip the $550 Miss Top Gun Aviator Jacket Katie's wearing, though.
I saw the Forever21 Pilot Leatherette Jacket ($44.80) on some site somewhere, and wondered if the real thing indeed lived up to its rather crappy-seeming photo. With Forever21, you never know. Especially outerwear, which always seems to be made terribly (no lining, splitting seams, el cheapo outer fabric, you know). So I made my way to my nearest Forever21 to check out the goods in person.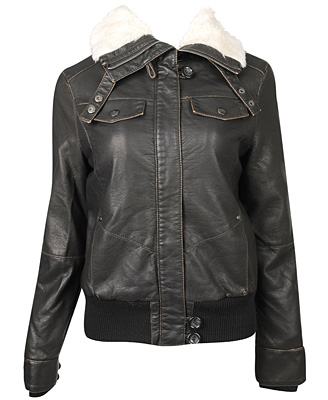 And I didn't even want a bomber jacket. I didn't think it would suit me. The aviator look is something I didn't think I could work, quite frankly.
But!
It was all over as soon as I touched the jacket.
It's made well. Really, really well. Tons of details, heavy to the touch, soft plushy fleece lining (none of this crappy pilling that you find on cheap fleece), strong, topstitched seams, fabulous buttons, lovely cracked "leatherette"…even a nice leather-y smell. I can go on an on about how great this jacket is…and how it certainly should demand a higher price than its $45 tag. It could be sold for $150 at least, and no one would notice the difference. (I hope no one in Forever21's marketing team is reading this, lest they get impure ideas.)

So I paired it with my tie-dye jeans (love the super-saturated color on them), my aviator shades that Hub tells me make me look like Tom Cruise in Top Gun (like in a bad way), and my over-the-knee Colin Stuart cordovan [whatever that is] boots from Victoria's Secret. Too much? I look like I have my own personal turbo-prop stored in the backyard somewhere.
Love it!
xoxxo
Carly
Tags:
my outfits