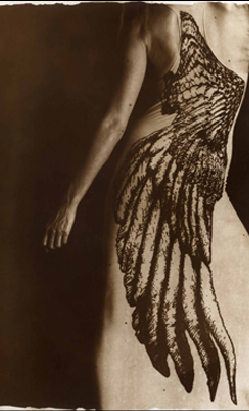 (wing-print tank dress from
the Maniac website
, pictured above)
photo from Sea of Shoes
I had never heard of the boutique Bedrock until Jane from Sea of Shoes wrote a post about the boutique and the amazing Japanese brand if six was nine (owned by the Maniac Coporation). (She posted a photo of herself wearing a fabulous one-armed jacket on said post that I was drooling over for quite some time. So since I was in Tokyo I decided to check out the Bedrock boutique in Omotesando Hills. They carry (among other high-end lines) Ann Demulemeester, Givenchy, Rick Owens, LGB (apparently a more affordable Maniac Corporation line, with a plain tank top clocking in at about $80), and of course, the lovely if six was nine.    
(sorry for the poor photos; you can't take photos inside and this is all that was on their website. This is the antechamber you enter after going down the staircase. You can see the blue squidlike thing covering the light fixture on the left.)
As per Jane's instructions, I located the Forbidden Fruit Cafe in Omotesando Hills – and passed through the cafe, towards the back door. Bedrock boutique is neither marked with signage or name on the outside, and does not appear in the shop listing for Omotesando Hills West Building. The back doorway from the cafe is also unmarked, and for a brief moment I thought I was heading into their kitchen or something, but the lady behind the counter game me a nod. I descended down a perforated metal spiral staircase to the basement, where a dark antechamber with a girl behind the counter waited. A single blue light on the wall was covered with a translucent jellyfish-like mass of tentacles. Then through a cagelike wrought-iron grate entrance and into Bedrock itself. Rough cement floors, dark and mysterious, it looked something like a cross between a medieval torture chamber and a root cellar. Albeit a bizarre root cellar.
Hanging from the ceiling was a
double-tiered chandelier lamp that looked like cockroaches slowly sliding upwards
and upon closer inspection proved to be slowly rotating dark glass ribbons (obviously, I need to get new glasses). There was a skeleton pelvis that sat on a stuffed gilt chair, wearing a single boot on one of its feet. A wrought multi-tiered pillar candle holder below a shrine-like collection of lit crosses and hanging belts. A taxidermied black buffalo head mounted on the wall. A vintage motorcycle was stopped in a corner fronting a huge cactus garden behind triangular panes of glass. Gray leather-padded changing room doors with oversized padlocks and submarine-like portal windows completed the look.
The clothes were amazing – and, for the most part, amazingly unaffordable. (No steals to be had here, I'm afraid.) The goth angle wasn't ostentatious – but it was definitely there, and each piece was darkly fabulous and fascinating at the same time. I found a Rick Owens gray $1300 jacket, though (not the Autumn '09 one with the winglike protrusions on the elbows, but a similar cut), and a one-of-a-kind gown for $8000 in a rich purple silk, covered with scraps of lace and hand-sewn sequins.
A black silk dress with black gemstones sewn onto the lacy collar to make scorpions.
A button-down shirt with pewter skulls for buttons.
A beige corset dripping with tatters of lace, knitted streamers, and fabric straps down to the knees.
Bracelets made out of snake vertebrae in a display case.
Platform shoes with heels made out of curlicued wrought iron (perhaps salvaged from a vintage gate?).
Even LGB-branded angora-blend see-thru rib tankdresses (plain, no adornment) were $80. I could also afford an $80 knitted mushroom-shaped black beret (again, nothing unusual or special about it).
A black bag made from an entire baby alligator (minus the tail and legs) the head flopped over the center and serving as the clasp. (PETA would have a field day here, between the buffalo head, fur rugs, and alligator bag, which was, albeit, more than slightly repulsive.)
Chain mail kerchief-shaped necklaces studded with bronze crosses (I've seen them in an editorial somewhere but forget the designer).
I couldn't find the one-armed jacket Jane walked away with, or the beautiful wing-print long tank dress from their website above, but I'm sure either one would be a little out of my reach. Just something to look at and sigh about!
The store is just so flippin' fabulous you have to go if you're here! Definitely check it out if you can!
xoxox from Tokyo
Carly
Tags:
Chic Brands
,
if six was nine
,
Japanese Brands
,
Shopping