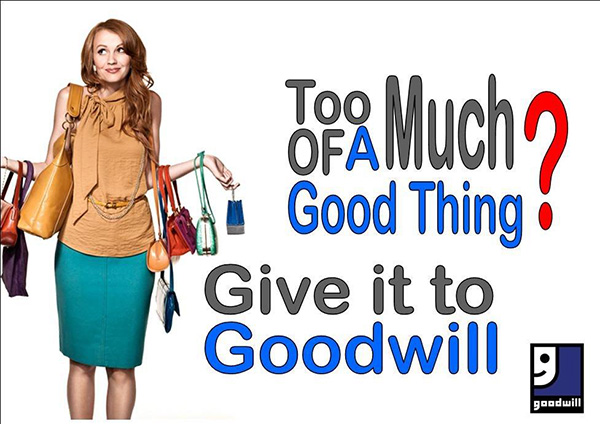 Image source
Spring is finally here – and that means Spring cleaning! I always head to my closet first and foremost to do a major purge this time of year. It's cathartic and frees up my mind to get rid of lots of old junk that has accumulated – and that I no longer wear and enjoy. And what do I do with everything I pull out of that overstuffed madness? I head to Goodwill and donate it all – since I know it creates jobs and helps my community: one of the best ways to create a local impact by investing back into it.
That's right: Donate Stuff. Create Jobs. It's the tagline of Ad Council's campaign with Goodwill®, which reminds people that their donations support people who are seeking to earn jobs and build careers. To see how the process works, just watch their  "How We Do It" PSA.
Here are is a great 7-Day Plan to tackle your Spring cleaning and purge all that clutter once and for all:
#7DaysofSpringCleaning
Day 1) Clear your closet clutter
Day 2) Time to tackle the kitchen
Day 3) Spread holiday cheer (holiday decorations, center pieces, Halloween)
Day 4) Downsize your tech toys (used laptops)
Day 5) Clean out your office supplies
Day 6) Provide quality entertainment (unused movies, video games)
Day 7) Downsize your bookshelf
Check out How to Clean Your Home AND Create Jobs by Goodwill Industries International on Snapguide.
And when you've amassed all that stuff for your donation? You can calculate how much that will impact the community by using Goodwill's handy Donation Impact Calculator online. Enter the items you are donating to see your impact in a measurable amount. On the right you can also play the Donate or Recycle Match Game – to see if your clutter has greater impact when donated vs. recycled.
Hope this helps any of you who are thinking about a major wardrobe overhaul. Now's the time to do it!
Happy Spring Cleaning!
xo
Carly
FTC Disclosure: This post was made possible through the support of Goodwill. All opinions are my own. To read my full Disclosure Policy, click here.
Tags:
Advice and How To
,
Chic Brands
,
Goodwill
,
Shopping
,
thrifting