Rhinestone Stud Earrings: from Japan. Gemstone Necklace:
DIY
(tutorial coming soon!). Long-sleeved Shirt:
UNIQLO HEATTECH
. Rings: c/o Diamond Candles,
DIY Pretty Pearl Ring
, Forever 21, mocha, my wedding rings. Bangles:
c/o Persona
,
DIY Spike Bangle
(
tutorial here
). Hard-Sided Blue Clutch: ASOS (similar
here
). Gemstone-Print Skirt from a Shower Curtain:
DIY
(
how-to here
) (kind of
similar here, in a polka dot version
). Wedge-Heel Lace-Up Boots: thrifted Forever 21 (similar
here
.)
Hope everyone had a wonderful holiday!
And yes indeed, Saturday was my birthday. And it was a milestone birthday – wherein I turned the shocking, over-the-hill age of 35.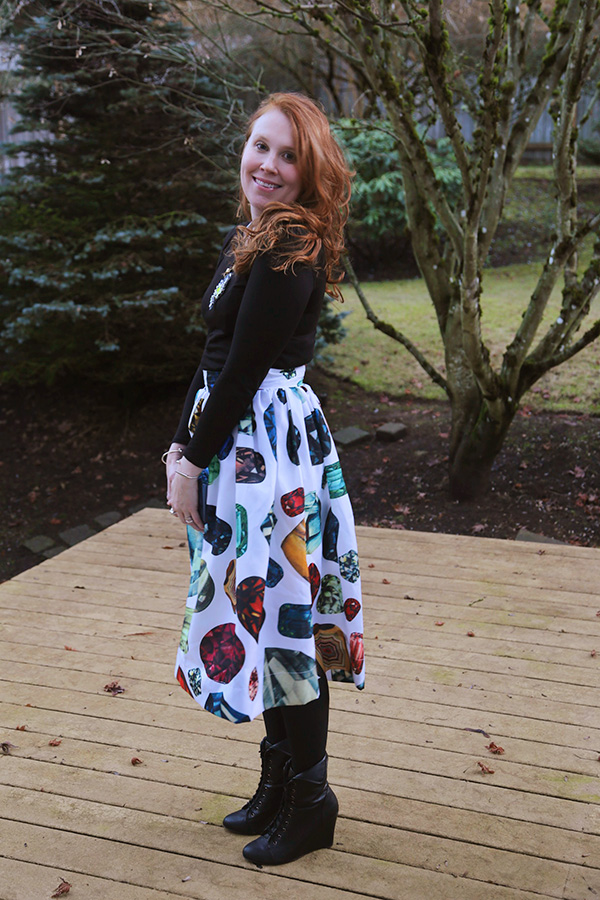 Hahaha, just kidding. Well, I did turn that age, but I hardly feel over the hill. Always, while growing up, the age of 35 seemed ancient to my friends and I. Totally in the realm of adulthood. Heading for the retirement home, the early bird special, toupees, freeway driving at 35 mph, and the like. Almost ready to be put out to pasture. Heck, 25 seemed interminably old, but 35 was like different generation old.
And now here I am, certainly not ready to be put out to pasture yet! I'm surprised at where I am now (which most certainly wasn't in THE PLAN) when I was growing up; happily surprised at some of the things I have and disappointed at some of the things I don't. Of course, I've gained things with age (including knowledge – what I wouldn't give to have known what I do now back when I was in my early 20's!), so it isn't all bad. But it's a huge wake-up call as well.
LOVING my Persona beaded bracelet (right wrist). Been pairing it with everything lately!
I haven't gotten anything done on my list! is the cry that reverberates in my soul. Yikes. Well, I better get started then.
And make a new list.
I wore a very similar version of this outfit to Lucky FABB back in October. But for my birthday I switched out the Kai-Aakmann slouchy sweatshirt for a UNIQLO HEATTECH top, and I have to admit I was burning up all.day.long.
Can't wait to share the DIY for this fun pendant necklace! It's probably going to be more than just the tutorial, but have to wait to share.
I think I've now officially crossed over into the mindset of "I HATE birthdays." Perhaps I'll try to stay over-the-hill 35 for the next couple of years, then reassess.
xo
Carly
P.S. Saturday was also Lil Tot's testing for his next Taekwondo belt. He managed to qualify after 4 board breaks and get his Orange Belt. I wore this to his testing as well, hence the convoluted title.
Tags:
my outfits
,
trends