Wow, it's already August?  Well, Summer's flying by, my workplace's renovation is starting to wrap up and I can breathe little easier, as well as get back to making things more often.  Let's see what the internet has also been up to recently: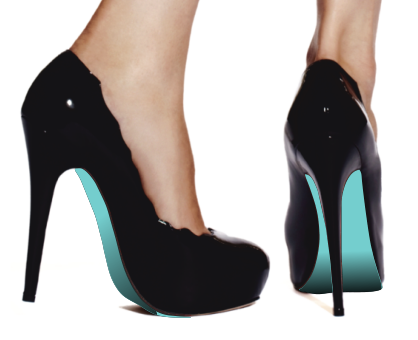 MSNBC's The Look wrote a piece about women DIY'ing different-colored soles onto their shoes, mainly as an intro to the companies RossoSolini (that sells stick-on colored soles), and Save Your Sole (that sells paint specially formulated for the soles of your shoes).  Though painting the soles of a pair of heels red to create faux Louboutins is old, old news (and I'm not even sure "news" is the best category for this info), RossoSolini and Save Your Sole are some good resources that can help give your heels a make-over.  (Or -under, as may be the case…?)
Whip up a quick Convertible Dress courtesy of Burdastyle user red-lia.  The pattern is so easy, and it's an update on the ubiquitous DVF-style wrap dress.  The perfect go-to Summer piece!
Even though Made by Lex is no longer being actively updated, there are some great tutorials in the Archives section.  Check out, for instance, her Women's Romper Refashion tutorial…to make a cute little leopard romper out of an old baggy dress.  (Kind of like my tutorial for making a romper out of a man's button-down shirt!)
Love Inspiration & Realisation's DIY version of a Rebecca Minkoff Stitched Sweater!  Look at all the work she put into it…and even more amazing, the brand caught wind of it too!  See how they responded here.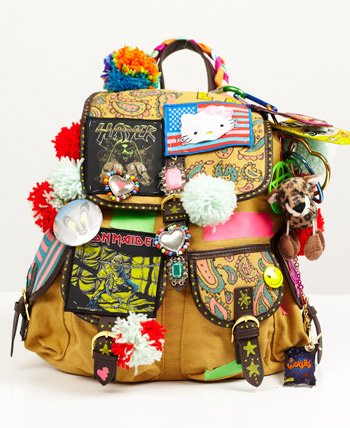 This is insane!  DIY your own Festival-ready Customized Rucksack with Kate's Closet on ASOS.  It's totally over-the-top with everything thrown on there like that, but the great thing is, you can take any idea out of there and remix them into your own perfect bag.  DIY is all about customizing it to suit your own tastes!
A Beautiful Mess posted a beautiful Hand-Stamped Pony-Print Dress.  I just love ponies, and the stark but playful print really livens up a plain white dress.  Giddyup!
ExtraPetite's makeover of a thrifted too-large blouse makes a perfect DIY Polka Dot Bow Blouse.  Plus it contains some useful sewing tips for fitting when doing your thrift store recons!
Learn how to create easy Dip-Dye Accessories from Youtube user AndreasChoice.  Another nail polish makeover to be sure, but a new take on the technique that will give you that pretty faded ombre look to anything metal.  Perfect accessories for those hot Summer days!
---
If your project was featured above, feel free to grab a button and share the DIY!
<a href="https://chiccreativelife.com/category/links-of-the-week"><img src="https://www.chiccreativelife.com/wp-content/uploads/2012/08/diylotwfeaturedbutton-1.png" /></a>
If you have a DIY how-to or tutorial that you'd like to see featured on Chic Steals, please email me at carlyjcais at chic-steals dot com – and I'll try to squeeze it in to one of my Links of the Week posts! (Tutorials/how-to's with steps and photos included please! So everyone can share in the DIY goodness:-)
xoxox
Carly
-all photos copyright their respective authors; photo array by me-
~If you liked this post, please share it!~
Tags:
DIY Roundup
,
Links of the Week