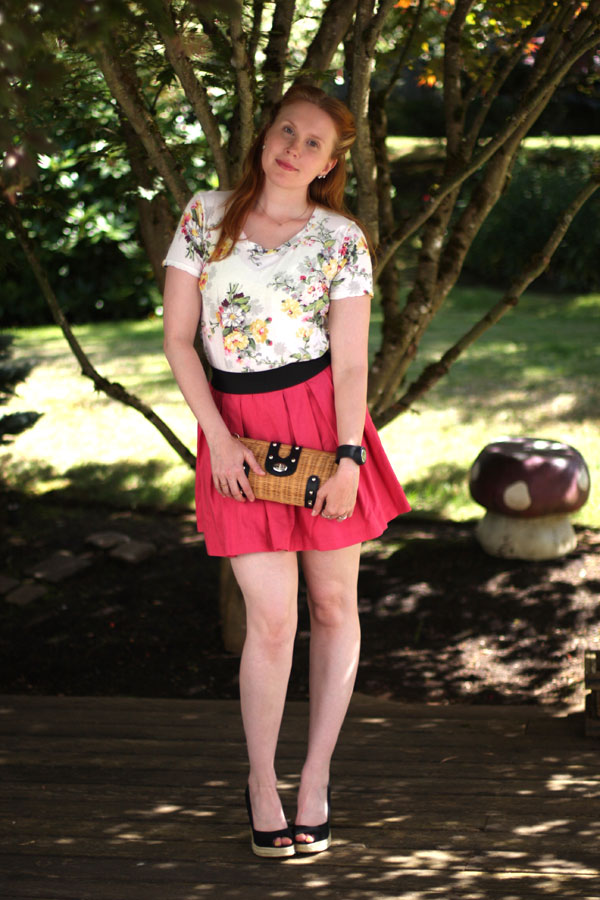 Mismatched clear rhinestone stud earrings: from Japan
Rose gold star necklace: from Japan
Wicker clutch bag: indio (from Japan) (similar here)
Rings: Cartier, Tiffany, mocha [from Japan], double crown [from Japan]
REDOPIN Floral T-Shirt: YesStyle.com
Hot Pink Pleated Linen Mini-Skirt: DIY
Black Peep-Toe Wedge Espadrilles: Colin Stuart (similar here)
Yes, love of floral print is still going strong for me, but this time to push myself further out of my comfort zone I paired a floral tee with a DIY pleated mini-skirt.  I hate, HATE showing my legs.  They're where a lot of my body noise centers on, so I feel terribly self-conscious when I do.
But it's boiling hot, the cucumber plants in Lil Tot's garden are literally creeping across the deck and putting out ginormous cukes as they go, and it seems silly to wear long pants on a day like today.
Yesterday's harvest from the garden.  It's still a little too early for the carrots, but the cucumbers are enormous.  And another 3 will be ready tomorrow, and there's still another 8 at least on the vines.
I saw this Modcloth skirt in a Lucky Magazine a long, looong time ago, and even though I checked the website to purchase, it, it was already sold out (probably within minutes of being featured in the magazine).
So I DIY'd it.  (Video tute coming soon…just finishing up the editing on it!!)  It came together really fast, but because on me it's also super-short, I wear cropped bike shorts underneath so I still stay somewhat demure.
Also trying a double-twist 40's-style hair-style; not sure if it works but still having fun with it.;-)
Sometimes the best way to get over irrelevant and unfounded "body noise" is to just put yourself out there.  And keep doing it and doing it until the noise decreases to just a whisper, and maybe at some point there's very little to ignore anymore.  Because every person is usually most critical towards him/herself, and sometimes to feel confident you just have to try something…and keep trying it.
How do you identify and overcome your own body noise?
xoxox
Carly
More from Chic Creative Life
Tags:
trends