Woohoo!
March is here!  Portland is beginning to pull itself out of a long, dreary Winter (hellllloooooo daily hailstorms!) and things are happening over here in this corner of the world!  I'm feeling more like myself than in ages – and have even gotten back to more frequent DIY'ing!  So let's all shrug off those cobwebs of Winter, throw our shoulders back, and head straight-on into Spring and all the beauty and promise that it brings.  And what better way to celebrate the changing seasons than a little DIY??;-)
For the bold DIY'er: how about a DIY Spring Wedding…DRESS, that is, made out of t-shirts?  How fabulous is this???  From CRAFT Magazine's blog.
Smashion's blog came up with a cute DIY leather tassel necklace, inspired by a piece from Jewelmint.  It's a great way to use up some old leather scraps!  (And believe me, I have a ton of those leftover from various projects throughout the years.;-)
Stripes and Sequins made these beautiful Springy polka-dotted DIY Loeffler Randall-Inspired Shoes!  Different treatments on your shoe's platforms are so in right now…and you could do pretty polka dots, stripes, flowers…anything that strikes your fancy.
This sweet Boho Maxi Dress from Sweet Verbena is super-easy, bright, and fun!  Looks like I now have my go-to Summer lounging dress!
Use quilling to create rolled floral paper beads – and glue onto a cuff!  This Modern Bouquet Cuff Bracelet from Michael's will look great using a slightly thicker cuff – and some floral scrapbooking paper.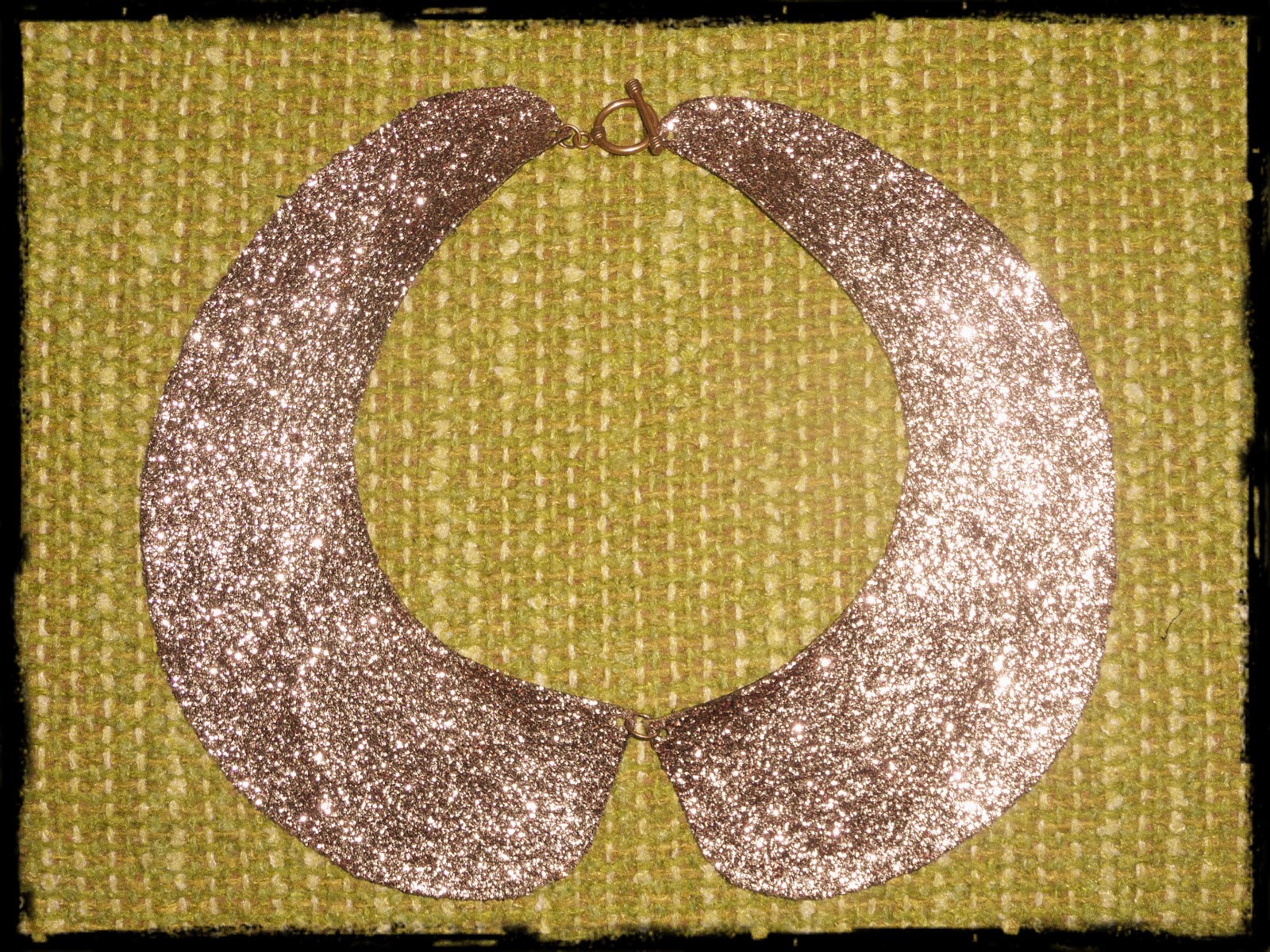 Create a sparkly, sweet DIY Glitter Peter Pan Collar with Made by Geneviève.  Just a little bit of Mod Podge and you can attach practically anything to anything!  Think how pretty that will look with a little LBD or lightweight Spring sweater.  And if you're needing a pattern for that collar, you can pick up a copy of my DIY Pattern: The Peter Pan Removable Collar from my Etsy store!
How about this GORGEOUS DIY gold-leafed tote – a handbag makeover inspired by MIMCO by Beyond the Open Spaces?  It looks so expensive and luxurious now, you'd have a hard time convincing anybody that you didn't pay a bundle for it!
Soccer Mom Style shared her tutorial for some Neon Detail Painted Wooden Bangles, and I'm dying to makeover my old bangles too!  Neon is so perfect for Spring/Summer 2012!!
---
If your project was featured above, feel free to grab a button and share the DIY!
<a href="https://chiccreativelife.com/category/links-of-the-week"><img src="https://www.chiccreativelife.com/wp-content/uploads/2012/03/diylotwfeaturedbutton-2.png" /></a>
If you have a DIY how-to or tutorial that you'd like to see featured on Chic Steals, please email me at carlyjcais at chic-steals dot com – and I'll try to squeeze it in to one of my Links of the Week posts! (Tutorials/how-to's with steps and photos included please! So everyone can share in the DIY goodness:-)
xoxox
Carly
-all photos copyright their respective authors; photo array by me-
~If you liked this post, please share it!~
Tags:
DIY Roundup
,
Links of the Week