Now I know there have been a million and one tutorials floating around the internet for glittery, blinged-out items…including shoes.  So this may be a little superfluous, but it's a little bit of a different method than the other tutes I have seen, hopefully resulting in a very permanent DIY!  Read on for the how-to…
You Need:
*pair of shoes or other accessory you want to add glitter to (mine are actually a T-strap platform sandal, eerily similar to those Jeffrey Campbell Litas, by Qupid.  I bought them from UrbanOg.com, but these particular ones are no longer available [that site has very fast turnover!!]  You could settle for a similar pair from them, or try on Ebay…but then I found silver glitter t-strap sandals on Ebay for a mere $24.99, so that would make the process of glittering a pair of shoes completely unnecessary:-(  But if you wanted to do this to a pair of shoes, then go for it!!)
*loose fine glitter
*chunky glitter
*Tulip Glitter Bond
*glitter paint (not pictured…I'm using Tulip glitter fabric paint, but I think you could use any craft paint that has glitter dispersed throughout it)
*Mod Podge (the kind I'm using is Gloss)
And…
*newspapers or something to protect your work surface
*painter's tape or masking tape
*brush
*bowl for Mod Podge
How To:
1. Protect your work surface with some newspapers.  Use the painter's tape to mask off and parts of the shoes you don't want glittery.  Stuff your shoes with newspaper to prevent glitter transfer and to keep their shape.
2. Spread Tulip glitter bond in a small-to-medium-sized area (it dries within 5 minutes, so you have to work fast!). 
First sprinkle the chunky glitter on.  Then follow up with the fine glitter.
3. (Move on to a new area and cover the whole shoe in this manner.  In this stage, you're not looking for full coverage of the glitter.)  Allow to dry.
4. With a paintbrush, dab on the glitter paint in areas around the chunky glitter pieces, where the color of the shoe shows through.  When you paint the glitter paint onto the shoe without anything else on it, the glitter flecks spread out too much, but when there's glitter on the shoe already, I found that the glitter "sinks into" the spaces between the glitter pieces.  It allows you to get pretty good coverage.
5. While the glitter paint is still wet, sprinkle on more chunky and fine loose glitter  (since the paint sort of "dulls" the sparkliness of the loose glitter.)  Allow to dry.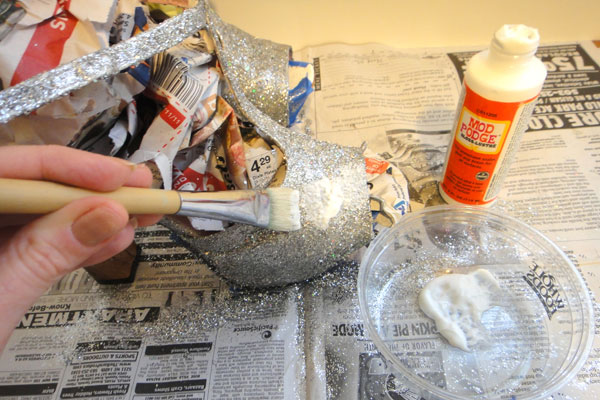 6. Paint a thick coat of Mod Podge all over the glittered areas. 
Allow to dry.
7.  Remove the painter's tape, and use your fingernail to scrape off any glitter that adhered to areas you don't want it in.  Also fill in any missing spots with more Mod Podge and loose glitter (no need to use Tulip Glitter Bond if it's just tiny areas).
You're done!  Sparkly and snowy – and perfect for your next holiday party!
You can see that I'm getting a little bit of glitter flakeage, but not too much…I had seen other tutorials that used Mod Podge but was doubting how well it would actually seal the glitter in.  Suzannah from Adventures in Dressmaking said she's had great results with using Mod Podge to seal glitter – and she was right!  That glitter barely budges.  I'm sold!
Maybe try this yourself when you have the time (and the right pair of shoes?)
Happy DIY'ing!
xoxox
Carly
Save
Tags:
Christmas
,
DIY Shoes
,
glitter
,
holidays
,
Jeffrey Campbell
,
Litas
,
My DIY Tutorials