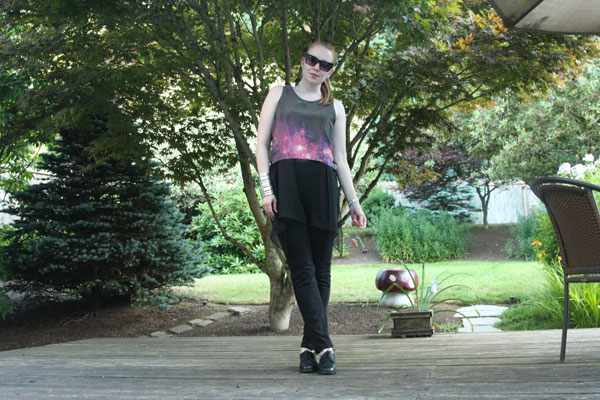 Hair: Hairdo Wrap-Around Pony
Pointy sunglasses: thrifted
Sheer back galaxy tank: handmade by me
DIY cage cuff: tutorial here
Watch: Citizen Eco-drive
Black Jeggings: UNIQLO
Lace-up Oxfords: thrifted
Finally I got around to photographing the tank I made with my galaxy fabric!
I designed the fabric back in January (!) of this year, and it took awhile for me to figure out what I wanted to do with it.  I only ordered a fat quarter test swatch so I could check the pattern, so it didn't give me a lot to work with.
I finally decided to do a tank, with sheer chiffon beneath (longer in the front), and as the back.  I created a sharkbite hem to the tank (but I would have made it longer had I more fabric).  I used sheer chiffon bias strips to bind the edges at the back.  Overall, I'm pretty pleased with it, even though the pattern of the tank needs a couple tweaks.  Maybe I'll darken the galaxy-print as well so the background is a nice black instead of charcoal.  What do all of you think?
I told Lil Tot I would play Tron frisbee with him if he took a couple photos of me first.  He was giggling the whole time and could barely hold the camera straight.  I think the Canon D40 with the gigantic lens we have on it feels like 100 pounds to someone who's just over 3 and a half feet tall!  He really likes being my "photographer" though – a far cry from my husband, who usually punctuates his photographs of me with groans, sighs, and "How much longer??"  I guess Lil Tot isn't quite there yet!!  (though give him time, I suppose…)
New pony from Hairdo.  I love that it completely conceals my real hair inside, and it's engineered really well.  It's the perfect chic length!!
It may be August in Oregon but it's cool enough to wear long pants every day.  Just my type of weather!  I've been cleaning out my office/sewing room at home and I can't get to my sewing machine with all the junk piled in front of it.  There are so many DIY's I'm dying to do…
Hope everyone's having a fabulous week!
xoxox
Carly
~If you liked this post, please share it!~
Tags:
trends