Today we have our first guest post ever here at Chic Steals…from Geneva over at A Pair and a Spare!  If you're not familiar with her fabulous blog, you've truly been missing out!  She posts daily DIY inspiration – with tons of runway and editorial photos and DIY hints, as well as simple and chic DIY tutorials and creations of her own.  (A leather bustier trompe l'oiel sweater?  A leather collar blouse?  A lip-print blouse and smudged stripe breton shirt; pleated pants belted super-high?  (And did I mention her incredibly helpful series of articles on how to makeover your wardrobe: DIY Wardrobe Rehab Project?  I've begun using her methods and it's really paying off in my own wardrobe!)  Definitely pay her blog a visit and start browsing through her archives…I guarantee you your fingers will start itching to DIY something within minutes!!  So take it away, Geneva!…
DIY Weekly – Celine Inspired Leather Pocket Blazer
I saw these beautiful oversized leather pockets on dresses and blazers at one of Celine's runway shows recently, and thought they looked chic and totally DIYable.
What you'll need:
*Oversized cardigan or blazer (I used one with gold buttons from a thrift store bought for £4)
*Two leather pockets (or half a meter of leather/leather-look fabric)
*Black thread and needle
*Scissors
How to:
1. I had made the pockets previously for another DIY (that I never got around to) out of some leather from a pair of leather trousers. To make your own, cut two large rectangles out of leather.
I used my hand as a guide for the size of the pockets, you want them quite oversized – mine are 14cm wide and 18cm long.  Cut the bottom corners of the leather rectangles rounded so that they look more like pockets.
2. The blazer I used already had pockets so I removed those.
3. I ironed the leather to make sure it was flat (it helps to do this just before sewing them on because it softens the leather making it easier to get the needle through the leather). Do not iron leather-look fabric as it may melt.
4. I then laid the leather pockets on the blazer and pinned in place.
5. Once the pockets were pinned in place, I tried the garment on in the mirror to check the location of the pockets look right.
6. Finally, I sewed the pockets on using a long simple stitch quite close to the edge of the leather.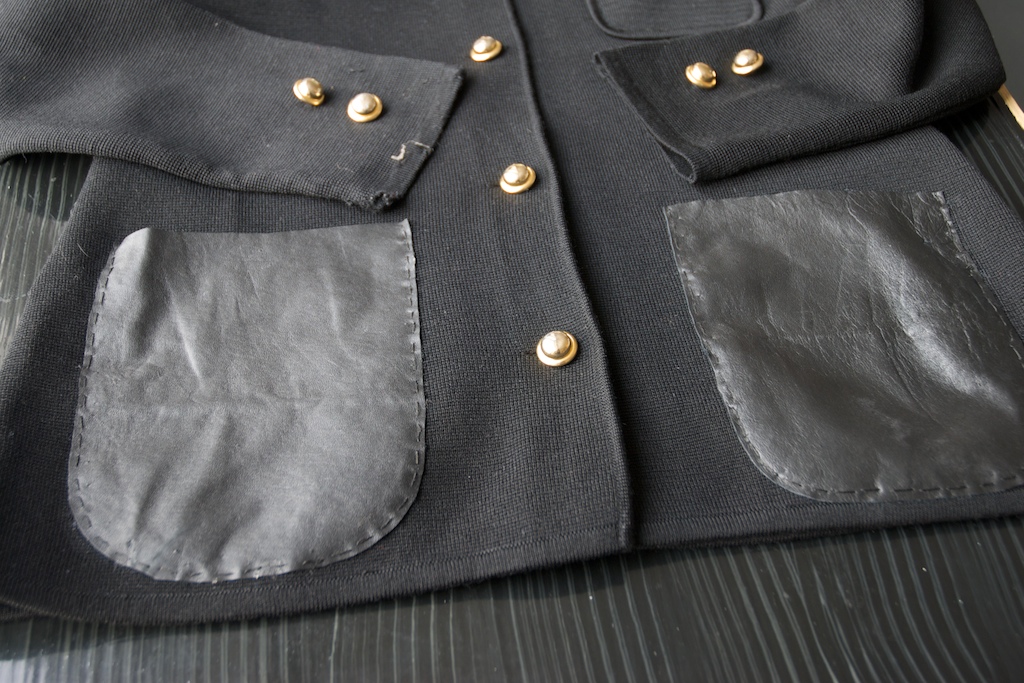 Voila! You're done.
Wear with your hands pushed deep inside the pockets when the wind is blowing.
And, I've also done a post for her blog…a DIY in 5 Paperbag-Waist Skirt…which I hope you'll all check out over at A Pair and a Spare.  Thanks so much for the post, Geneva – I love your leather-appliqued creations so much!
xoxox
Carly
Tags:
A Pair and a Spare
,
blogging
,
Celine
,
DIY Outerwear
,
Guest Posts
,
leather
,
leather sewing