Hi friends!
Last week I sent out a survey to my email subscribers to find out what you wanted to see on Chic Creative Life.
I've been trying to figure out what content resonates, and what would be really helpful to my audience now. This blog has gone through many iterations, and I wanted to make sure it is aligned with what my readers want!
….And when I saw the results, boy was I surprised! Check them out below: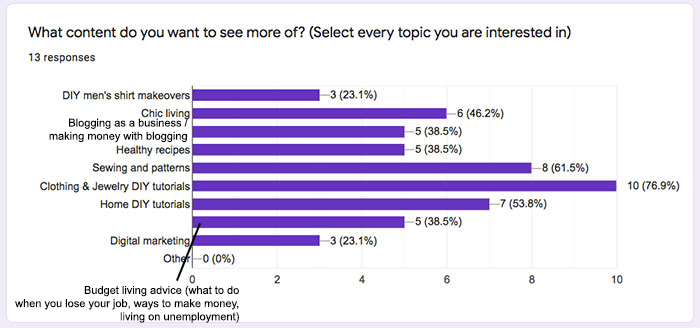 So it seems people want to read about, in order of number of votes, 1. Clothing & Jewelry DIY Tutorials, 2. Sewing and Patterns, 3. Home DIY Tutorials, and 4. Chic Living. Followed closely by Budget Living, Healthy Recipes, and Blogging as a Business topics. I was actually not surprised there were more requests for home DIY's and chic living advice (since so many of us are home right now)…but I was definitely surprised there wasn't more interest in DIY men's shirt makeovers! Considering I've been putting a ton of time into it…these results are definitely eye-opening.
I want to thank everyone who took the survey, this is really helpful!
I'm going to work to shift my content more towards what the majority of my readers are wanting.
If you haven't taken the survey yet and would like to weigh in, you can still do so here:
xo
Carly
Leave Comment