from formspring.me:
I'm thinking of starting a fashion/diy blog.  What tips would you give to newbies about starting their blog, as well as how to get their blog publicity?
Congratulations!
First and foremost I would say you need to figure out what you want with your blog. Obviously if you just want to share photos of things that inspire you or post a few outfit photos because you just want to share with your close friends (and maybe some strangers), your approach will be different than if you want to be, say, the next StyleBubble.
Each type of blog has a pretty different approach to it, whether you focus on posting outfit photos, or designer interviews, or magazine scans, or party pix.
clipart
But one tried and true piece of advice is to post as often as you can, on a regular schedule. Like once every 3 days if you can manage it (even scheduling your posts in advance if you can write a couple posts all at once). You want people to keep coming back.
And commenting on other people's blogs is key. (Lately I haven't been following my advice because I've just been so busy, but once upon a time I was responding to every single comment, and commenting on other's blogs as I surfed the web.) Don't leave silly comments that could be made by anyone like "I like your dress!", leave comments of worth, somehow tying things back to your blog, or asking the blogger to visit. Be nice! Word gets around on the web if you're flaming people.
And clear photos are ESSENTIAL. There are many blogs that use few, if any, words to describe – and instead say it all with pictures. Use a digital camera and learn how to do the basics when it comes to cropping, resizing, and adjusting the brightness to your photos.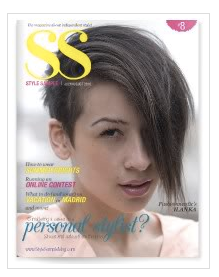 Style Sample Magazine [www.stylesamplemag.com] (the magazine for and about bloggers), is a wonderful resource, so I'd highly recommend you read through all the past issues. Probably everything you ever wanted to know about blogging is covered there!
Best of luck and keep us posted-
xoxox
Carly
Tags:
blogging
,
Questions from Formspring.me
,
Reader Questions