From formspring.me:
Hey Carly, what is the appropriate dresscode for a teacher? Do you have some stylish ideas that won't make me look boring? Thanks a million.
Hmm.  I think the dress code for a teacher can vary depending on whether you teach at public or private school (and the dress code therein), what subject you teach (art teachers and guidance counselors can get away with a lot more!), what you're doing in class on a given day (field trip to a farm?), and what age group your students are.  However, my philosophy is that when in doubt, always overdress – you don't want to be mistaken for one of your students, and you want to convey an air of authority and "togetherness."  (Right?)  So here are some ideas for some stylish "teacher" wear (certainly translatable to any work wardrobe!):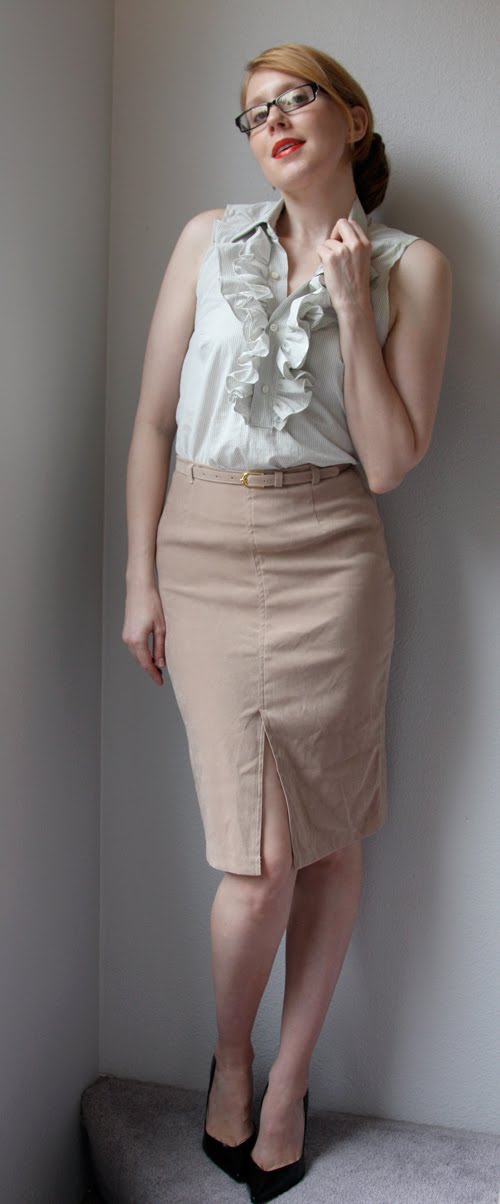 Though this outfit is a bit 60's-inspired and a bit pinup-ish, a high-waisted pencil skirt, plain pumps, and ruffled sleeveless top work well for the warmer months (though if you do a lot of arm-raising to write on a whiteboard or pull out projector screens, there is nothing more distracting than a lovely woman in a sleeveless top showing off her armpit to the class.  [Eeek!]  Probably wear a top with sleeves, or a jacket over the ensemble.)
My Picks: 
It goes without saying that a sheath dress is also a great option if you need to look "done up" on a certain day. (Chaps Geometric Dress, $47.99, Kohls.com)
Or a pleated/full skirt (perhaps a print for Summer?) under a fitted cardigan, belted over the top, delicate necklace, and a pair of flats is feminine and appropriate for any teacher.
My Picks:
(And Love 21 tends to fit full-fledged women better than Forever 21-brand clothing, which is cut ridiculously small and for a tiny teenager.)
Belt:
Twist Front Box Chain Belt, $39,
ArdenB.com
Skirt:
Polka Dot Skirt
, $32.90, Alloy.com
Shoes:
Lucy Pastel Ballerina Pumps
, $30, ASOS.com
Mirror:
Apple of my Eye Mirror
, $14.99, Modcloth.com
You honestly can't go wrong with a blazer – and short-sleeved ones look really on-trend and chic. Victoria's Secret, for instance, is really trying to push the deconstructed suit (with a short-sleeved blazer, sleeveless vest, or fold-over waist skirt) look right now – which might not look as "in" five years down the road, but appears very fashionable for 2010.
For summer: cropped pants, lightweight cardigans, white blouses (some lace/embroidery is ok), crisp dresses, flats, peep-toe shoes (depending on the school).
For winter: long pants (try a wide leg for a fluid, slim silhouette!), pretty brooches near your face or on a ribbon belt, knee-high boots, and A-line skirts with dark stockings.
Stuff to leave at home?  Leggings (unless you're expecting), statement jewelry (unless you're an art teacher, bib chunky bauble necklaces are probably best left in the jewelry box), flip-flops, t-shirts, anything that shows lots of skin, anything tight all over, baggy or skinny denim, super-high (4″ +) heels, chandelier earrings, ripped anything, anything with a prominent logo or slogan, bright tights or stockings with a sheen, tons of jewelry, all black, combat boots, super-strappy heels, clogs, Crocs, bright-colored makeup, studded items (*sigh*).
Does anyone else have some other great ideas for this reader?
Thanks for your question – hope that helps a bit!
xoxox
Carly
top img from http://jnyintheclassroom.or
Tags:
Office Fashion
,
Questions from Formspring.me
,
Reader Questions
,
Styling