Hello, lovely readers – it is now January 1 of the New Year. Somehow I thought 2015 was going to be a bit more…futuristic. Like with hoverboards and time displacement vortexes. I'm a little disappointed.
As you may have noticed, there's a bit of construction going on around here. I'm sprucing things up, starting with a new website theme for Chic Steals and new functionality. Plus new content is on the way! Still working and tweaking, though (you may have noticed my DIY Galleries are down right now as I have to rebuild the whole gallery from scratch)…so it will be a little bit of time until everything is sorted out and running smoothly.
2014 was an absolutely awful year for me, personally – not going to lie – and 2015 is not looking very promising either…can I just skip over it and arrive in 2016?? 😉 There's been something going on in my life that I am still unable to share on the blog because everything is still completely unresolved and things are in flux. When I know more, and it is finally in the aftermath…then I can share, but right now I cannot because I could impact my legal position. Seriously, it's THAT bad.
Onto lighter topics. In any case, I'd like to share with you a round-up of the DIY's I shared on this blog in 2014…like I do every year around New Year's. Perhaps you missed one or two? Check them out below!
I was working as a Guest Contributor for WeHeartThis for awhile, until I got too overwhelmed with the personal stuff. Above are my DIY Alphabet Earrings. Made from pasta.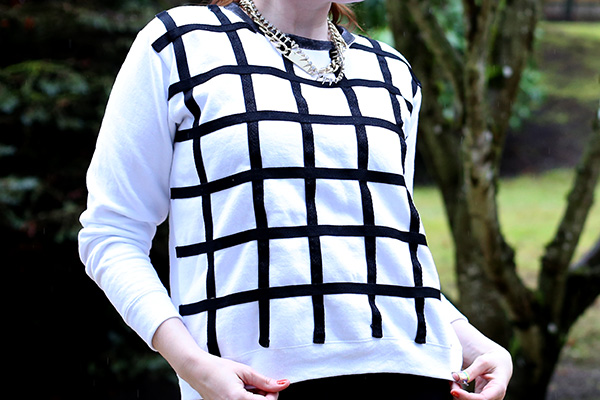 I noticed that Windowpane-print was trending…so I created a boldly graphic Windowpane Sweatshirt using black trim.
My DIY Free People Wrapped Quartz Bangle was a huge hit and was probably my most-shared DIY of 2014. Easy and full of impact – what's not to love?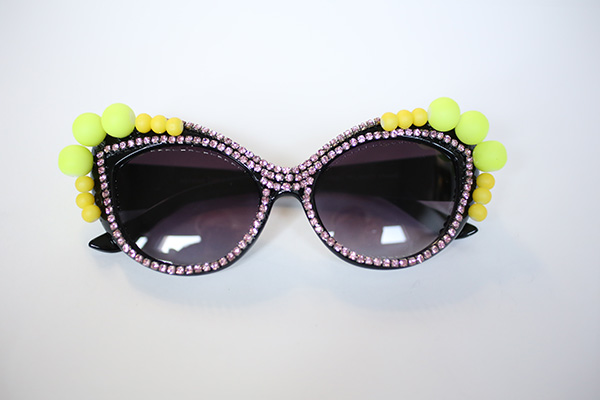 I went a little crazy and decked out a pair of sunglasses with Sunglass Warehouse A-Morir style with rhinestones and beads.
Finally delving into my love for Deko Sweets, I shared how to create these cute and realistic Pastel Clay French Macarons.
You can use those clay macarons to make cute crafts – for example, these Stacked Macaron Card Holder Stands.
Another post for WeHeartThis: my DIY Evil Eye Ring made with clay, paint, and rhinestone trim.
Partnering with Tulip Neon and I Love to Create, I made a Faux Stingray Clutch using dimensional fabric paint.
I refashioned a sweatshirt into a Tied-Sleeves Skirt a la Chloe.
I shared a tutorial for making a cute Chocolate Chip Cookie Macaron Coin Purse – which people loved. I have to make some more of those!!
With Easter coming up, I made some DIY Gold Speckled Easter Egg Nails.
I designed some DIY kits for Wander & Hunt, namely this Anthropologie-style Rhinestone Ribbon Belt…
…And this Dannijo-style Rhinestone Pendant. (The kits both sold out!)
For Father's Day, I made a Patterned Mod Podge Silver Leaf Photo Frame.
I worked with Darby Smart to create this high-end-looking Agate Keepsake Box – and the kits are still available here for purchase!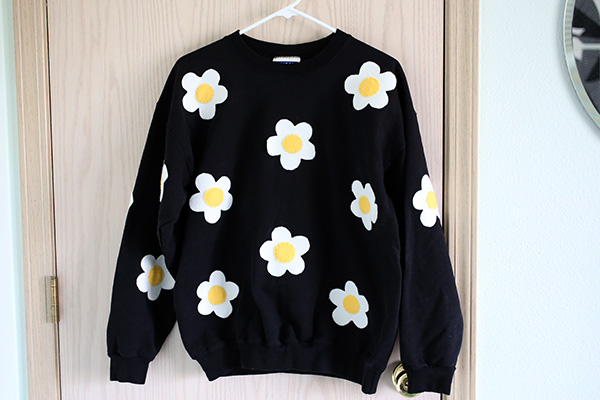 Noting that Daisy-print was trending, I made an Iron-On Daisy Applique Sweatshirt. Very Mary Quant!
For Summer I crafted up another Deko Sweets piece: this Ice Cream Cone Necklace with Polyform Souffle Clay.
I felt my home needed a bit of decoration, so I created a knockoff Handwriting Quote Pillow for my bedroom…
…And a couple of outdoor Ombre Typography Pillows with Tulip Tie Dye and I Love to Create.
I loved making this Anthropologie dupe of a Colorful Tassel Necklace for Summer!
Making these Thread-Wrapped Mexican Bracelets with TrenDIY and their kits was super-fun.
I made an Ombre Night Sky Pedicure featuring Julep.
I also finally finished my Galaxy Print Mini-Skirt, made from the Blue Star Field Galaxy Fabric I designed and sell on Spoonflower.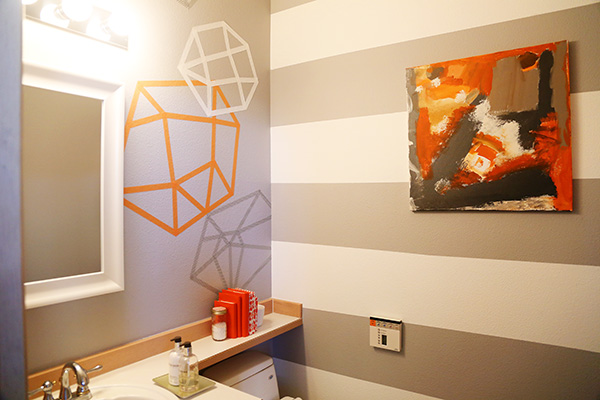 It took me a couple months to redo my downstairs bathroom into a modern Geometric Makeover – but it was totally worth it!
For those who need to add some fabric to a simple T-shirt dress, I shared the Alteration 101: Making a Dress Bigger how-to here.
Inspired by Tom Binns, I created a Rhinestone Neon Cameo Necklace. Would Marie Antoinette approve?
Partnering again with Tulip and I Love to Create, I made a Glow-in-the-Dark Skull T-Shirt for Halloween.
I had my eye on quartz paperweights and objets for awhile…so I just made a Faux Quartz Paperweight out of quartz pieces and beach glass vase filler…that looks so much like a real chunk of semiprecious stone that you'd be surprised!
I made some stuffed Illustrated Woodland Ornaments for my mini Christmas tree.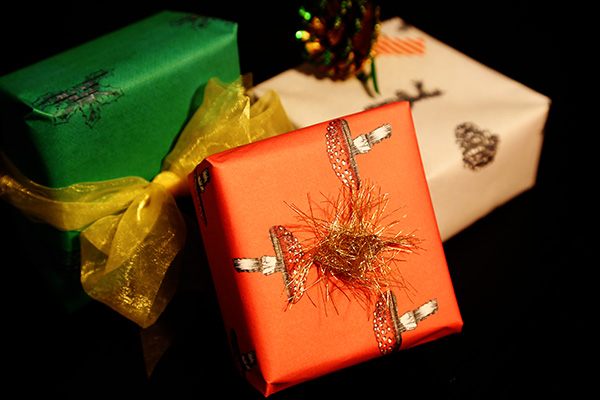 I then took the illustrations I made and designed some Printable Illustrated Wrapping Paper for wrapping small presents.
Well, that's it! Not as many as 2013…but hopefully this coming year will be better and filled with more fun, creativity, and above all, DIY'ing!
May 2015 bring many wonderful things your way!!
xo
Carly
Tags:
Announcements
,
DIY Roundup
,
New Year's Eve